South Carolina's James Cooley wins Sunbelt Expo Farmer of the Year Award
South Carolina's James Cooley wins Sunbelt Expo Farmer of the Year Award
James Cooley of Chesnee, S.C., was named the 2013 Swisher Sweets/Sunbelt Expo Southeastern Farmer of the Year during the opening day of the Expo, being held Oct. 15-17 in Moultrie, Ga.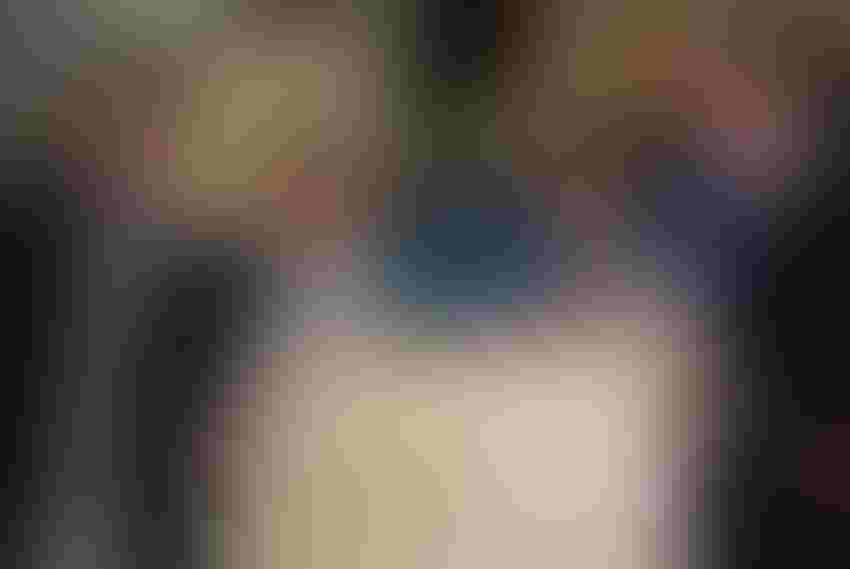 <p> SOUTH CAROLINA FARMER of the Year James E. Cooley, second from left, was named the 2013 Swisher Sweets/Sunbelt Expo Farmer of the Year during the 36th Expo, held Oct. 15-18 in Moultrie, Ga. Also shown are Expo Director Chip Blalock, far left, Cooley&rsquo;s wife Kathi, and Ron Carroll of Swisher International.</p>
James Cooley's first visit to the Sunbelt Ag Expo was a memorable one, as he took home the 2013 Swisher Sweets/Sunbelt Expo Southeastern Farmer of the Year during the opening day of the Expo, being held Oct. 15-17 in Moultrie, Ga.
Cooley, of Chesnee, S.C., has developed a showplace farm growing peaches, strawberries and blackberries. He is the second winner of the award from South Carolina.
 (To see a video of Cooley's acceptance speech and a short interview, click here. For an in-depth look at his South Carolina farming operation, see James Cooley: Sunbelt Farmer of the Year for South Carolina).
"I'm very grateful," said Cooley during the awards luncheon. "This is my first visit to the Sunbelt Expo, and it's one I'll remember for the rest of my life."
Thanking his wife Kathi and four daughters, he said he was blessed to be surrounded by so many top-notch people. "I also want to thank more than 200 back home who keep our farm running."
Cooley said he almost lost his life in a motorcycle accident 11 years ago. "Since then, we've been blessed to be surrounded by a lot of good people. We're here to tell the story today — we can get up and go to work again, and for that I will always be grateful."
A farmer for 34 years, Cooley operates 1,188 acres, 407 rented acres and 781 owned acres. He says his Strawberry Hill U.S.A. farm is "a little piece of heaven on earth."
Cooley raises peaches on 815 acres producing about 525 bushels per acre. "We market peaches in one-half bushel handle baskets," he says, "We specialize in 'hand-picked fuzzy' peaches. My mother and father taught me to value every customer, whether they buy a small bag or a trailer load. We believe strongly in South Carolina taste and quality."
Cooley irrigates a large portion of his peaches and all of his strawberries and blackberries.
After removing old peach trees, he plants double-cropped wheat and soybeans before establishing new orchards. 
His family owns a restaurant, the Strawberry Hill U.S.A. Café, at his primary market. "It has been a wonderful addition," he says. "Our customers enjoy our farm tours and then lunch and homemade ice cream."
As the South Carolina state winner of the Swisher Sweets/Sunbelt Expo award, Cooley will received a $2,500 cash award and an expense paid trip to the Sunbelt Expo from Swisher International of Jacksonville, Fla., a $500 gift certificate from Southern States cooperative, the choice of either $1,000 in PhytoGen cottonseed or a $500 donation to a designated charity from Dow AgroSciences, and a Columbia vest from Ivey's Outdoor and Farm Supply. As overall winner, he receives a $15,000 cash award, use of a Massey Ferguson tractor for a year from Massey Ferguson North America, another $500 gift certificate and a Heritage gun safe from Southern States, the choice of another $1,000 in PhytoGen cottonseed or a second $500 donation to a designated charity from Dow AgroSciences, and a Columbia jacket from Ivey's Outdoor and Farm Supply.
South Carolina has had one overall winner, Ron Stephenson of Chester in 1994.
State winners also nominated for the award include Annie Dee of Alabama, Phillip DeSalvo of Arkansas, Will Harris of Georgia, Scott Travis of Kentucky, Abbott Myers of Mississippi, Wilbur Earp of North Carolina, Richard Jameson of Tennessee, and Linwood Jones of Virginia.
(To see in-depth articles looking into the farming operations of all the state winners and to see everything Sunbelt, click here).
Subscribe to receive top agriculture news
Be informed daily with these free e-newsletters
You May Also Like
---