Pistachio industry riding almond, walnut coattails to success
Pistachio industry riding almond, walnut coattails to success
The U.S. pistachio industry continues to reap export opportunities from the inroads forged by the California almond and walnut industries.In the next seven years, 75 percent to 80 percent of the world pistachio crop will likely be U.S. grown.Asia is the top export destination for California tree nuts."China does not trust its own food supply," says Jim Zion, American Pistachio Growers chairman of the board.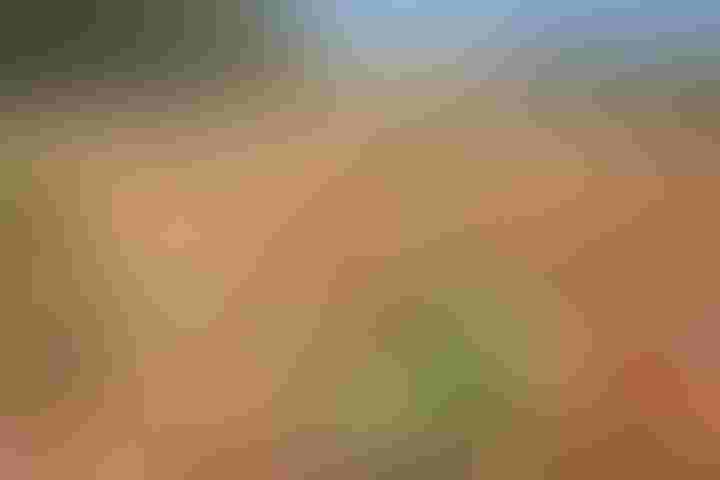 California pistachio leaders concede that the industry's rapid growth is riding on the coattails of paths blazed by almond and walnut pacesetters.
The U.S. pistachio industry appreciates those opened doors.
"You can't go into a grocery store and swing a dead cat without finding something with an almond in it," said Jim Zion, American Pistachio Growers (APG) chairman of the board. "We'd love to have the same situation for pistachios. We are working on that."
Zion's honesty is kudos to California almond and walnut industry leaders who have convinced the world that California tree nuts are the closest thing to nature's most perfect food. APG is pushing to add pistachios to the total nut mix in major export footholds in China and a plethora of destinations across the continents.
Zion shared his U.S. pistachio industry vision during the 2011 Arizona Pistachio Association annual meeting held in late October in southeastern Arizona in Willcox (Cochise County). Cochise is the largest pistachio-producing county in the Grand Canyon State.
California growers produce 98 percent of the U.S. pistachio crop. Top-producing counties include Kern, Fresno, Tulare, Madera, and Kings.  Arizona and New Mexico farmers produce the balance of the crop.
Today, about 40 percent of world pistachio production is supplied by U.S. growers compared to 18 percent in 1998.
In California, pistachios are the No. 2 nut dollar wise – an amazing feat since the first commercial planting of pistachio trees occurred just 35 years ago in 1976.
In 2010, California almonds generated $2.8 billion in cash income, according to the California Department of Food and Agriculture. Pistachios chimed in as a $1.15 billion money-maker. Walnuts broke the billion-dollar barrier at $1.06 billion.
Over the last three consecutive years, the U.S. took the seat as the largest pistachio grower in the world - having swept Iran, the previous leader, under the rug to second position.
"From now on, the U.S. will out produce Iran in pistachios," predicted Zion, managing partner with Meridian Nut Growers in Clovis, Calif. "Our (U.S.) production is going up while their production is going down."
As the 2011 U.S. pistachio harvest season wraps up, Zion forecasts pistachio production across California, Arizona, and New Mexico in the 450 million pound range. Iranian growers will likely harvest about 330 million pounds.
Four countries produce 95 percent of worldwide pistachio production including the U.S., Iran, Turkey, and Syria.
Acreage set to double
Today, pistachios are planted on 215,000 acres in California, including 137,000 bearing acres and 78,000 non-bearing acres. A spike in pistachio tree plantings in 2007 will come into production in 2013 and 2014. A second spike in 2010 and 2011 will place more pistachios in the bin in 2016 and 2017.
"We anticipate the U.S. pistachio crop acreage will essentially double in seven to eight years," Zion said. "We are being proactive and ahead of the (demand) curve."
2010 California almond acreage totaled about 825,000 (740,000 bearing and 85,000 non-bearing. 2009 California walnut acreage was about 255,000 acres (227,000 bearing acres and 28,000 non-bearing.
However, the California pistachio industry faces potential limitation issues. The major challenge is water availability and price.
"It's estimated that 25 percent of the pistachios acres in California may be affected by long-term changes in water policy," Zion said. "California was blessed with a wet year last year yet we are about a year away from a drought."
Zion believes the political will in California does not currently exist to resolve drought issues.
Zion also pointed to increasing regulations and government policies as concerns for the pistachio industry. For example, processors must now certify that slave labor is not used in the production of processing supplies.
Others issues which could cloud the industry's future is the length of time for investors to earn a return on investment.
"The length of time for a return on investment is somewhat unattractive – seven years to reach production and 9 to 10 years to gain a positive cash flow," Zion said.
Another concern is a difficulty in predicting crop production. Pistachios are generally an alternate-bearing crop with higher yields one year followed by lower yields the next year.
Current average California pistachio yields over a two-year cycle is about 7,000 pounds/acre. Over the next two years the figure could jump to 7,500 pounds/acre. Zion says improved varieties and farming practices will result in increased yields.
While concerns blink brightly in the radar screen, many signs point to brighter days ahead for pistachio demand and production. The worldwide consumption of pistachios has about doubled over the last 12 years — from about 600 million pounds in 1999 to almost 1.2 billion pounds in 2010. 2003 was the record year for pistachio demand at 1.5 billion pounds.
Key to increased demand is world population growth which surpassed a record 7 billion people in late October. Forecasts peg a 9.4 billion global population by 2050.  
Export future
Exports are the pivotal future for pistachios. In 1998, 37 percent of U.S. pistachio shipments were exported. In 2010, export shipments soared to 62 percent.
"I anticipate in seven years that 75 to 80 percent of the world's pistachio supplies will come from the U.S."
Zion shared positive forecasts for domestic and export growth. The domestic use of U.S. pistachios remains fairly stable ranging from 140 to 160 million pounds annually. The "wild card" in North America is Mexico where demand for U.S.-grown pistachios is increasing.
Asia has the largest potential buyers of U.S. pistachios including China and India – the major population growth countries in the world.
"Asia is the secret weapon for almost all nuts," Zion said. "China is driving consumer demand for pistachios. China does not trust its own food supply. They seek out and buy U.S. products. The Chinese implicitly trust the quality of U.S.-grown food over their own."
Europe is considered a mature pistachio market with the potential to become a 200-million pound pistachio consumer. Shipments have declined to Europe recently; most likely tied to difficult economic issues.
Judy Hirigoyen, APG's global marketing director, agreed that the U.S. pistachio industry's greatest opportunity for quick growth is international markets. The pistachio trade association has developed the "Power of Pistachios" campaign to focus on the wholesome and healthy attributes of pistachios.
"Our goal is to create demand ahead of the supply," Hirigoyen said. "We have a huge number of non-bearing acres. If we sell out before the demand ends then that's a good thing."
Hirigoyen says the word "California" is a strong seller overseas due to the state's reputation as a high-quality food producer. Arizona and New Mexico also have a positive international reputation.
This fall, APG will consolidate its five websites covering grower, consumer, and international audiences into a single site, www.americanpistachios.org, available in English, Mandarin, German, British English, Spanish, and Italian.
American Pistachio Growers is a new organization by name but with deep roots in the western pistachio industry. In July, the Fresno, Calif.-based Western Pistachio Association changed its name to American Pistachio Growers. In studying export potential overseas, surveys concluded the term "western" was viewed as western movies or cowboys.
"We decided the best name for the organization was the American Pistachio Growers," said Richard Matoian, APG's executive director. "This helps to identify where the product is coming from. Growers are front and center in the organization. 'American' and 'growers' help provide focus and direction for us."
The APG is also a lobbying arm for the pistachio industry. Earlier this year APG successfully convinced the USDA to purchase up to 6 million pounds of pistachios for the USDA nutrition programs. Six million pounds equals about 4 percent of domestic sales.
Subscribe to receive top agriculture news
Be informed daily with these free e-newsletters
You May Also Like
---