Limited water, resistant weeds challenges in New Mexico pecans
Limited water, resistant weeds challenges in New Mexico pecans
The 2015 New Mexico pecan crop is not "extraordinarily large,"  says Extension Pecan Specialist Richard Heerema at Las Cruces. "Some producers say it's an on year; some say it's an off year. Overall, if looks like a moderate crop. The tree load looks good, with a lot of orchards showing three and four-shell clusters."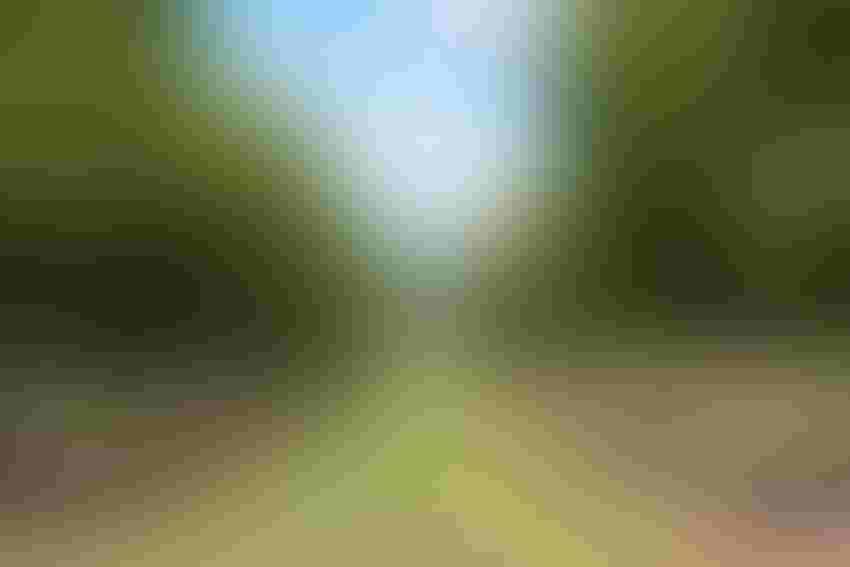 <p>Bare soil near the trees is an important practice for pecan orchard managers. Keeping weeds away from irrigation emitters is important.</p>
Some "great rains" this summer were beneficial for New Mexico pecan farmers, but they and other producers will need ample snowfall in the southern Colorado and northern New Mexico mountains this winter to recharge Elephant Butte Reservoir and provide a more consistent source of irrigation water.
"Water is the biggest limiting factor for pecans in the state," says Extension Pecan Specialist Richard Heerema at Las Cruces. The reservoir currently stands at only about 8 percent of capacity, and producers are concerned for both quantity and quality of groundwater resources, he says. Salt content has become a crucial issue.
Water issues are a concern all across the western United States, he says, "including into central Texas, which seems to be getting out of the woods. Other areas are still dealing with drought, and California is an extreme case, more so than either New Mexico or Arizona. We're hopeful for what climatologists are forecasting as a strong El Niño this winter."
West Texas, Arizona and New Mexico received moisture during the summer, Heerema says, "but summer rain isn't the end-all for New Mexico farmers. They also need snowmelt from the mountains. We hope to see decent snowfall and get Elephant Butte filled. California is praying for snowpack as well."
GROUNDWATER PROBLEMS
The problem is twofold. "When we don't have adequate water in the reservoir, growers rely on groundwater," he says. That's a fine backup strategy but it comes with a drawback: water quality isn't as good, and salt content is higher.
"When the aquifer is stressed we end up with saline water — which makes the problem worse." Plants, including pecan trees, require more water when available water is salty. Groundwater also costs more to pump than river water.
Growers face two significant issues with moisture, Heerema says. "With insufficient water, they suffer yield and quality losses. That hasn't been the main problem unless they had no access to water." The bigger issue has been salt accumulation in the soils. "Pecans are sensitive to salt. Pistachios, for example, can handle about three times as much salt as pecans without any symptoms on the leaf."
Mitigating salt content requires water, Heerema says. "We have to physically remove salt from the soil through leaching. Soil type and water quality are also factors."
For the latest on southwest agriculture, please check out Southwest Farm Press Daily and receive the latest news right to your inbox.
In some cases, soil amendments are necessary. Some soils become saline and others — clays, for example — become sodic. "Soils may not break apart when moisture is added; they may need amendments to allow leaching to be effective." Replacing the sodic ion with calcium may help to "remove the seal on top of the soil, and then leaching will work." Leaching still requires water, and rainfall is the best source.
RESISTANT WEED PROBLEMS
New Mexico pecan producers face other challenges as well, including an issue that has increased in severity from the Southeast, across the Sunbelt, and now into the Southwest: resistant weeds, including glyphosate-resistant Palmer amaranth (pigweed).
These have shown up in New Mexico pecan groves, Heerema says. "Herbicide-resistant crops have proven to be an amazing technology for producers," he says. "But if we aren't careful, we will lose some of our most important weed control tools."
Pecan producers routinely use glyphosate to manage weeds on the orchard floor. "Pecans are different from row crops," he says. "Producers are able to apply herbicides to mature trees safely — if they know what they are doing. But if we continue to apply the same herbicide over and over, we're bound to select for resistant weeds. We've seen it happen — we have identified glyphosate resistant Palmer amaranth scattered through pecan groves."
He recommends a resistance management program to help reduce the incidence of other herbicide-resistant species.
ROTATE CHEMISTRIES
Rotating modes of action is an important aspect of a resistance management program, Heerema says. For example, a product such as gramoxone may offer a good rotation with glyphosate. "It's a restricted use herbicide, so we advise caution."
Gramoxone is not a mobile herbicide, unlike glyphosate, which translocates through the plant. "If a producer sprays a sucker at the base of a tree, gramoxone doesn't translocate. But, be careful with smaller trees."
Heerema prefers a "mixed scheme" of weed control on pecan orchard floors. This should include an annual application of a pre-emerge herbicide that has a different mode of action from glyphosate. "Rotate pre-emergence materials, too," he says. "And spot treat, as necessary, with a postemergence herbicide like glyphosate."
He also recommends maintaining a vegetative strip in the middles of pecan rows, with bare soil closer to the trees. Routine mowing of the vegetative strip helps control troublesome weeds. "Some producers also plant a cover crop on the orchard floor. Over time, they should end up with a less aggressive weed population and fewer invasive plants."
OTHER USEFUL PRACTICES
Cultivation may also be useful, Heerema says. "We don't use cultivation as much any more, but a reduced-till system has a place on the orchard floor. It's a good way to break up compacted soil. Also, shredded clippings from mechanical pruning should be incorporated, especially when you're using flood irrigation. Otherwise, the clippings will float and pile up at one end of the orchard. A shallow cultivation is all that's needed."
The 2015 New Mexico pecan crop is not "extraordinarily large," he says. "Some producers say it's an on year; some say it's an off year. Overall, if looks like a moderate crop. The tree load looks good, with a lot of orchards showing three and four-shell clusters."
The on and off designation may not be as common as in the past, he says. "We're seeing a leveling off in New Mexico." A freeze in 2011 that took a heavy toll on production may have altered the on/off cycle.
"Hedge pruning (mechanical pruning) also may have an effect," he says. "Mechanical pruning, pruning the sides and topping, provides better management of sunlight. The practice has been adopted across the board."
Pecan managers need to control what they can, Heerema says. They can manage pruning practices, fertility, pest and weed control, and to some extent, salt content. But there's not much they can do about markets. And they can only watch the sky, hoping for rainfall, and the mountains for a snowpack — while also hoping that climatologists are on the mark with their predictions for a fall/winter El Niño.
Subscribe to receive top agriculture news
Be informed daily with these free e-newsletters
You May Also Like
---