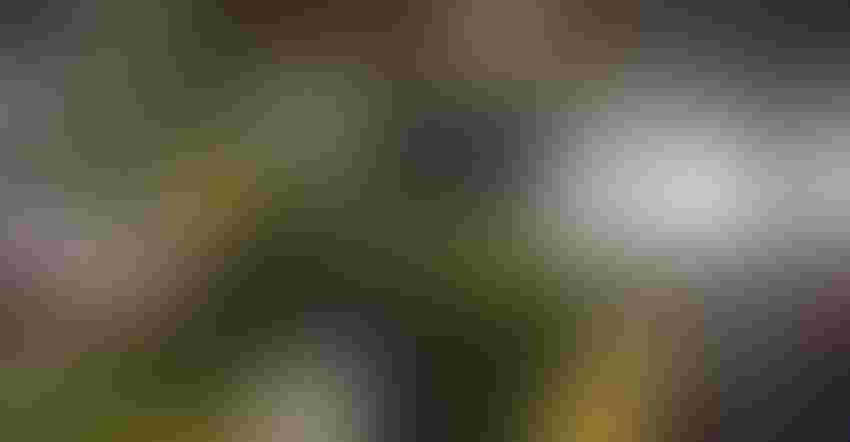 BIG MOWER: Krone's Big M450 was a popular item with visitors of the New York Farm Show.
Photos by Chris Torres
There were many things to see and do at this year's New York Farm Show. Most people wanted to see iron, or something that would help them on the farm.
Some exhibitors, though, were surprised by what visitors wanted to see.
Sean Falconer, partner with CNY Drone Works, thought he was going to be inundated with questions about drone field-mapping.
"Believe it or not, one of the things most people are interested in is the thermal cameras on drones — and more specifically, the ability to scout their livestock," Falconer said. "Early-morning, low-light situations, you can go out from where you're located; and, say. if you have 100 acres, you can fly around and locate your livestock to see if there are any issues."
Even in this time of low milk prices, dairy farmers are still investing in cow comfort.
"It's been an outstanding show this year. Generally, farmers are positive," said Donal Mackey of Seneca Dairy Systems LLC, who said visitors wanted to know the latest in ventilation, curtains and temperature controls to reduce labor. "They're looking at, 'How do I progress in the industry; how do I sustain our business and grow?' So, it's either, 'Do we look forward or do we look back?' So, a lot of farmers that we've been dealing with just have a winning attitude."
Here's a look of some of the hottest items at this year's show.

SMALL TRACTOR: Kioti's RX7320 tractor, a 73-horsepower tractor, garnered lots of attention at the show.
Small tractors
At the Kioti booth, Ron Morgan, territory manager, says visitors inundated him with questions about the CK Series of tractors, which ranges from 26 to 40 horsepower, and the RX7320.
"For us, that 73-hp tractor in today's ag market — we're doing very well in that segment," Morgan said.
Big mowers and disks
• Krone. Seth Matthews, Northeast territory service representative for Krone, said visitors wanted to know more about the company's Big M450, a 32-foot cutting mower with upgraded powertrain and a brand-new cab.
"We're pretty much creating the creature comforts of a big self-propelled mower that farmers want," Matthews said.
The machine features three 12-foot headers with front and rear suspension. "So, they are able to lift the machine up quite a few feet to get windrows when they are merging underneath the machine without much drag," he says.
The cab is upgraded, with touch-screen controls on the armrest.
"We have a lot of enthused customers with this product," he said. "The Northeast and North America is the biggest market for the Big M."
• Samasz. Over at the Samasz booth, visitors were eager to check out the company's KDF triple mower on display.
"The biggest is that this cutter bar is very, very heavy-duty," said Brianna Carr, independent sales representative for Samasz in the Northeast.
The company's triple mowers have seen lots of sales in the Midwest, where larger farms are more widespread. The consolidation of smaller farms in the Northeast, she said, has opened a new opportunity.
"Unfortunately, there is the same milk flow, but we have need for this mower," she said. "They still need to save money, and they're able to come in and see this heavy-duty piece of equipment that's easy to use at a great price."
• Pöttinger. Lucas Dickerson, Pöttinger service manager for the Northeast, said the company's 33-foot Terradisc 10001T was a popular item.
"In the past, it's only been a 20-footer, so this 30-foot machine has gotten a lot of attention from past customers who've had smaller machines, who would now like to upgrade to something bigger," Dickerson said.
In the dairy barn
• Agromatic. Jay Fullington, East regional sales manager for Agromatic, said there was a lot of curiosity about the company's EasySwing brushes.
"It mounts on a wall, swings back and forth, lets the cows do the work. We've had a lot of interest in that," Fullington said.
The company's Kraiburg rubber products — stall beds, flooring, brisket boards — also garnered interest.
• GEA. At the large GEA booth inside the Horticulture Building, Rob Leviere, hygiene and sales representative, said the company's FutureCow teat prep system was a hot item.
"It eliminates predip and towels into one, uses a chlorine dioxide solution, and quite often eliminates labor and gets faster throughput," Leviere says.
About the Author(s)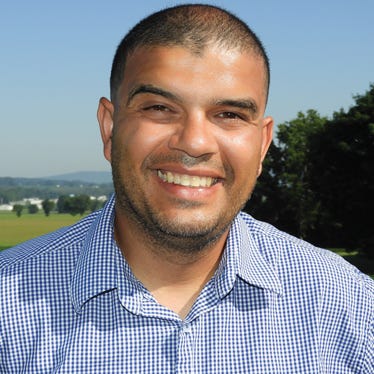 Editor, American Agriculturist
Chris Torres, editor of American Agriculturist, previously worked at Lancaster Farming, where he started in 2006 as a staff writer and later became regional editor. Torres is a seven-time winner of the Keystone Press Awards, handed out by the Pennsylvania Press Association, and he is a Pennsylvania State University graduate.
Torres says he wants American Agriculturist to be farmers' "go-to product, continuing the legacy and high standard (former American Agriculturist editor) John Vogel has set." Torres succeeds Vogel, who retired after 47 years with Farm Progress and its related publications.
"The news business is a challenging job," Torres says. "It makes you think outside your small box, and you have to formulate what the reader wants to see from the overall product. It's rewarding to see a nice product in the end."
Torres' family is based in Lebanon County, Pa. His wife grew up on a small farm in Berks County, Pa., where they raised corn, soybeans, feeder cattle and more. Torres and his wife are parents to three young boys.
Subscribe to receive top agriculture news
Be informed daily with these free e-newsletters
You May Also Like
---