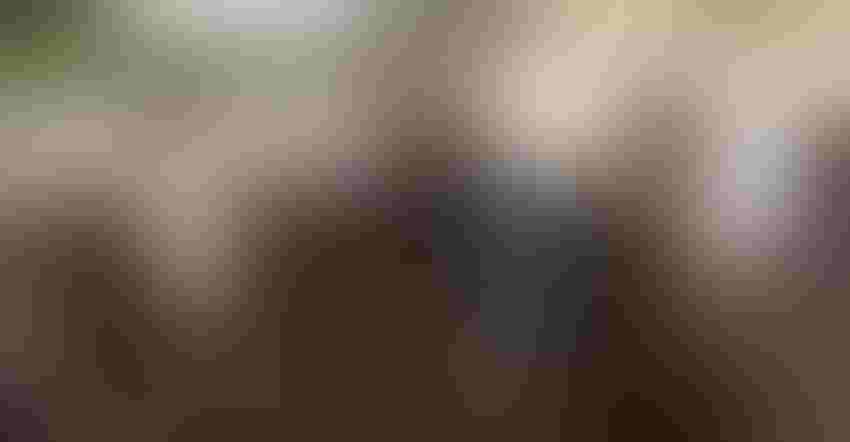 SMALL RUMINANT FOCUS: The Ohio State University Department of Animal Sciences has hired Brady Campbell as an assistant professor to focus on small ruminant management.
Tim E White/Getty Images
The Ohio State University Department of Animal Sciences has hired Brady Campbell as an assistant professor to focus on small ruminant management.
Campbell began his new position Sept. 15 in the College of Food, Agricultural, and Environmental Sciences.
He will work with OSU Extension professionals to develop educational materials and programs for sheep and goat producers. In addition, he will conduct applied research on small ruminant production and management and assist with youth livestock sheep and goat programs. 
Campbell is a Waterford, Ohio, native and a fourth-generation sheep and swine producer. His family raises purebred Lincoln and Texel sheep, as well as crossbred sheep and commercial swine in southeastern Ohio's Washington County.
Davidson elected to Ohio Farm Bureau board of trustees
Paul Davidson of Newark has been elected to the Ohio Farm Bureau Federation board of trustees, representing members in District 12 composed of Coshocton, Holmes, Knox and Licking counties. He was elected during a special election by delegates from that four-county area and fills the unexpired term of Jesse Whinnery of Coshocton. Whinnery stepped down from the OFB board earlier this year.
Davidson is a 49-year member of Licking County Farm Bureau and served as its president. He also previously served on the OFB board from 2011 to 2018. 
An Ohio State University graduate with a degree in agricultural economics and rural sociology, Davidson produces hay and is a project manager for a local excavating company. Davidson joins 25 other farmers on the Farm Bureau board who govern the state's largest farm and food organization. 
Beck's offering summer internship program
Family-owned retail seed company Beck's is offering an immersive summer internship program.
This summer, the company hosted 27 interns across multiple locations in Indiana, Kentucky, Ohio, Illinois and Iowa. Beck's internship program stretches across multiple departments in practical farm research, corn breeding, production, research technology, finance, human resources, education and marketing. Since 2017, Beck's has also invited all interns to take part in a community service project and a professional development program.
All Beck's internships are paid, and students can receive college credit, if applicable. The 2022 internship term will begin in late May and conclude in early August.
To qualify for an internship, applicants must be enrolled as a full-time student or a graduate of an accredited college or university. For more information and to apply, visit beckshybrids.com or email Tanner Maxey at [email protected].
Pest management guide available
The newly completed Michigan State/Ohio State Field Crops Insect Pest Management Guide is available for online use and download at aginsects.osu.edu.
This publication contains a series of chapters with information on biology, damage, management recommendations and insecticides related to insect pests in field crops in Michigan and Ohio. Chapters cover field corn, soybean, wheat and other small grains, alfalfa and grass forage, and (for Michigan growers) dry beans and sugarbeets. Each chapter stands alone, focusing on a particular crop.
In the preparation of this guide, state databases were checked and labels consulted for each of the pesticides listed in the crop chapters. Every effort was made to include correct information and to list most of the commonly used products for Michigan and Ohio. However, labels do change over time. Always read the labels of the products you use to reconfirm key pieces of information prior to spraying. 
Harsh joins Corn Board as new director
The Corn Board recently confirmed Kelly Harsh of Ohio as its newest director. Harsh grows corn and soybeans on her family operation in Delaware, Ohio.
Harsh will serve a one-year term on the Corn Board, a position that opened up when Dennis McNinch resigned his seat to spend more time with his family and on his farm.
A certified public accountant and crop insurance agent, Harsh is the president of the Ohio Corn and Wheat Growers Association. She also serves on the NCGA Ethanol Action Team.
Two join OSUE's Department of Plant Pathology
The Ohio State Extension's AgCrops Team recently welcomed Horacio Lopez-Nicora and Mitch Roth as both started as assistant professors in the Department of Plant Pathology.
Lopez-Nicora has Extension and research responsibilities in the areas of soybean plant pathology and nematology. His work is driven by the intertwined goals of ensuring food stability and working with growers to manage diseases that can have a negative impact on agricultural production.
Roth's research will focus on fungal and oomycete diseases of soybean and other crops. While he doesn't have a formal Extension appointment, you may see him around the state as he wants to connect his research to the needs of farmers. Roth grew up on a farm in Bad Axe, where his family farms corn, wheat, dry beans and sugarbeets.
Grants available to address issues in childhood agricultural health
The National Children's Center for Rural and Agricultural Health and Safety is accepting proposals for grants up to $25,000 to support small-scale projects and pilot studies that address emerging issues related to the impact of COVID-19, or other emerging issues related to the prevention of childhood agricultural disease and injury.
Applicants may request up to $25,000 for research studies and up to $15,000 for non-research projects. The deadline for letters of intent is Oct. 1. The application deadline is Nov. 1.
The call-for-proposals focuses on documenting, intervening, and otherwise exploring emerging health and safety issues among children in and around agricultural settings.
Proposals should include:
impact on special or vulnerable populations

public or organizational policies that safeguard youth in agriculture

leverage of existing National Children's Center resources or networks
For information, visit marshfieldresearch.org, or call 1-800-662-6900.
Subscribe to receive top agriculture news
Be informed daily with these free e-newsletters
You May Also Like
---