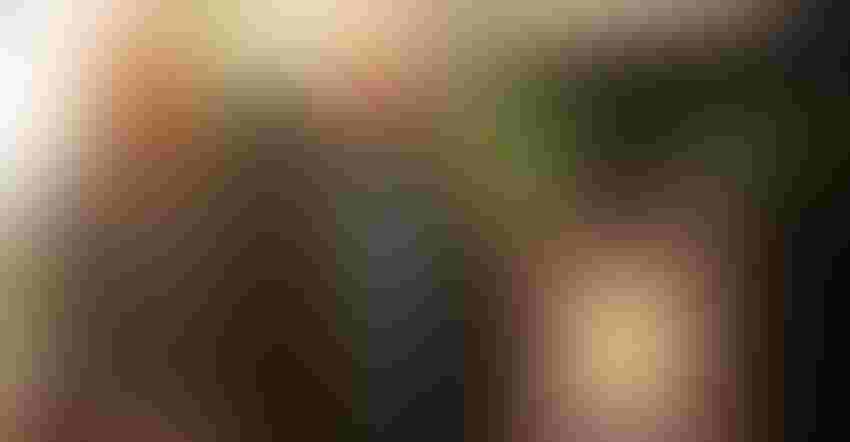 STOCKMAN OF YEAR: Richard Janssen and his wife, Shelly, are shown with the plaque they received when he was honored as 2017 Kansas Stockman of the year.
By Angie Stump Denton
Richard "Dick" Janssen, Ellsworth, is the 2017 Kansas Stockman of the Year. He was honored on March 2 during the 47th Annual Stockmen's Dinner in Manhattan.
During the award presentation, industry friends recognized Richard for his contributions to the beef industry. Speakers described him as a visionary, curious and an accomplished cattleman.
"He is one of the most courageous and daring genetic engineers on the planet," said fellow Angus breeder Mary Ferguson.
Dan Moser, Angus Genetics Inc. president, said, "Dick is the embodiment of a lifetime learner. He's not just auditing classes, going when the syllabus topic looks interesting. He's paying the tuition. He's making the investment in new technology and seeing the benefits and costs with his own eyes, with his own cattle and his own checkbook. Dick has positioned his business and those of his customers to take maximum benefit of these new tools, while advancing our entire industry in the process."
Richard started breeding, raising and showing his own Angus cattle in 4-H shows when he was 11 years old. He's been actively involved in the registered Angus business since that time.
A 1964 graduate of Kansas State University with a degree in animal science, he was a member of the livestock, meats and wool judging teams; Alpha Gamma Rho Fraternity; and Block and Bridle.
After college, Richard returned home and joined in a partnership with his brother, Arlo. At that time, they farmed 1,200 acres of wheat, milo and alfalfa along with managing their Angus herd. They also custom-fit and showed cattle across the country from Chicago to California. In 1969, Arlo transitioned to fitting and showing cattle full time while Richard stayed in Kansas to manage his division of Green Garden Angus and farming.
In 1974, Richard married Shelly and they continued to expand their cattle operation, growing it to the current size of 350 head. The couple had two children — Ben and Elizabeth.
Richard has always been an innovator in the seedstock industry. He says that breeding cattle is like adding ingredients to a pot of stew, mixing and matching until he obtains the perfect recipe. Through the years, he has focused on building a breeding program around calving ease and superior carcass traits that will function in their central Kansas environment.
Always willing to try new tools, Richard was one of the first to collect ultrasound information, using the Green Garden herd. In the fall of 1989, John Brethour, beef cattle scientist at K-State's Ag Research Center-Hays, used the Green Garden herd to experiment on perfecting his ultrasound machine. In 2000, it was one of the first herds to use GeneStar DNA mapping, and today they are 50K DNA testing all yearling bulls and heifers.
In 2010, the Jenssens sent their bulls to Hays Development Center (now the Werner Feed Efficiency Testing Center) in Diagonal, Iowa, to be evaluated for average daily gain, dry matter intake, feed-to-gain and residual feed intake. They used the testing station for three years, and then in 2013 they installed their own GrowSafe feed-intake system so they can test all of their yearling bulls and yearling heifers at home.
Richard has been a leader at both the state and national levels. He served as Kansas Angus Association president in 1980. Richard also served two terms as an American Angus Association director and was the 1989-90 president. He also served as chairman of the Certified Angus Beef board of directors from 1988-89.
In 1993, he received the CAB Commitment to Excellence Award, and he was named Beef Improvement Federation Seedstock Producer of the Year in 1994. In 2004, he was inducted into the Angus Heritage Foundation.
In 2000, Richard, Shelly, Ben and Elizabeth formed a limited family partnership, and since 2010 Ben, Elizabeth and their spouses have been actively running the operation. Richard and Shelly act as advisers.
The Stockman of the Year Award is presented annually by the Livestock and Meat Industry Council.
Stump Denton is communication coordinator for the Department of Animal Sciences and Industry at Kansas State University.
Subscribe to receive top agriculture news
Be informed daily with these free e-newsletters
You May Also Like
---