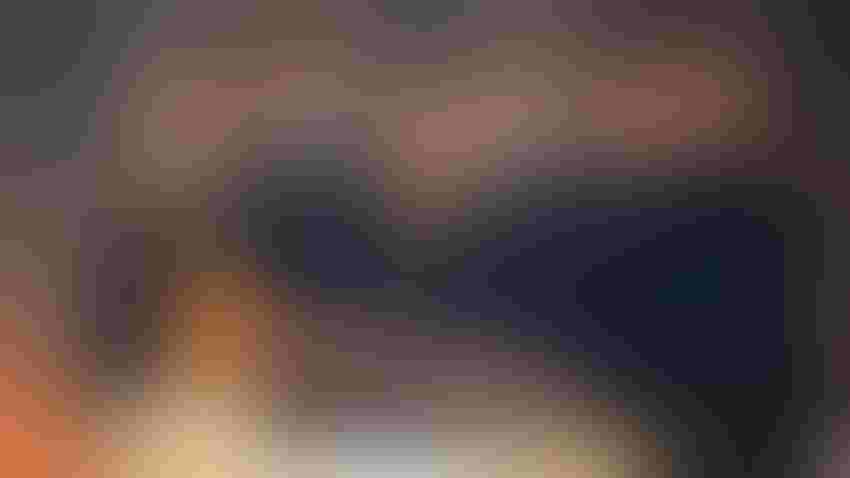 READY TO LEAD: The 2023-24 state FFA officer team was installed at the last session of this year's convention. Leading the way are Katelyn Ketchum (left), president; Tyler Ratka, vice president; Alison Murrell, secretary; Mason Grams, treasurer; Miriana Eiden, reporter; and Mackenzie Kuschel, sentinel.
Kevin Schulz
Another Minnesota State FFA Convention is in the books, and a lot of youth have headed home with well-earned hardware.
Some even left Williams Arena on the University of Minnesota campus with a new wardrobe.
The 2023-24 state officer team was installed in the last session of the convention on the afternoon of April 25. The new officers to lead the state FFA are Katelyn Ketchum, president, from the Lewiston-Altura FFA Chapter; Tyler Ratka, vice president, from the ROCORI FFA Chapter; Alison Murrell, secretary, from the Braham FFA Chapter; Mason Grams, treasurer, from the Buffalo Lake-Hector-Stewart FFA Chapter; Miriana Eiden, reporter, from the Buffalo FFA Chapter; and Mackenzie Kuschel, sentinel, from the Sebeka FFA Chapter.
The theme for this year's convention, "All In. For All" was chosen by the 2022-23 state officer team, reflecting what the six student-leaders saw as the commitment and passion shared by the state's FFA members for agriculture's future.
Gian Paul Gonzalez's keynote address in the final session of this year's convention fed into that theme, as he speaks of the importance of going "All In."
Gonzalez, a history teacher from Union City, N.J., gained fame by speaking to the New York Giants prior to a game during the 2011-12 season. In that talk, he urged the Giants players to go "all in," using the poker analogy that to be completely committed, "you had to put all your chips on the table."
With a record of seven wins and seven losses, Gonzalez's pep talk perhaps lit a fire under the Giants; they didn't lose again, ultimately beating the New England Patriots in the Super Bowl.
Though those in attendance at the FFA convention probably will not play for a Super Bowl, Gonzalez urges members to be committed, or "all in," to their endeavors. "Isn't it easy to be committed to something when it's popular? When it's easy? When you win?" he asks the crowd. "That takes no talent; that's just common sense. … Can we stay committed when it's not popular? When we're not guaranteed to win, when success is not sure, and we still give our best. Do we give our best even though no one will post about it or talk about it? That's what it means to be 'All in.'"
After the Giants' unexpected run through the playoffs that year, Gonzalez became a hot commodity for his inspiring words, getting lots of facetime on talk shows. He also found out how quickly fame fades. The day after the Super Bowl, Gonzalez's school was a bevy of excitement, with representatives from news outlets lining the block leading to his school, and he was ushered into a conference room to meet with reporters.
The following day Gonzalez didn't walk to school — he ran. "I turned the corner, and there was nobody," he says. "Fame is just that quick, isn't it?"
He reminds FFA members that "Fame is what we do for ourselves, but greatness is what we do for others."
FFA fame
FFA members experienced fame, as 353 students received the Minnesota State FFA degree and top proficiency awards were presented to 120 students who excel in their areas of agriculture, food and natural resource programs.
In addition to individuals and teams earning merit, school chapters were also honored, as Rockford and Rockford Middle took the top two honors, with the Sleepy Eye chapter coming in third. Rounding out the top 10 chapters in Minnesota are Howard Lake-Waverly-Winsted, Mankato, Tracy Area, Academy for Sciences & Agriculture, Chatfield, Eden Valley-Watkins and Forest Lake.
Since the 2022 state FFA convention, 11 new chapters have been chartered and were recognized at this year's convention: Adrian, Butterfield-Odin, Duluth, Forest Lake Middle, Kelliher, Le Sueur-Henderson, Mesabi-East, Moorhead, Robbinsdale-Armstrong, St. Clair and Warren-Alvarado-Oslo.
Stars over Minnesota
2023 State Star award winners are:
Star Farmer. Rachel Tusa, Jackson County Central FFA. Daughter of Steve and Jenny Tusa, Tusa began raising market Angus cattle during her freshman year and has since grown her inventory from five head to 20 head per year. She has raised more than 50 head of cattle in total. Tusa hopes to take over her family's cattle and crop farm with her brother.

Star in Agriculture, Food and Natural Resource Sciences. Shae Fath, Kerkhoven-Murdock-Sunburg FFA. The work of Fath, daughter of Tony Fath and Jen Nash, has revolved around food insecurity at her high school for the last two years by way of a survey about food-insecure students and the lack of knowledge about how they can receive support. She developed an educational campaign to increase awareness of that support.

Star in Agribusiness. Jacob Walsh, Kerkhoven-Murdock-Sunburg FFA. Walsh, son of Jason and Courtney Walsh, works at CY Harvesting, a custom forage harvesting business, and has worked his way up to being a crew leader. His role is to make harvesting decisions and train a crew of workers mainly from South Africa and Romania. He also performs preventive maintenance and repairs equipment.

Star in Agricultural Production Placement. Adam Hicks, Tracy Area FFA. Hicks, son of Brian and Michelle Hicks, lives and works on Nettiewyynnt Farms, raising corn, soybeans, hay and cattle. He has worked on the family farm since third grade, and also works for Hicks Family Hybrids, a seed business. His farm responsibilities include planting, harvesting, spraying, maintenance and tiling, along with other duties.
Other winners and honorees who went "All In. For All" can be found at mnffa.org/state-convention.
Minnesota FFA contributed to this article.
Subscribe to receive top agriculture news
Be informed daily with these free e-newsletters
You May Also Like
---