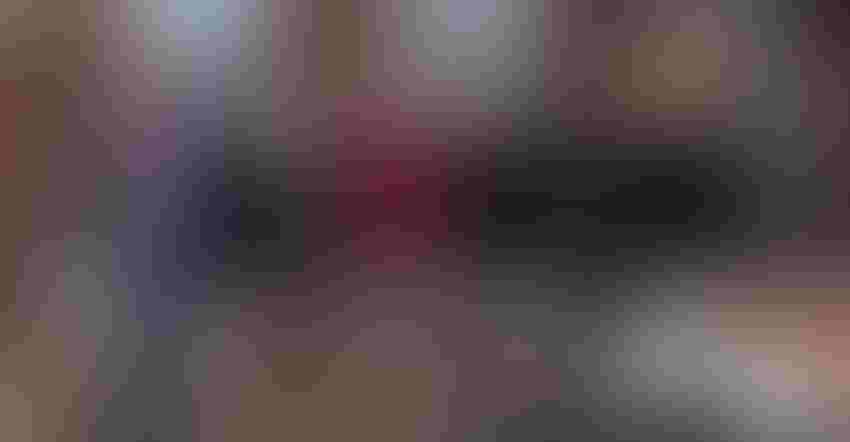 AG AMBASSADORS: 2019 Corn and Soy Collegiate ambassadors are (from left) James McArtor, Krystin Oborny, Lily Woitaszewski, Hailey Walmsley, Jessica Weeder and Nicole Laue. Not pictured: Morgan Leefers, Madison Jones, Jacob Griess.
Nebraska Corn Board
Nine University of Nebraska-Lincoln students recently were named members of the 2019 Corn and Soy Collegiate Ambassador Program.
The goals of the program, launched by the Nebraska Corn Growers Association and Nebraska Soybean Association, are to educate students about state and federal policy issues affecting agriculture, and opportunities available from supporting organizations such as the Nebraska Corn Board, Nebraska Soybean Board and UNL.
Each student will be awarded a $500 scholarship to help with school expenses. Funding for portions of the program is provided by the Nebraska Corn Board and Nebraska Soybean Board.
The nine members of the 2019 class are: Hailey Walmsley, Norfolk; Jacob Griess, Grafton; James McArtor, Grant; Jessica Weeder, Genoa; Krystin Oborny, Garland; Lily Woitaszewski, Wood River; Madison Jones, Papillion; Morgan Leefers, Otoe; Nicole Laue, Dennison, Minn.
Jhala honored with Gamma Sigma Delta Extension Award of Merit
Amit Jhala, University of Nebraska-Lincoln associate professor of agronomy and horticulture and Nebraska Extension weed management specialist, recently was honored with The Honor Society of Agriculture Gamma Sigma Delta Extension Award of Merit.
This award recognizes an individual who demonstrated leadership in development and implementation of effective Extension programs as an individual, team member or coordinator with evidence of productivity, visibility and effect of extension programs in Nebraska and beyond.
Jhala has been at UNL since 2012. His research focuses on the biology, pollen-mediated gene flow and management of herbicide-resistant weeds. He has developed a weed science Extension program that reaches several thousand people every year to solve weed-related problems in corn, soybean, sorghum and popcorn in Nebraska. He also organizes the Corn and Soybean Weed Management Field Day.
Koehler-Cole joins faculty in Agronomy and Horticulture
Katja Koehler-Cole started as a postdoc in the University of Nebraska-Lincoln's Department of Agronomy and Horticulture in August 2015 and joined the department faculty in December 2018 as an assistant research professor.
Koehler-Cole chose UNL for graduate school and earned a Master of Science and doctorate in natural resources with a focus on applied ecology from the School of Natural Resources.
She is now working with cover crops in corn and soybean systems to improve soil health and reduce nutrient losses to the environment while ensuring high crop productivity.
Koehler-Cole grew up on a dairy farm in the village of Gottesgrün, Germany, and earned a Bachelor of Science degree from Hohenheim University in Stuttgart, Germany.
NGLC announces addition of ranch transition task manager
Bethany Johnston recently was hired as the Nebraska Grazing Lands Coalition ranch transition task manager. Johnston, who previously worked with Nebraska Extension, will be based near Burwell.
Johnston will offer complimentary and confidential assistance to families seeking help in the ranch transition process.
The process begins with a meeting with Johnston, where she will use the family's input to help create a road map and identify available transition and estate planning resources. Once the road map has been developed, Johnston, who is certified as a farm succession planner, will check in regularly to ensure the family is completing tasks for effective transition and estate planning.
Johnston anticipates this process will include helping direct families to several services and resources, such as Nebraska Rural Response legal and financial clinics, counseling, and family mediation.
Subscribe to receive top agriculture news
Be informed daily with these free e-newsletters
You May Also Like
---