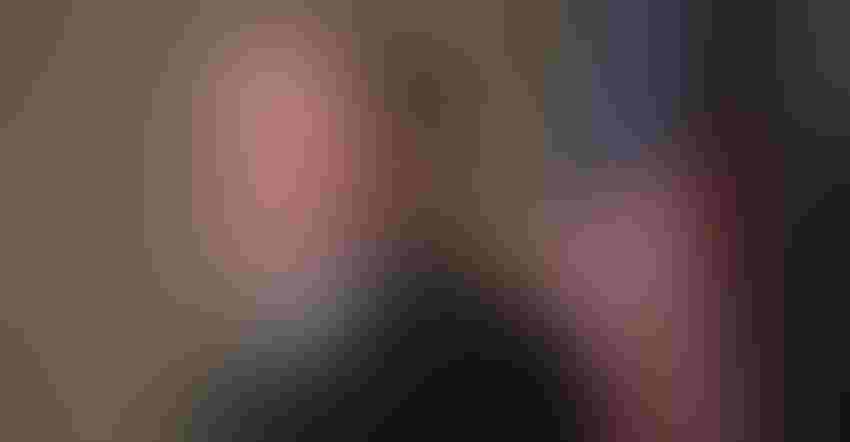 TRADE TALK: Visiting Iowa in early March, Secretary of State Mike Pompeo told farmers that "trade discussions with China are progressing."
The Trump administration sent U.S. Secretary of State Mike Pompeo to Iowa in early March to reassure farmers that progress is being made in international trade negotiations. Pompeo acknowledged how tariff disputes are hurting U.S. ag exports. He urged farmers to be patient.
President Donald Trump's willingness to engage in international trade fights has set off retaliatory tariffs that are driving down the price of corn, soybeans, pork and other commodities. His policy of "get tough on trade" contributed to a 12% drop in U.S. net farm income last year — the fifth straight year of decline.
"There are two front-burner issues we need to resolve as quickly as possible: the ongoing trade negotiations with China, and we need the new U.S. trade agreement with Canada and Mexico to be approved so it can replace NAFTA," Pompeo said. "The USMCA agreement is awaiting approval by Congress. It also must be approved by Canada and Mexico before it can go into effect."
Groups push for resolution
Efforts to reach a trade agreement with China could still take months to complete, although Pompeo hopes it will be sooner. Getting the U.S.-Mexico-Canada trade agreement approved and in place will take longer, hopefully by the end of 2019, he said. Farm and business groups are pushing for quicker relief. Some are asking the administration for a stopgap step to help them out until the more comprehensive trade agreements are reached.

TECH TOUR: Iowa Lt. Gov. Adam Gregg (left), Gov. Kim Reynolds, U.S. Secretary of State Mike Pompeo and U.S. Ambassador to China Terry Branstad discussed trade and technology concerns with Corteva officials.
Pompeo spent much of his time in Iowa on March 4 talking about U.S. trade discussions with China and the work negotiators are doing to create a mutually beneficial trade relationship.
Pompeo is hopeful Chinese leaders will heed Trump's call to lift the tariffs China is imposing on imported U.S. farm products. A few days before Pompeo's trip to Des Moines, Trump asked China to "immediately remove all tariffs on American ag products," noting he postponed a March 1 deadline that would have dramatically raised U.S. tariffs on imports of Chinese products.
Negotiating with China difficult
"The negotiations have been difficult," Pompeo said. "The Chinese want to continue to protect the enormous advantages they've had." Also, part of the stumbling block to reaching an agreement is due to differences in philosophy and approach.
"Iowa's productivity and success over the years has attracted Chinese leaders wanting to know the state's secret for prosperity," Pompeo said. "But China hasn't fully embraced the principles of Iowa's success: free enterprise, hard work, individuals having autonomy and dignity to lead, and take risks to build their own businesses."
Former Iowa Gov. Terry Branstad, now U.S. ambassador to China, accompanied Pompeo. "President Trump is taking a very hard line on stopping intellectual property theft by China," Branstad said. "That's part of the trade negotiation. There's been a lot of denial by China, but theft and forced technology transfer are real."

DEAL NEEDED: "The U.S.-China relationship is the most important bilateral trade relationship in the world," Ambassador Terry Branstad said.
The importance of getting a trade deal done with China can't be overstated, Branstad said. "We've made significant progress recently, and we're hopeful we can get this resolved in the not-too-distant future."
He believes the tariffs put in place by the U.S. on Chinese goods have helped foster discussion. "The U.S. tariffs are part of the leverage to get the attention of China's leaders, and we have it. Now we need to get the details of the trade dispute resolved."
While in Des Moines, Pompeo and Branstad toured Corteva Agriscience (Pioneer) seed facilities at nearby Johnston. Corteva company officials and the visitors had a roundtable discussion.
"We talked about the importance of getting import approvals for biotech traits in China and other countries," said Tim Glenn, Corteva executive vice president. "That's part of the U.S.-China trade discussion. If we introduce a new seed product for farmers to plant, the crop needs to have market access in as many countries as possible.
"For us to continue bringing innovation to farmers, they must be able to sell their crop. Without these important grain import approvals, new technology won't be as generally available. We need market access to encourage development of new seed traits and technology."
The U.S. wants an agreement that brings long-term change to trade relations with China. "It will take time to deliver the change in relationship the U.S. is seeking," Glenn said.
Theft of intellectual property
A few years ago in Iowa a person was caught digging up seed planted in seed company plots. They planned to take the stolen seed to China. "This is another one of the long-term issues being addressed in the U.S.-China trade talks," Glenn said. "We invest in new technology for the benefit of our farmer-customers. One of the things farmers expect from us is that we protect the new technology so they can get full value from it."
Iowa Gov. Kim Reynolds and Lt. Gov. Adam Gregg accompanied Pompeo on his visit to Corteva. Afterward, the governor told Wallaces Farmer, "Secretary Pompeo acknowledges there has been financial pain in agriculture caused by the tariff situation. But when all is said and done, and a trade agreement is eventually signed, he's confident it will be worth the effort."
Pompeo also spoke to a crowd of 200 people at World Food Prize headquarters, a meeting arranged by Iowa Farm Bureau and Iowa commodity groups. Again, Pompeo reassured farmers that trade negotiations are proceeding, and farmers just need to be patient.
Steel, aluminum tariffs a factor
It's likely the USMCA will be passed by the end of this year, Pompeo said. "I'm confident there are enough votes to get this agreement moved through our government, and Mexico and Canada will likely conclude that this deal is their best opportunity."
However, tariffs on steel and aluminum could be a hang-up. The USMCA approval process is complicated by tariffs the U.S. has maintained on imports of steel and aluminum.
Pompeo also expects a U.S. bilateral trade agreement with Japan. Work is also being done to create a bilateral agreement with Vietnam, but Pompeo wouldn't provide details on what may be included in these agreements nor did he give a timeline.
Although farmers are hopeful for trade agreements to be made to put an end to tariffs and to open market access, Pompeo said, "We want to get the deals right the first time. That means making trade agreements with a mechanism in place to hold the countries accountable. Again, this takes time to work on and be sure we get it right."
Trade pacts must be enforceable
Dave Struthers, farming near Collins in central Iowa, appreciates that concern. "It's a difficult situation with enforcement if we do get an agreement. How can we make sure China abides by the agreement? There is a history of that not happening. We can sign all the pieces of paper in the world, but if there's nothing enforceable, what good is it?"
Like many other farmers in the audience, Ray Gaesser was hopeful the Pompeo visit to Iowa would bring an announcement about a deal with China that would at least partially alleviate the tariff and trade issue. "Of course, there was no such announcement, nor did we really expect one," said Gaesser, a former Iowa Soybean Association president from Corning. However, Pompeo's message about continuing to work on trade issues and trying to find solutions soon is encouraging, he added.
Ron Heck, a farmer from Perry and former Iowa Soybean Association director, was also glad to see Pompeo come to Iowa and talk to farmers about trade issues. "We need results, and the U.S. trade negotiators know it and they are working on it," Heck said. "They know what we care about."
Subscribe to receive top agriculture news
Be informed daily with these free e-newsletters
You May Also Like
---