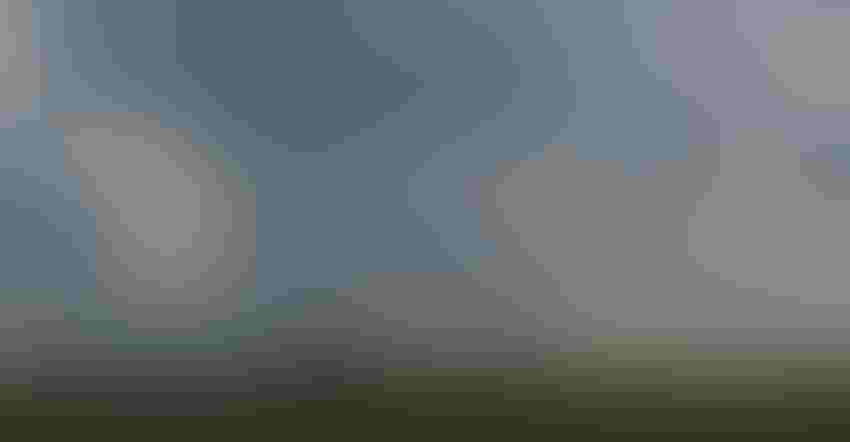 RAIN AND MORE RAIN: June 1920 saw four severe thunderstorms travel across Minnesota, soaking farm fields and decimating crops.
Paula Mohr
As the month of June began in 1920, Minnesota farmers had seen a favorable spring planting season unfold and stands of small wheat, barley and oats looked good, especially across the western counties of the state.
Few would have guessed that the bumper crops they were anticipating were going to be ruined by an unusual frequency of intense thunderstorms passing over the state in June. To this day, it remains a very rare sequence of weather events.
The first serious turn in the weather occurred over May 31 to June 1 when a series of strong thunderstorms developed and crossed over many western counties. These storms dumped 2.5 to 3.5 inches of rain across portions of Douglas, Big Stone and Chippewa counties, causing ponds to form on the green fields and high volumes of run-off.
A relatively short time later, over June 9-10, even more severe thunderstorms developed in the Dakotas and passed over into Minnesota with heavy rain, hail and very strong winds. The straight-line winds were so strong that they blew four coaches from a Northern Pacific train off the tracks near Beardsley in Big Stone County. Fifteen passengers were injured.
Further north, the lightning and strong winds killed two people and injured more than 30, many of whom were taken to Fergus Falls for treatment. Many communities reported 2 to 2.5 inches of rain in less than two hours.
Drenching continues
A week later, over June 15-16, another line of thunderstorms crossed western Minnesota, further south than the previous weather systems. They brought 2.5 inches to nearly 4 inches of rain to portions of Chippewa, Yellow Medicine and Renville counties.
Before farmers could fully assess the damages to their small grain crops, Mother Nature brought four consecutive days of rain to their already saturated fields over June 25-28. Climate observers in Renville, Stevens, Clay, Chippewa and Kandiyohi counties reported 2.5 to 4 inches of additional rainfall.
Some small grain fields were all but washed away by the end of the month and yield prospects fell like a bull on roller skates.
Overall, half of the days in the month brought rainfall to western Minnesota in June of 1920 and the average total rainfall across the regions was 8.30 inches — the second highest total in history back to 1880.
For the St. Cloud region, with climate data back to 1893, June of 1920 remains to this day the wettest, and an example of how too much rainfall can literally wipe out a crop season.
Seeley is professor emeritus of climatology at the University of Minnesota.
About the Author(s)
Subscribe to receive top agriculture news
Be informed daily with these free e-newsletters
You May Also Like
---