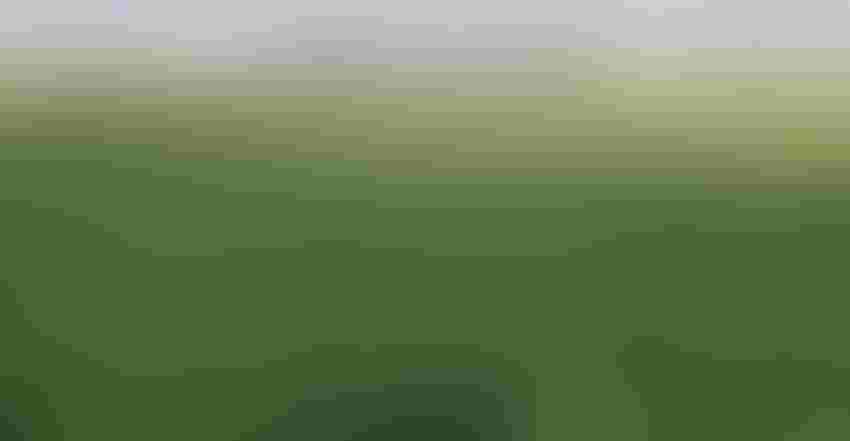 SHARPLY BEHIND: Iowa's soybean crop is running late, as only 33% was setting pods as of Aug. 4, versus 68% normally.
Iowa corn and soybean crops this summer are continuing to lag the five-year trends for crop maturity. With a wet spring and late planting this year, it's hard to catch up.
As of Aug. 4, the latest weekly USDA statewide survey shows 84% of Iowa's 2019 corn crop is silking, compared to a five-year average of 95%. Only 20% of Iowa's corn has reached dough stage, compared to a five-year average of 42% for this date. For soybeans blooming, the crop is now at 78%, versus a 91% average for the past five years. And 33% of Iowa's soybean crop is setting pods, compared to 68% normally at this time.
State climatologist Justin Glisan says last week's average temperature statewide was 70.3 degrees F, more than 2 degrees below normal. Precipitation in most of Iowa was also below average. Rainfall for the week ranged from 0.02 inch at Burlington to 3.31 inches recorded in both Donnellson and Clarinda.
"Cooler-than-normal conditions have continued across the state with varying amounts of precipitation," notes Iowa Secretary of Agriculture Mike Naig. "Last week, the southwest portion of the state was the only area reporting above-average rainfall, and other areas are trending drier-than-normal."
The complete weekly Iowa Crop Progress and Condition Report is on USDA's site at nass.usda.gov/ia.  
Crop report
Another dry week across most of the state allowed Iowa farmers six days suitable for fieldwork during the week ending Aug. 4, according to USDA's National Ag Statistics Service. Fieldwork activities included moving grain, spraying fungicides and insecticides, and harvesting hay and oats.
Topsoil moisture condition was rated 5% very short, 26% short, 67% adequate and 2% surplus. Areas in 41 counties throughout Iowa were rated as abnormally dry according to the Aug. 1 U.S. Drought Monitor. Subsoil moisture was rated 3% very short, 19% short, 75% adequate and 3% surplus.
The survey shows 84% of Iowa's corn crop has begun to silk, 15 days behind last year and 10 days behind the five-year average. And only 20% of the crop has reached dough stage, 10 days behind last year and one week behind average. Corn condition is rated 66% good-to-excellent.
Looking at this year's Iowa soybean crop, 78% has started to bloom, 15 days behind last year and 11 days behind average. And 33% of the crop has started setting pods, 16 days behind last year and 13 days behind average. Soybean condition improved slightly to 65% good-to-excellent during the week ending Aug. 4.
Nearly all the oat crop has started coloring at 97% statewide. Of the oat crop, 64% has been harvested for grain, nearly one week behind average. Second cutting of alfalfa hay reached 86% done, six days behind average. The third cutting of alfalfa hay reached 11% complete statewide, eight days behind average.
Hay condition is rated 61% good-to-excellent. Pasture condition continued to decline for the fifth straight week with 53% good-to-excellent. There were no major livestock issues reported this past week.
Weekly weather
summary

"Drier-than-normal conditions were observed across much of Iowa with rainfall deficits between 0.50 to 1.00 inch for the week ended Aug. 4," says Justin Glisan, state climatologist with the Iowa Department of Agriculture. He provides the following report. Southwest Iowa reported wetter-than-normal conditions, with some locations receiving 2 or more inches of rain. Cooler conditions also continued statewide, with average temperatures generally 1 to 2 degrees below normal. Statewide average temperature was 70.3 degrees, 2.1 degrees below normal.

To start the week, a cold front pushed through Iowa during the day on Sunday (July 28) leaving behind measurable rainfall across the entire state with the heaviest amounts reported across the south and northeast. Over 40 stations reported totals at or above 1 inch, with Clarinda (Page County) observing 2.75 inches, while 2.08 inches was reported in Ackley (Butler County). The average statewide precipitation was 0.44 inch. High temperatures were held below average in western Iowa due to cloud cover, while partly cloudy skies allowed temperatures to reach into the mid to upper 80s. Cooler air filtered in behind the front producing dry and pleasant conditions on Monday. Highs were in the upper 70s and low 80s, on average 3 degrees cooler than normal under sunny skies and northwest winds.

Rain moved into western Iowa during Tuesday (July 30) afternoon, while the eastern two-thirds of Iowa remained clear. Temperatures remained unseasonably cool across the state with west-central Iowa up to 12 degrees below normal. Storms continued to pop up and move over the same parts of western Iowa through Wednesday before moving out of southeast Iowa during late evening.

Two-day rain totals reported at 7 a.m. Thursday were highest in south-central Iowa, with Atlantic (Cass County) getting 1.44 inches; Holstein (Ida County) and Corning (Adams County) reported 1.23 and 1.21 inches, respectively. General totals in Iowa's western half were between 0.25 and 1 inch.

Overnight lows into Thursday were in the 50s across much of Iowa with 60s to the south; the statewide average was 58 degrees, 5 degrees below normal. Mostly sunny and dry conditions persisted into Friday (Aug. 2), though isolated showers were present across northwest Iowa during Friday afternoon.
Drier-than-normal statewide
Light rain continued into Saturday, with totals ranging from 0.01 inch in Sheldon (O'Brien County) to 0.10 inch in Akron (Plymouth County). High temperatures were in the 80s, with eastern Iowa reporting some 90-degree readings. Overnight lows into Sunday (Aug. 4) were in the low 60s with foggy conditions observed across western and central Iowa.
Weekly rain totals ranged from 0.02 inch in Burlington (Des Moines County) and Donnellson (Lee County) to 3.31 inches in Clarinda (Page County). Statewide weekly average precipitation was 0.57 inch, while normal is 0.95 inch.
The week's high temperature of 91 degrees was reported July 29 in Iowa City (Johnson County), 5 degrees above average. Cresco (Howard County) had the week's low temperature of 48 degrees on July 31, which was
Subscribe to receive top agriculture news
Be informed daily with these free e-newsletters
You May Also Like
---