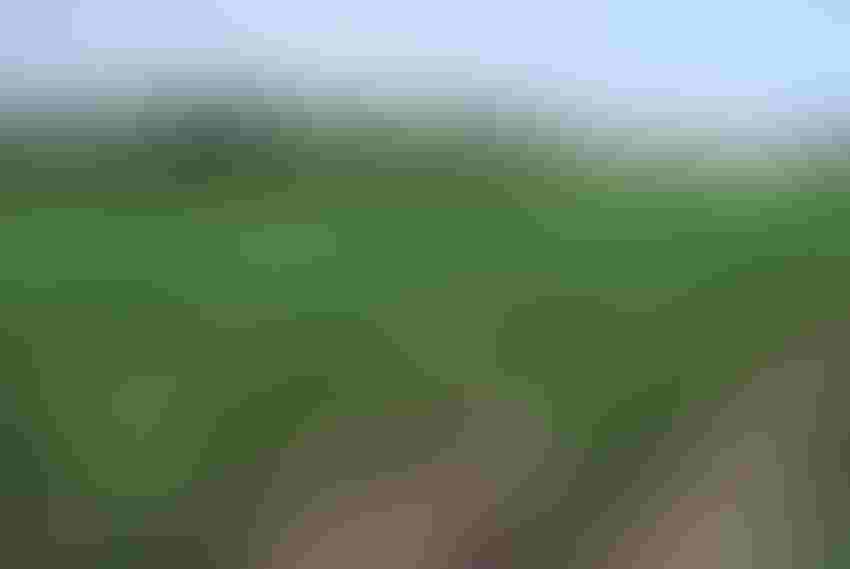 STARTING STRONG: Iowa and Illinois each have 81% of their corn crop now rated in good-to-excellent condition.
Warm weather with variable amounts of rain helped Iowa corn and soybeans continue to grow and develop during the week ending June 3. USDA's weekly survey shows nearly all (98%) of the state's 2018 corn crop is now planted, with 91% of the corn emerged. That's ahead of the five-year average of 88% emerged on this date.
Soybeans are 93% planted and 72% emerged, well ahead of the five-year average of 57% emerged.
"After an eventful spring, most of the Iowa crop is in the ground and generally in good condition, with 81% of corn and 80% of soybeans rated good or excellent. Farmers who have finished planting are starting to spray for weeds and do other fieldwork. Those with hay ground are busy cutting and baling hay, with 50% of the first cutting now completed," notes Iowa Secretary of Agriculture Mike Naig.
U.S. corn 78% good-to-excellent
Looking at the national picture (18 major corn-growing states), this latest USDA weekly survey shows 86% of the U.S. corn crop as emerged vs. a five-year average of 83%. The U.S. corn crop is rated 78% good-to-excellent. USDA says corn planting for the 18 states is 97% complete vs. a five-year average of 95% for this date.
USDA pegs the soybean crop for the 18 major soybean-growing states at 87% planted vs. a five-year average of 75%. The survey shows soybean emergence at 68% compared to 52% for the five-year average. Condition is 75% good-to-excellent.
The complete weekly Iowa Crop Progress and Weather Report is available on the Iowa Department of Ag and Land Stewardship website iowaagriculture.gov or on USDA's site nass.usda.gov/ia. The report summary follows.
Crop report
Warm weather with variable rainfall helped crops develop across the state during the week ending June 3, according to USDA's National Ag Statistics Service. Statewide there were five days suitable for fieldwork. Activities for the week included cutting and baling hay, planting and spraying.
Topsoil moisture rated 4% very short, 15% short, 75% adequate and 6% surplus. Subsoil moisture rated 4% very short, 15% short, 74% adequate and 7% surplus. Although south-central Iowa subsoil moisture supplies improved slightly, over 70% of that area remains short to very short of reserve moisture in the top 5 feet of soil.
Iowa corn, soybeans ahead of normal
Nearly the entire 2018 corn crop has been planted in Iowa, with 91% of the crop emerged. The survey shows 81% of the corn crop is rated in good-to-excellent condition. Soybean growers have 93% of the expected crop planted, 12 days ahead of the five-year average. And 72% of soybeans have emerged, four days ahead of last year.
The first soybean condition rating of the season for Iowa came in at zero percent very poor, 1% poor, 19% fair, 63% good, and 17% excellent. The survey showed 98% of the expected oat crop has emerged, with 19% headed, equal to the average. Iowa's oat crop is rated 82% in good-to-excellent condition.
Hay conditions improved to 69% good-to-excellent. Pasture conditions also improved to 63% good-to-excellent. Warm temperatures and periods of rain continue to fuel pasture and hay development. Above-normal temperatures caused stress for cattle.
Weather summary
According to Justin Glisan, state climatologist for IDALS, the last week of May capped off one of the warmest Mays on record for Iowa, as temperatures were 10 to 14 degrees above normal. Hawarden, Perry and Pocahontas recorded the highest temperature for the week, 102 degrees F, which occurred on May 28. May 29 through June 1 saw hot conditions across much of the state, with average high temperatures ranging up to 14 degrees above normal.
Thunderstorms bring widespread rain
These temperatures, combined with calm winds, created stagnant atmospheric conditions, leading to a statewide air quality alert June 1. Near-normal temperatures returned on the weekend. Iowa saw thunderstorm activity on four of the seven days during the week, with widespread measurable precipitation totals on May 28-30 and June 2.
The northeast corner of Iowa received between 0.75 and 1.25 inches of rain May 30 (125% to 300% above normal) as leftover moisture from Subtropical Storm Alberto filtered into the state. On June 2, a cold front moved through Iowa during the morning hours and brought much needed rain to the southern third of the state. That storm front also brought statewide temperatures back to near normal values.
Severe weather hits some areas
Little Sioux in Harrison County recorded the most rainfall for the week with 4.25 inches. Severe weather occurred across the state on four days. Mason City had large hail and severe straight-line winds causing tree damage May 28. Weak land spouts briefly touched down in Pocahontas and Greene counties, while quarter-size hail was reported in Maxwell and Collins in Story County.
May 29 was the most active day, with 35 severe weather reports. Multiple severe straight-line winds were observed in western Iowa, with a land spout in Story County. On June 1-2 severe winds caused tree damage in Butler County in northeast Iowa and a blown-over semitruck at Blencoe in western Iowa.
Subscribe to receive top agriculture news
Be informed daily with these free e-newsletters
You May Also Like
---