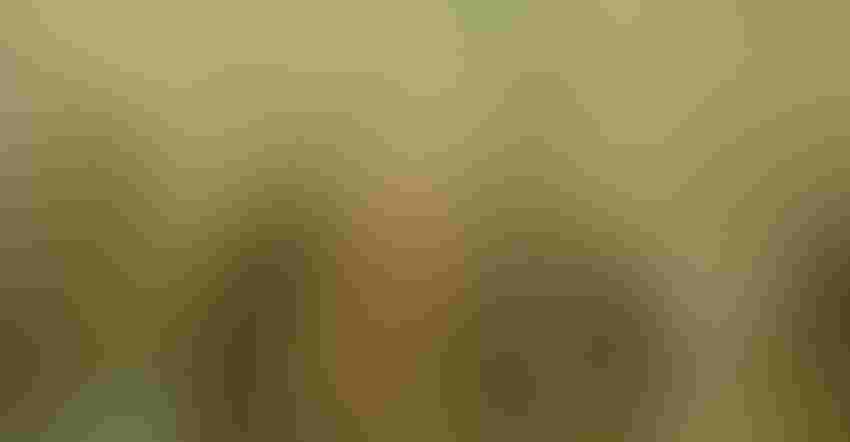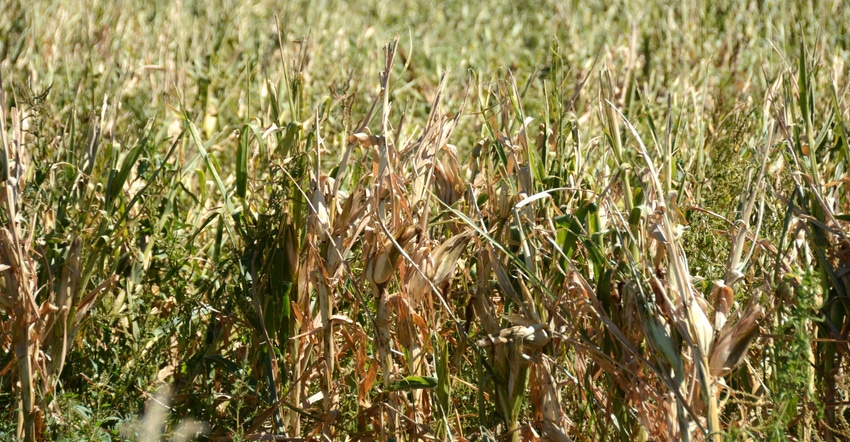 DROUGHT 'N' DERECHO: Corn severely damaged by the August windstorm has been shut down for a month now, and those fields aren't going to yield much.
Farm Progress
USDA's latest weekly survey released Sept. 8 shows 61% of the U.S. corn crop is in good-to-excellent condition. Only 43% of the Iowa corn crop is rated good-to-excellent. The derecho windstorm in August across a wide section of the state and the continued drought into September have taken a big toll.
This week, however, much of Iowa is getting some rain, and it's turned unseasonably cool. The high temperature Sept. 8 was only 48 degrees F at Le Mars in northwest Iowa. Iowa State Extension agronomist Joel DeJong says this week's cold weather will not have much of a yield effect on crops because corn and soybeans are ahead of normal in maturity.
"Corn is pretty close to black layer stage, which means kernels are reaching maturity in a lot of fields in this part of the state," he says. "You do the math for 105- to 110-day corn here in northwest Iowa, and yes, we should be at black layer now."
Corn yields to vary widely
What does DeJong expect for corn yields this fall? "A wide range from field-to-field and within fields," he says. "I talked to a farmer who had a yield appraisal for corn blown down by wind, and he's harvesting it for silage. It was appraised at 240 bushels per acre, except half of that yield is flat on the ground. I'm hearing a lot about yield checks indicating corn in the 180- to 200-bushel range."
For parts of fields that have been shut down for four weeks due to wind damage and drought, those acres are going to be zero yield, DeJong says. "We'll see 150-bushel-per-acre swings on the yield monitor as combines move through some of these fields. Areas of fields will be yielding 50-bushel corn per acre and other parts of the same field will be yielding 200 bushels per acre. We'll see huge swings in yields this fall."
Iowa Secretary of Ag Mike Naig observes: "As fall is now approaching, corn silage and seed corn harvest are underway across Iowa. Fall cover crop seeding has also begun. A more active storm track this week will bring cooler conditions along with multiple chances of much needed rain to drought-stricken areas of the state."
The complete weekly Iowa Crop Progress and Condition report is available on USDA's site at nass.usda.gov/ia.
Crop report
Despite some locally heavy rain, Iowa farmers had 6.4 days suitable for fieldwork during the week ending Sept. 6, according to USDA's National Ag Statistics Service. Although drought conditions continue to be a concern for most of Iowa, some areas of northeast and east-central Iowa received over an inch of rain during the week. Field activities included harvesting hay, chopping corn silage and harvesting seed corn. There were reports of high-moisture corn and a few soybean fields harvested.
Topsoil moisture as of Sept. 6 was rated 38% very short, 42% short, 20% adequate and 0% surplus. Subsoil moisture condition rated 38% very short, 41% short, 21% adequate and 0% surplus. Iowa's topsoil and subsoil moisture conditions continued to be over three-quarters short to very short.
Corn was 84% in or beyond dent stage, 18 days ahead of last year and one week ahead of the five-year average. Over a quarter of Iowa's corn crop is mature, almost three weeks ahead of last year and just over one week ahead of average. Corn condition is rated 43% good-to-excellent, a drop of 2% from the previous week.
Soybean fields that are coloring or beyond have advanced to 58%. That's two weeks ahead of last year and one week ahead of average. Soybeans dropping leaves have now reached 19%, two weeks ahead of last year and one week ahead of average. This is the highest percentage dropping leaves by Sept. 6 since 2005. Soybean condition fell again as of Sept. 6 with the crop now rated 47% good-to-excellent, the lowest level so far this season.
Alfalfa hay's third cutting is 93% complete, over a month ahead of last year and two weeks ahead of the five-year average. Pasture condition fell 4% to just 12% good-to-excellent. Over half of Iowa's pastures are in poor to very poor condition. Cattle producers continue supplemental feeding of hay due to deteriorating pasture conditions.
Weather summary
"Parts of Iowa received much needed rainfall during the week that ended Sept. 6, with the northeast one-third of the state reporting above-average totals," says Justin Glisan, state climatologist with the Iowa Department of Agriculture. "Dryness continued to grip much of Iowa, however, with deficits on the order of an inch across most of the state. Overall, cooler conditions prevailed during the reporting period, with northeast Iowa observing temperatures up to 4 degrees below normal. The statewide average temperature was 67.7 degrees for the Aug. 31 to Sept. 6 period, 1.6 degrees below normal."
Weekly rainfall totals ranged from no accumulation at several stations in southwest Iowa to 5.78 inches in Monticello (Jones County) in eastern Iowa. The statewide weekly average precipitation was 0.69 inch, while normal is 0.84 inch. The town of Little Sioux in Harrison County in western Iowa reported the week's high temperature of 95 degrees on Sept. 5, which is 16 degrees above normal. Elkader in Clayton County in northeast Iowa reported the week's low temperature of 41 degrees on Sept. 4, which is 12 degrees below normal.
U.S. crop ratings decline
Looking at the national picture, U.S. corn and soybean crops had another week of failing ratings, according to the Sept. 7 crop progress report released by USDA. 
USDA's estimate of corn with a good-to-excellent rating is 61% now, versus 62% a week ago and 55% a year ago. The 2020 Iowa corn crop as of Sept. 7 has a good-to-excellent rating of 43%, a 2-point drop from a week ago. Illinois corn crop is rated at 70%, while Nebraska is 62% and Indiana is 61% for corn.
USDA says 97% of the nation's corn is now in the dough stage of growth, versus a 94% five-year average. USDA pegs the U.S. corn crop as 79% dented, versus a 71% five-year average. The U.S. corn crop is now 25% mature, which is ahead of the 19% five-year average for this date.
For soybeans, USDA says 20% of the U.S. bean crop is dropping leaves, versus a 16% five-year average for this date. Also, USDA estimates the soybean good-to-excellent rating at 65%, versus 66% a week
Subscribe to receive top agriculture news
Be informed daily with these free e-newsletters
You May Also Like
---