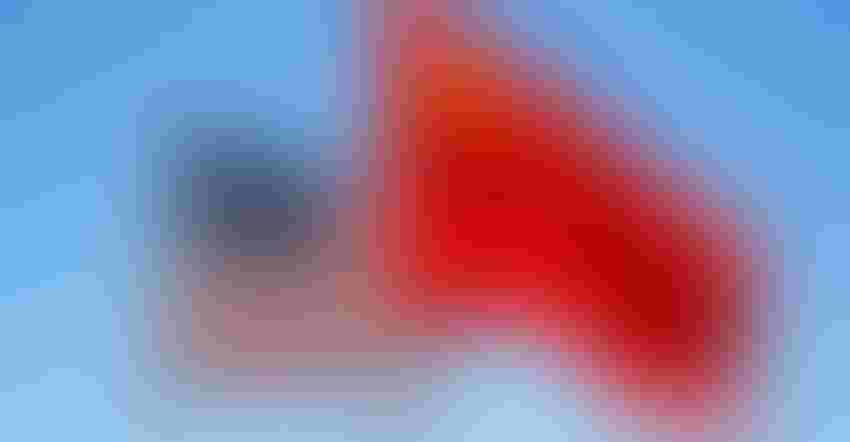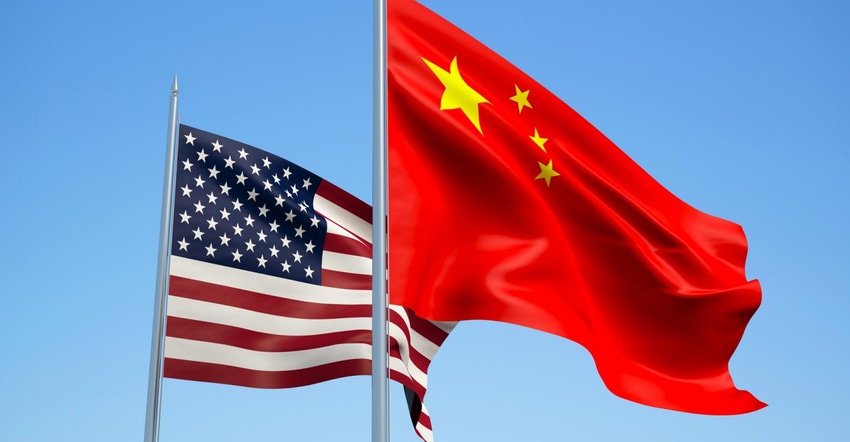 Trade war between U.S. and China would not be good for either country's economy ag economists say.
Agricultural economists warn that a trade war between the United States and China could leave no winners and both countries with damaged economies. They also point out that agriculture often bears the brunt of trade battle casualties.
Mark Welch, Texas AgriLife Extension economist, College Station, explains the complications created by trade disputes.
"Economic theory tells us that when you raise the price of a commodity (which a tariff does) to expect the quantity demanded to go down," Welch says. "That would mean fewer U.S. exports of soybeans, higher stocks (since we cannot consume all we produce), and somewhat lower prices."
Mary Marchant, Virginia Tech professor of agricultural and applied economics, says China's call to impose tariffs on $3 billion worth of U.S. products, a response to President Trump's push to implementing tariffs on China, could lead to a trade war that will hurt both countries. "We're looking at game-theory playing out on the world stage in real time," Marchant says.
Marchant, who has focused her research efforts on Chinese markets for over a decade, adds, "…that theory predicts that both countries lose in the end. Protected sectors may gain, but overall, the results of trade wars are bad for both countries' economies."
"China is our number one market for agricultural products — specifically, soybeans are the number one U.S. export to China," she adds. "And if China implements tariffs on soybeans, which it is likely to do if things don't settle down, the results could be devastating for U.S. farmers."
Aaron Smith, Extension agricultural economist at the University of Tennessee Institute of Agriculture, says a China retaliatory tariff on soybeans could result in "profound implications for U.S. soybean exports and farm-level losses for U.S. soybean producers.
"U.S. soybean producers are reliant on foreign markets as a source of demand for their production, with approximately 50 percent of production being exported annually," Smith says. "China is responsible for nearly two-thirds of global soybean imports."
Big Losses
Smith says analyses he and Dr. Andrew Muhammad prepared (to be released soon) show that exports could drop by $600 million to $10.7 billion if China imposes a tariff ranging from 10 percent to 35 percent to U.S. soybeans. At those levels, farmers face "potential farm-level losses of 14 cents to $2.50 a bushel."
Smith says the analysis does not include long-term price and production implications. "It is important to note that the proposed tariffs have not been implemented."
Welch says production issues in countries that could compete for this marker could be a mitigating factor. "Offsetting the impact of the tariff is the fact that there are very few other major exporters of soybeans in the world to meet China's needs," he says. "And one of those, Argentina, has been suffering from drought conditions all season, raising questions as to their level of exportable supplies."
Marchant says China may not be as dependent on the United States for soybeans as it once was. "China has been diversifying its suppliers, and these tariffs could expedite this process and leave U.S. producers in a lurch. We need cool heads to prevail to deescalate the situation. China and the U.S. have a synergistic relationship and we need each other; right now, we just need leaders that promote this."
Kim Anderson, agricultural economist at Oklahoma State University, takes a longer view of the issue, suggesting that wheat, his primary focus, might not be hurt as severely as soybeans or corn. "The impact on wheat may be insignificant," he says. "Corn and beans are the big items, and China put a tariff on corn three or four years ago. No one made a big deal about that. China's corn tariff added about 50 cents to U.S. sorghum prices because Chinese buyers imported sorghum to avoid the corn tariff."
Anderson says China doesn't buy a lot of soybeans from the U.S. during this time of year, so the impact might not be felt immediately.
"No one knows what the long run impacts will be," Anderson adds. "I do know that U.S. ag has weathered some pretty dumb policies by both Republican and Democratic administrations. In my opinion, the best thing to do is produce a quality product that buyers want at a competitive price and things will work out in the long run. Time will tell if I'm wrong."
Unintended Consequences
Welch says imposing a high tariff on one commodity could have another, unintended, effect on other commodities. "If we see lower soybean prices, that might give Midwest farmers the incentive to increase plantings of corn," Welch explains. "We have finally gotten close to profitable price levels in the corn market [based] on the lower acreage number from USDA last week. This could undo that."
Smith adds that soybean is the highest valued agricultural commodity exported to China, but is one of a long list of products that could be affected by China's retaliatory tariffs.
"The recent list of 106 products potentially subjected to retaliatory tariffs announced by China on April 4 includes corn, soybeans, wheat, cotton, sorghum, beef, and tobacco. This is in addition to the 128 products announced previously (pork, various fruits, vegetables, nuts, and wine being among the agricultural products)."
Some observers claim the tariffs would have minimal effect on the overall U.S, economy. But some sectors could be hard hit. Agriculture is one of the most vulnerable.
"U.S. farmers often bear the brunt of trade disputes or trade disruptions for political purposes," Welch says. "Farm profitability requires that we have access to the growing populations of the world with their rising incomes.  U.S. farmers and the U.S. economy benefit from our long tradition of being a reliable supplier of quality products to world markets. That is good for all of agriculture, whether it be food, fuel, fiber or feed."
About the Author(s) Senior Content Director, Farm Press/Farm Progress
Ron Smith has spent more than 40 years covering Sunbelt agriculture. Ron began his career in agricultural journalism as an Experiment Station and Extension editor at Clemson University, where he earned a Masters Degree in English in 1975. He served as associate editor for Southeast Farm Press from 1978 through 1989. In 1990, Smith helped launch Southern Turf Management Magazine and served as editor. He also helped launch two other regional Turf and Landscape publications and launched and edited Florida Grove and Vegetable Management for the Farm Press Group. Within two years of launch, the turf magazines were well-respected, award-winning publications. Ron has received numerous awards for writing and photography in both agriculture and landscape journalism. He is past president of The Turf and Ornamental Communicators Association and was chosen as the first media representative to the University of Georgia College of Agriculture Advisory Board. He was named Communicator of the Year for the Metropolitan Atlanta Agricultural Communicators Association. More recently, he was awarded the Norman Borlaug Lifetime Achievement Award by the Texas Plant Protection Association. Smith also worked in public relations, specializing in media relations for agricultural companies. Ron lives with his wife Pat in Johnson City, Tenn. They have two grown children, Stacey and Nick, and three grandsons, Aaron, Hunter and Walker.
Subscribe to receive top agriculture news
Be informed daily with these free e-newsletters
You May Also Like
---