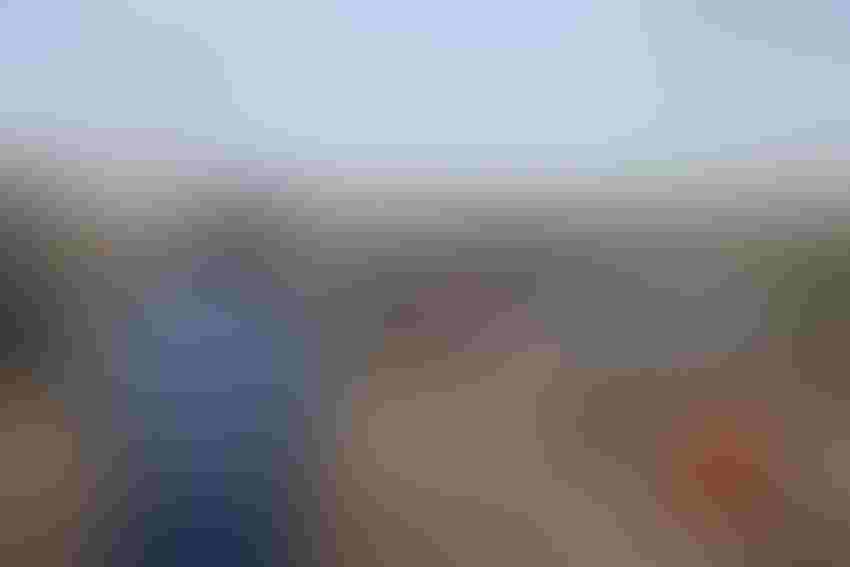 Stephen Diebel, Victoria County rancher, shows Kevin Isom, NRCS district conservationist, damage after Hurricane Harvey.
Melissa Blair, NRCS
No one knew when Hurricane Harvey made landfall in Texas on August 25 as a Category 4 hurricane that it would be one of the most devastating hurricanes to make landfall in the U.S. Texans along the Gulf Coast saw cities demolished, peak wind gusts as high as 130 mph, unprecedented rainfall of more than 50 inches resulting in catastrophic flooding, the death of 88 Texans, displacement of thousands of residents and more than $200 million dollars in agricultural losses.      
Traveling through Refugio to Victoria after Hurricane Harvey, I saw devastated homes, businesses and the lives of so many – it brought tears to my eyes. Then I saw a sign that summed up Texans' resilience – "Harvey was strong, Texas is stronger." I turned around and took a picture.   
And strong is what farmers and ranchers have to be when daily faced with the challenges of working in agriculture, especially when dealing with Mother Nature. Rancher Stephen Diebel of Diebel Cattle Company, rode out Hurricane Harvey at his family's century old ranch in Victoria. He was unsure what devastation the daylight hours would reveal after listening to howling winds and pounding rain throughout the night. He knew it was one of the worst hurricanes he had been through during his time on the ranch.
When dawn finally broke, Diebel's first sight was the twisted metal of outbuildings and barns, sheets of metal like crumpled pieces of paper scattered across his pastures.  Pastures and roads were covered in water as far as he could see. A sense of relief washed over him after seeing the calves alive and well. He had feared they had been killed when the hay barn collapsed. The calves often sought shade and shelter there.
DISBELIEF
"I was in disbelief that the weather could cause such a mess. It's hard to comprehend the workload ahead of you," said Diebel.
A busy cow-calf operation, the many items on the daily to-do list, like calf weaning, were put on the back burner as Diebel, his family and ranch crew took on more immediate needs.
He said the hurricane put the operation behind 30 to 45 days on cattle weaning, since they had to get power lines fixed and water wells pumping.
He scouted the ranch looking at other damages, and found the windmills had taken their last spin during the storm. The bent blades made the systems inoperable.
Diebel, whose family has worked with the USDA-Natural Resources Conservation Service (NRCS) on conservation efforts for several generations, realized one of his first calls needed to be to Kevin Isom, district conservationist with NRCS in Victoria. He knew NRCS would likely have assistance available to help replace the windmills with solar water pumps and panels to get the water flowing again.
"With the cost of repairing windmills going up each year, it only made sense to take this opportunity to look at improving the efficiency and dependability of our watering systems with solar," said Diebel. "The NRCS technical assistance through the Environmental Quality Incentives Program (EQIP) and Conservation Stewardship Program (CSP) have helped make improvements to maximize the land and natural resources, such as brush management, range planting, cross fencing, and conservation enhancements."
He filed an early exemption with NRCS so he was able to obtain bids and start the process of installing the solar pumps and solar panels. The early exemption does not guarantee funding for USDA programs, but it does allow the producer to install the practice before funding is awarded.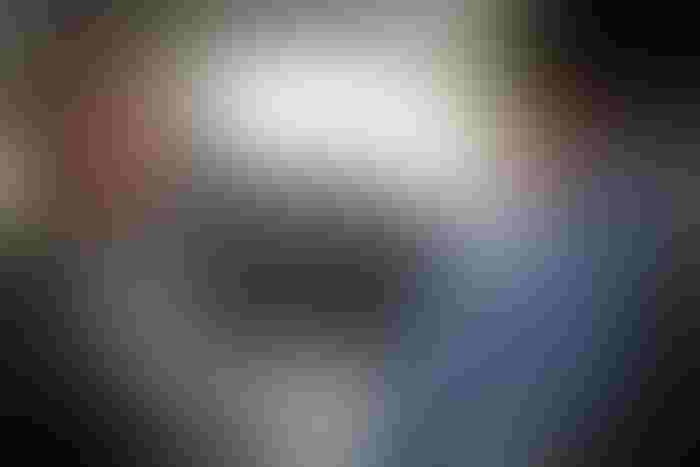 Kevin Isom and Stephen Diebel are able to work on the go with new NRCS mobile app on Harvey damages.
NRCS ASSISTANCE
Diebel, who serves as chairman of the Victoria Soil and Water Conservation (SWCD) board, the Coastal Prairie Grazing Lands Coalition (GLC), and on the Victoria Prairie wildlife Management Association, knows firsthand the importance of land stewardship. He is always glad to visit with fellow ranchers and farmers about the technical and financial assistance offered through NRCS and the SWCD to improve their land, natural resources and overall operation. As part of the GLC, he was also able to help the Texas Section Society for Range Management (TSSRM) provide financial assistance to ranchers who needed help after Harvey.
"Hurricane Harvey was a unique storm for Victoria County in that it basically stalled out west of the county before heading back down into the Gulf of Mexico," said Isom. "The damages NRCS is seeing from the storm are mostly wind related with lots of damaged windmills, solar pumping plants, barns, equipment sheds, and trees down on fences and in pastures."
"Flooding along the Guadalupe and San Antonio Rivers damaged fences, scattered debris and sediment in pastures, washed away livestock and caused erosion," Isom added. "NRCS is working diligently to help farmers and ranchers restore livestock water, replace cross fences, and with livestock mortality disposal."
Diebel attributes the ability of the flooding to disappear so fast after the storm to the family's conservation effort, including rotational grazing keeps their pastures covered in forage. The healthy soil soaked up the rain instead of having it pond for days in the fields.   
As I watched the cattle enjoy the green grass that was abundant after the rain, and listened to Diebel talk about how thankful he was that his family and friends were safe, I knew that even when faced with Mother Nature's wrath, he, like other Texans, would rally to rebuild and be stronger as a result of Hurricane Harvey.
For more information on the USDA-NRCS technical and financial programs, contact your local USDA Service Center (http://offices.usda.gov) or online at www.usda.gov.
Subscribe to receive top agriculture news
Be informed daily with these free e-newsletters
You May Also Like
---