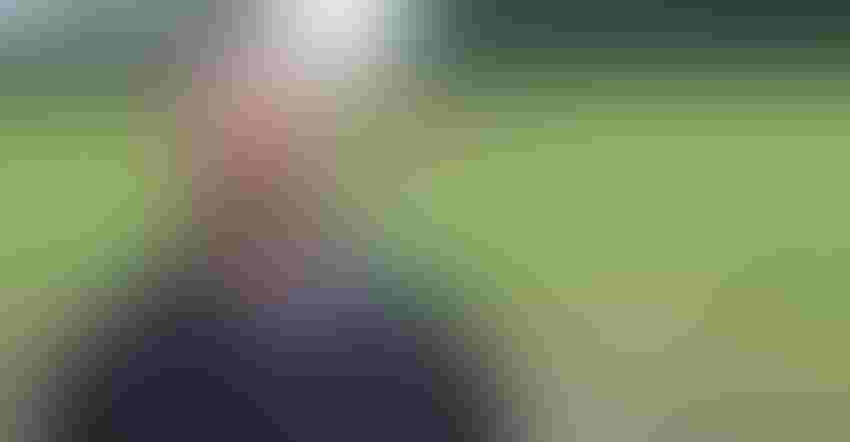 BUDDING BARLEY: Corey Mosher with a field of young fall-planted barley at his farm in Bouckville, N.Y. He's grown his production of malting barley to 350 tons a year as local malt houses need more locally grown product.
Brian P. Whattam
Corey Mosher is so enthusiastic about the opportunities for growing malting barley that he is on the organizing committee for the second Empire State Barley and Malt Summit. The event, which is for malting barley growers, small grain growers considering barley, malthouse operators, brewers, distillers and industry professionals, will be held Dec. 12-13 in Liverpool, N.Y.
Mosher grows malting barley, hops, grains, fruits and vegetables in Bouckville, N.Y. His initial trial of 10 acres of malting barley has expanded to 200 acres.
"New York's farm brewery legislation created an opportunity for us to take advantage of a growth industry focused on locally sourced grains," says Mosher, a Northeast representative on the National Barley Improvement Committee of the American Malting Barley Association.
The state has approximately 400 licensed farm microbreweries. To receive a license, the brewer must use locally grown products. From Jan. 1, 2019, to Dec. 31, 2023, no less than 60% of the hops and 60% of all other ingredients must be grown or produced in the state. That number increases to 90% after Jan. 1, 2024.
Relationships are key
The New York Farm Viability Institute provided funding for the first Empire State Barley and Malt Summit last year. "The Empire State Barley and Malt Summit, made possible by the Farm Viability grant, was created to bring together the key partners in the supply chain," says project leader Cheryl Thayer, a Cornell Extension agricultural economic development specialist. "This interaction is critically important to the growth of the craft beverage industry in New York state."
"A strong working relationship with a maltster is critical as a guarantee against the cost and risk associated with planting their preferred varieties," Mosher points out.
Mosher's initial buyer, Andrea Stanley of Valley Malt in Hadley, Mass., says: "As the first finished malt house east of the Mississippi, we wanted to distinguish our operation by sourcing local barley. We looked for growers in New York and New England willing to work with us to grow together."
Early on, Mosher worried about winterkill and getting the high protein desired by maltsters. His crop weathered well but was low in protein. Valley Malt, though, was willing to experiment with it.
"That 'mistake' stimulated thought about different approaches. We discovered that the low-protein barley could be used to make a differentiated product," Mosher says.
Valley Malt's operation has grown from 1 ton per week to its current 4-ton-per-week capacity, with more growth anticipated. Mosher is now harvesting about 350 metric tons of barley annually for Valley Malt; 1886 Malt House of Volney, N.Y.; East Coast Malts of Ithaca, N.Y.; and others.
"Now that we know more about the agronomy of barley we are catering to the maltsters' needs, tastes and variety selections, and working to match crop consistency and supply with demand year'round," Mosher says.
Testing for quality
"Malting barley is the only crop that has to be alive for processing," says Aaron MacLeod, director of the Hartwick College Center for Craft Food and Beverage, who oversees the testing of barley, hops, malts and beer in Oneonta, N.Y.
Mosher quality tests his crop annually at the center, the first of its kind in the U.S. Barley samples are evaluated for such things as germination percentage, protein content and mycotoxins. Data reports help growers adjust agronomic practices and market the quality of their crop.
BREAKING THE SOIL: Just emerged fall-planted barley at the Corey Mosher farm in Bouckville, N.Y.
"The data we provide as a neutral third party helps the growers, maltsters and brewers tailor their practices to achieve the highest quality and capitalize on New York's terroir," MacLeod says.
More local demand
Approximately a dozen malt houses in the state are looking to source locally grown grains. The second "New York State Brewery Supply Chain Analysis," which was written by Thayer, indicates quality and price are top concerns for buyers, while market uncertainty, production and storage are on growers' minds.
"Brewers have projected a 52% increase in barrels produced for 2018 to 2024, with all license types projecting an increased demand for New York state malt and New York-grown malting barley," Thayer says.
Know Alternative Markets
For times when a malting barley crop does not meet maltsters' specifications, or when market demand is down, identifying alternative markets is key, Thayer says.
These markets, "such as livestock feed processors, help minimize economic losses," she says.
But secondary buyers tend to pay less than premium prices.
Dunn writes from her farm in Mannsville, N.Y.
About the Author(s)
Subscribe to receive top agriculture news
Be informed daily with these free e-newsletters
You May Also Like
---