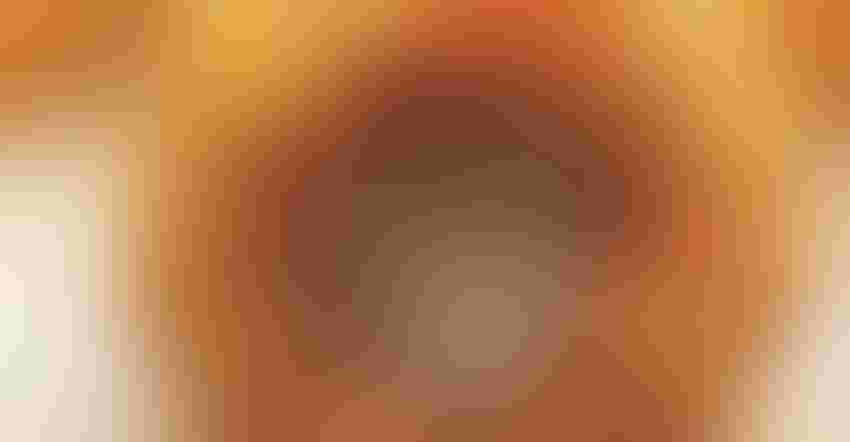 TongRo Images Inc/ThinkstockImages
Mild temperatures and timely rains – at least in parts of the Midwest – improved yield potential for corn and soybeans last week according to growers reporting Feedback From The Field.
To be sure, yield assessments varied widely. Dryland corn in a dry pocket of Kansas was put at just 30 bushels per acre with soybeans only 15. But in neighboring Missouri a mostly irrigated grower was hoping for 215 bpa corn and 70 bpa soybeans.
Median yields last week rose to 170 bpa for corn and 48 for soybeans. That's up noticeably since we first started getting estimates during the first week of August. Reports for the entire month are at 160 bpa corn and 46 bpa soybeans.
Crop ratings also moved higher last week, with more producers rating fields good or excellent. Still, the ratings lag those put out by USDA.
"I've been in a stretch that has caught some nice rains throughout the growing season," reported a producer in west central Iowa. "I've been very fortunate with my luck this year so far, I see some of the best crops I've raised."
The producer estimates corn at 200 and soybeans at 60. But not far away the story ways different, he said. "A few miles either side of me has not."
A farmer from southwest Iowa sent six weeks without rain. Still, corn was rated fair, or average, with soybeans good.
Growers in parts of the eastern Midwest continue to report problems.
"Our crop in Iroquois County looks terrible," posted a producer from eastern Illinois who put yields at only 150 for corn and 40 for soybeans.
"You can't get 200 BPA when you only have 12 rows of kernels on a cob!" wrote an Indiana grower.
Click this Feedback From The Field link to rate crops in your area and provide yield estimates in your fields. We'll update reports with the interactive map below that lets you see what other growers are saying around the country. Click the box in the upper left-hand corner to bring up the weekly index; scroll down to see the most current week.
Follow season progress by clicking on the links below.
Feedback from the field - April 24, 2017 - Growers report slow start in northwest Corn Belt.
Feedback from the Field - April 28, 2017 - 'Baby it's cold outside' isn't the song farmers want to hear.
Feedback from the Field - May 8, 2017 - Emergence sputters as planting slows
Feedback from the Field - May 12, 2017 - Farms make progress but weather still an issue
Feedback from the Field - May 17, 2017 - Growers wary of this week's new storms
Feedback from the Field - May 19, 2017 - Farmers face cold, wet end to May
Feedback from the Field - May 23, 2017 - Planting proceeds, questions remain
Feedback from the Field - May 26, 2017 - Some growers wonder if it will ever stop raining
Feedback from the Field - June 5, 2017 - Emerging drought threatens spring wheat crop
Feedback from the Field - June 7, 2017 - Progress, problems noted in early growing season
Feedback from the Field - June 12, 2017 - Conditions turned hot and dry last week
Feedback from the Field - June 19, 2017 - Rains improve conditions, but challenges remain
Feedback from the Field - June 26, 2017 - Crops improve but remain below average in year of extremes
Feedback from the Field - July 3, 2017 - Farmers report dire conditions on the northern Plains
Feedback from the Field - July 10, 2017 - Growers still say conditions are below USDA's crop ratings
Feedback From The Field - July 17, 2017 - Too much or too little: No Goldilocks moment for U.S. crops
Feedback from the Field - July 31, 2017 - Growers say crops still suffering despite rain and cooler temperatures
Feedback from the Field - Aug. 7, 2017 - Growers note small improvement overall in corn and soybeans last week
Feedback from the Field - Aug. 14, 2017 - Crops improve but growers say yields are below USDA forecast
Feedback from the Field - Aug. 21, 2017 - Rain still crucial as growing season winds down
Subscribe to receive top agriculture news
Be informed daily with these free e-newsletters
You May Also Like
---