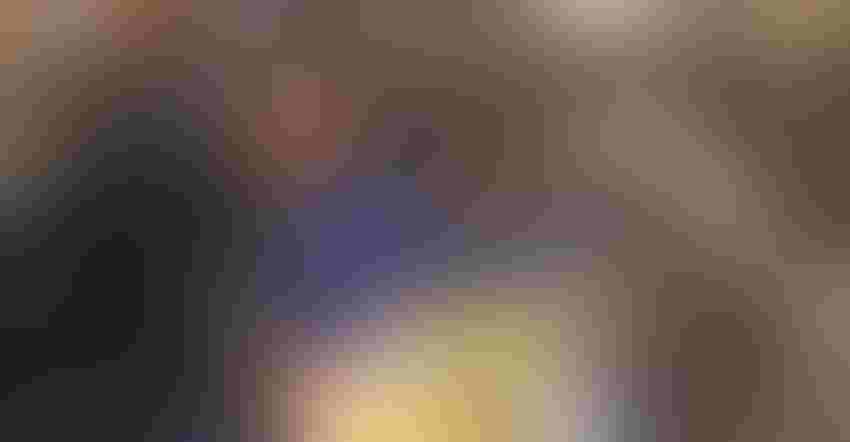 EXPLORING EXPORTS: The exhibition hall at the Export Exchange 2018, held in Minneapolis last week, buzzed with buyers and sellers making connections. The conference was sponsored by the U.S. Grains Council, Growth Energy and the Renewable Fuels Association.
Jonathan Eisenthal
By Jonathan Eisenthal
A former chairman of the International Trade Commission told an international group of grain buyers and sellers attending an export conference in Minneapolis last week that President Donald Trump's tariffs are "the most antifarmer trade policy since the Carter embargo."
"Farmers will continue to feel the pain," said Dan Pearson, the former ITC chairman. "Tariffs on steel, aluminum, and China [produced goods] seem likely to stay in place for many months — perhaps through the end of the presidential term in 2020 … [There is] no obvious off-ramp that allows the administration to shift gracefully to a different path."
The Carter embargo, Pearson said, took place in 1980, when then-President Jimmy Carter set a total embargo on U.S. wheat sales to the Soviet Union following that country's invasion of Afghanistan. The move didn't hurt the Russians, who simply bought their grain elsewhere. However, it did start the U.S. farm crisis of the early 1980s, he said, which resulted in devastating losses. In that case, also, even after it became obvious that the policy was ineffective, the administration did not reverse its decision, apparently fearing it would look weak, he added.
Ag recession a possibility without trade policy change
Without a pivot in current trade policy, Pearson said, an agricultural recession is a distinct possibility.
Pearson, an avowed Republican who has been a fellow at the Cato Institute, a conservative think tank, characterized the current trade policies as ill-advised attempts to change another country's policies. While not intending to hurt farmers, these trade protection moves offer at best, the possibility of a "Pyrrhic victory" — a contest in which one's adversary loses the most, yet one still sustains grave harm to oneself.
Pearson spoke at the Export Exchange, a conference sponsored by the U.S. Grains Council, Growth Energy and the Renewable Fuels Association that was held Oct. 22-24 in Minneapolis. Pearson currently operates a trade investment and analysis consulting firm in Virginia, Pearson International Trade Services.
Pearson spoke a day after Robert Johansson, chief economist with the USDA, addressed the conference.
Johansson said that the trade war with China has resulted in a projected drop in sales of U.S. soybeans to China, down from $16 billion to $8 billion. Some of those sales would be made up elsewhere, but the estimated hit to U.S. farmers is $7 billion.

TOUGH TRADE TIFF: Dan Pearson, former chairman of the International Trade Commission, believes the trade dispute with China will continue — and it will continue to hurt U.S. farmers. He spoke last week at the Export Exchange conference in Minneapolis.
Pearson pointed out that this is more than 10% of projected U.S. farm income of $60 billion for the coming year.
Johansson also quantified the importance of trade relationships with Canada — the U.S. is its top agricultural supplier — and Mexico. A recently proposed U.S.-Mexico-Canada trade agreement offers hope of preserving these important markets, though the agreement must still go through a congressional approval process.
Canada bought an average of more than $800 million in U.S. beef, almost $800 million in U.S. pork and well over $500 million in U.S. dairy products annually from 2015 through 2017. In 2017, prior to Trump's decision to jettison the North American Free Trade Agreement, Mexico purchased $2.5 billion worth of U.S. corn, $1.5 billion in U.S. pork products, $1.5 billion in U.S. soybeans and more than a billion dollars' worth of U.S. dairy products, according to Johansson.
Farm exports to grow despite value-per-unit loss
Johansson noted that total U.S. farm exports are still projected to grow very slightly in the coming year, and the value will top $140 billion in sales. However, these sales still represent a loss in value per unit, with the market for U.S. soybeans down $2 per bushel since the U.S.-China trade war began in July.
Representatives of the USDA and the Foreign Agriculture Service (FAS) still sounded notes of optimism, however.
"U.S. agriculture is open for business!" declared Mark Slupek, deputy administrator for FAS Office of Trade Programs, from the podium. He told the group that a one-time marketing assistance fund of $200 million had been created for FAS to be distributed to its industry partners who are seeking new global markets.
Slupek added that the U.S. Grains Council is the largest recipient of FAS assistance.

MARKET ASSISTANCE: Mark Slupek, deputy administrator for USDA's Office of Trade Programs in the Foreign Agricultural Service, told attendees at the Export Exchange that a one-time marketing assistance fund of $200 million had been created for FAS to help organizations, such as the U.S. Grains Council, develop new markets for U.S. farm products impacted by current trade disputes.
A representative of Cargill lamented that in the current situation, "there will be winners and losers."
Roger Watchorn, group leader for Cargill Agricultural Supply Chain Business, North America, said protectionist trade policies introduce inefficiencies and confusing market signals to the global trade system. Watchorn confirmed that Cargill is one among the many companies investing in the infrastructure needed to increase the efficiency of agricultural exports from Brazil.
Watchorn noted that one in seven people on the planet depend on global trade to meet their basic food needs, and nearly 20% of all the food produced in the world crosses international borders. With world population perhaps reaching 10 billion at mid-century, global market efficiency must be maximized to avert disaster, he said.
Dow declines, but new grain buyers appear
On the day of Pearson's address, the Dow Jones Industrial Average lost 600 points. Because this was merely the latest in a series of major market losses, the Oct. 24 loss marked the disappearance of the entirety of the gains made in the New York Stock Exchange over the course of 2018.
Pearson said signs of an economic reversal will help push back against protectionism and ultimately lead to a renewal of policies that favor free trade because voters will feel the pain in their pocketbooks and be less likely to vote for protectionist politicians.
Despite the gloomy report on current farm economics, the long-term outlook for U.S. agriculture remains strong, Pearson said. He reported that the U.S. has 160 million hectares of arable land — second only to India, which only has 6% more land, but also has a billion more people to feed.
"The U.S. has 50% more arable land than China and more than twice as much as Brazil," he said.
Pearson also chalked up other assets in favor of U.S. ag — "good soil, favorable climate, river transportation system" — as well as very well-developed transportation and storage infrastructure, and a high level of farmer investment in land, education and production technology. All of this places the U.S. in a very good position "to serve global food demand," he said.
GLOBAL BUYERS AND SELLERS: Attendees from South American countries stand together for a group picture at Export Exchange 2018, which was held in Minneapolis last week.
Generous slices of the daily schedule were given over to networking. The halls of the Hilton Minneapolis hotel exhibition space buzzed with buyers from Southeast Asia and South America, who were lining up to buy the products that the Chinese have spurned.
As one grain trader said, "When one door closes, another opens."
Eisenthal is a freelance writer based in St. Paul, Minn.
Subscribe to receive top agriculture news
Be informed daily with these free e-newsletters
You May Also Like
---