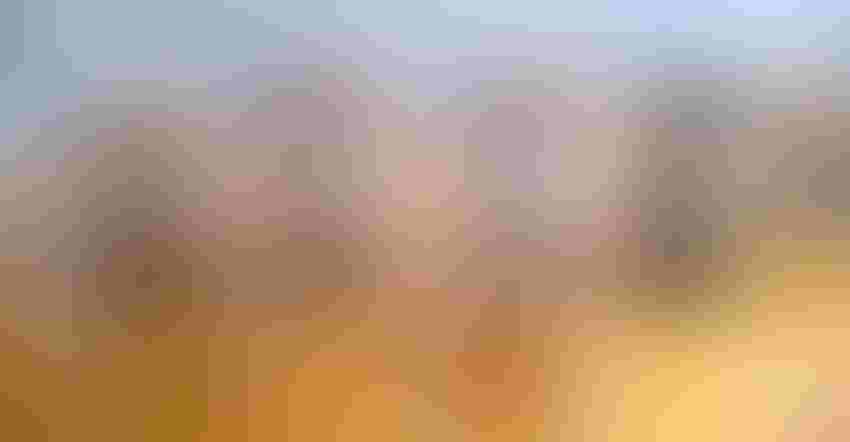 GREAT GRAINS: Farmers grow these wheat varieties for stone-ground flour used in artisan baked goods sold at the Food Building in Minneapolis.
Minneapolis, a city rich in history with its ties to farmers via flour mills, has another venture linking the farmer to the miller, baker and market.
Known simply as Food Building, this northeast Minneapolis enterprise that opened in 2015 and serves as an urban food production hub, currently offers two types of artisan foods for sale — pork products made by the Red Table Meat Co., and stone-ground-flour baked goods made by Baker's Field Flour & Bread. Whole pigs come in from Minnesota and Wisconsin pork farms, and Red Table crafts them into award-winning sausages and other delectable meat products. Small loads of heritage and modern grains from the Upper Midwest arrive and are stone-ground by Baker's Field to make flavorful flour that, in turn, is used in specialty breads and baked goods.
Food Building also is open for guided tours and tastings, and hosts public and private events. I've been wanting to visit the site, and a recent Sunday afternoon program drew me there — "Farmer, Miller, Baker, Maker: Why Modern Grain Matters."
Really into bread, flour
What an informative — and tasty! — event. The program featured a panel represented by each stage of the breadmaking process that was moderated by author Amy Halloran, who wrote "The New Bread Basket." On the panel were farmer Ben Penner, St. Peter, Minn.; farmer Luke Peterson, Dawson, Minn.; Steve Horton, miller and baker with Baker's Field; and Jeff Casper, a food scientist and noodle maker with Dumpling & Strand. Each gave an overview of what he or she does. Here's what I learned.
Halloran is really—and I mean really—into her breads. She's a self-proclaimed "ambassador for flour" and asks everyone she meets to take the "It's OK to love flour" pledge. She advocates for farmers who grow all varieties of small grains, and for all the players in between that bring flour to market.
She gave a well-balanced overview of grain marketing and how it evolved over the last century, as well as explaining the difference between roller-milled and stone-milled grain. The latter method, she believes, provides a more flavorful grain since it still contains the germ and bran.
Peterson converted his crop acreage to organic production, and he continues to push himself to learn and implement different farm management strategies. He's looking into going beyond organic to operate a regenerative farm — a farm that implements practices that can reverse climate change by rebuilding soil organic matter and restore soil biodiversity. He also may bring back livestock on his farm and add perennial pastures.
Penner raises Turkey Red winter wheat, a variety grown only on his farm in Minnesota. He also grows other wheat varieties — Forefront, Bolles and various winter wheats — and ryes, too. Penner is intent on seeing the rebuilding of a local grain marketing system similar to how it was a century ago: on a smaller, more intimate scale to offer much-needed options for farmers and consumers. The Food Building concept perfectly fills his production-to-market niche.
Casper, with his chemistry and food science background, gave more specifics on baking with stone-ground grains, protein and starch.
Simple key: Supply, demand
Horton, who couldn't source the types of flours he wanted for his bakery, started milling his own flour using a stone mill. He learned how to work with hard spring wheat — the predominant wheat grown in Minnesota. Horton also talked about the challenges that area bakers face with not having access to the flours they want for whole-grain baked goods.
"We are a micro-mill [here at Food Building]," he noted. "I'd love to see five to 10 more people doing exactly what we are doing to create more of an infrastructure." He admitted that they are struggling with the type of business model they have due to its small size, low production level and limited amount of consumer sales.
It all gets back to simple economics: creating demand and having adequate supply.
"We need to hang our hat on flavor and functionality of our products," Horton said.
The flavor of fresh flour is a savory market angle to pursue. I can attest to that, having noshed on a delicious selection of stone-ground breads, bagels and meaty pork sausages offered after the program.
Making a trek to the metro soon? Consider stopping by Food Building in north Minneapolis. Visit foodbuilding.com to confirm the hours as well as the programs and activities available when you come to town.
Subscribe to receive top agriculture news
Be informed daily with these free e-newsletters
You May Also Like
---