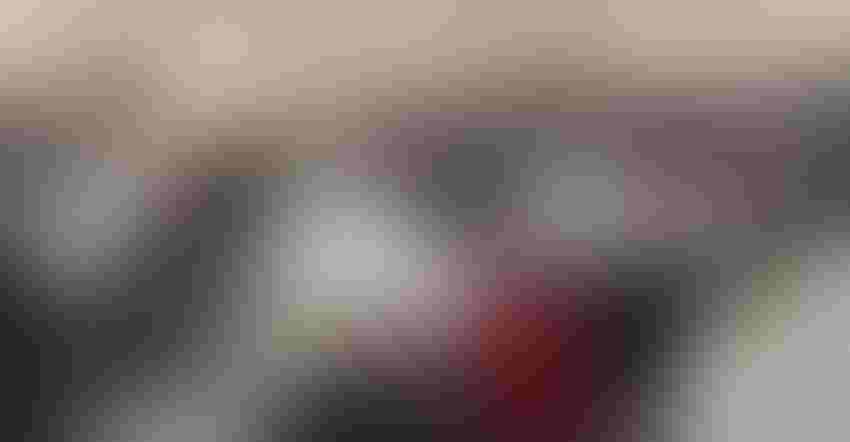 The first parcel sold at this 2014 Fulton County, Ill., auction fetched $15,600. Land values have since fallen, but by less than expected.
Photo by Holly Spangler
There's a moderately strong correlation between commodity prices and farmland values. If you've been frustrated that land values feel artificially high, you're not alone.
"Strong farmland values right now defy logic in a lot of ways," says Steve Bruere, president of Iowa-based land brokerage firm Peoples Co.
Some basic supply-and-demand principles do go at least partway in explaining current disparities, however. Bruere says Iowa had fewer than 150 farms up for sale as of November — less than two per county, on average.
"There's just not a lot of inventory to choose from," he says. "That's part of what's keeping these land values up right now."
Some "fuzzy math" may still be afoot, Bruere says, turning again to Iowa as an example. In 2007, the average price for corn in the Hawkeye state was $3.37, and the state's average farmland value was $3,908 per acre. Fast-forward 10 years, and while the average corn price in 2016 was nearly identical at $3.41, the average farmland price was substantially higher at $7,183 per acre.
And even though overall farmland values in Iowa have retreated by about 18% since peaking in 2013, the ratio of corn price to land values is much more askew today.
Where's the bottom?
Farmland values have dropped moderately in many areas, "but not as far as some of us think they could," says Randy Dickhut, senior vice president with Farmers National Co.
Even so, plenty would argue that farmland prices are already at or near bottoming out. For prices to head even lower would require something of a "perfect storm" made up of multiple factors, Dickhut says. Those factors might include such things as adjustments to crop insurance, negative changes to tax policy (highly unlikely at this point) and mishandled trade policy opportunities.
"Add it all together, and that could be the next way down," he says.
But for now, there's not much indication that will happen. Prices for high-quality land are mostly stable, based on Farmers National survey results comparing average farmland sale prices in five states in June of 2015, 2016 and 2017. Each of the five states reacted a bit differently when it came to high-quality farmland sales.
Arkansas prices stayed steady all three years. Idaho rose and then stabilized. Illinois fell and then stabilized. North Dakota fell each year, and Washington rose each year.
"We've seen mostly stable prices so far," Dickhut says. "There's interest in buying land, with relatively low supply."
A longer look
Still, the bottom of farmland prices may be yet to come, Dickhut says. Low commodity prices will continue to apply short-term pressure. Even so, his long view is more optimistic.
"Give us a couple more years," he says. "Longer term, land is always a good investment."
Bruere is inclined to agree.
"I'm bullish long term," he says. "I have zero fear about this asset class, but for the short term, we have to hang on. Some folks are just plain out of cash and in survival mode right now."
Subscribe to receive top agriculture news
Be informed daily with these free e-newsletters
You May Also Like
---