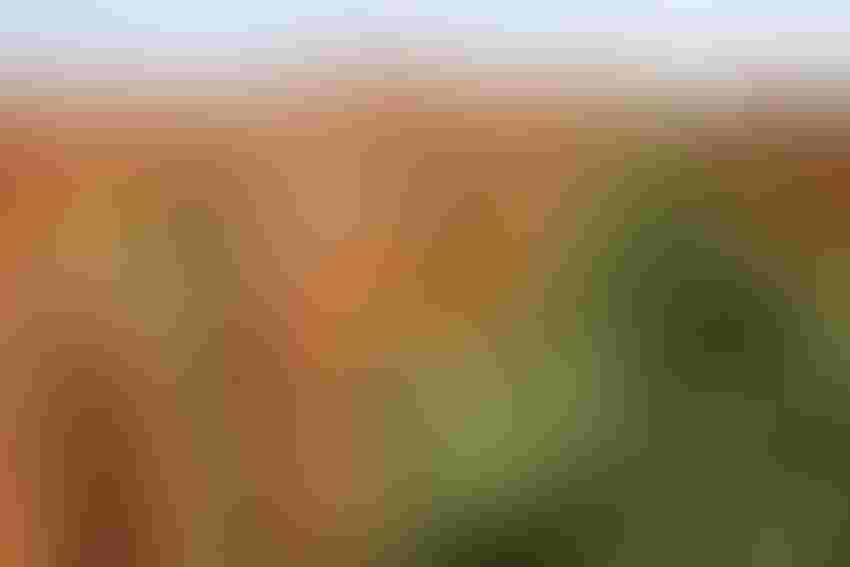 As harvest nears, the white sugarcane aphid continues its residency in much of the Mid-South's grain sorghum.
"This pest jumps out pretty quickly," said Nick Seiter, University of Arkansas entomologist. "It can hit high numbers very quickly. There have been a lot of acres sprayed for it. At least half the crop has been sprayed or should have been. It's become a major concern for milo throughout the state."
As of August 13, the aphid had been found as far north as Randolph County in Arkansas.
"It's still difficult to control," said Seiter. "We are getting decent results with higher rates of Transform. Occasionally, there needs to be a retreatment. If a grower gets on normal populations quickly then usually one application is good."
That hasn't always been the case in Mississippi.
"There's one thing to say: we just don't know a lot about how to manage this insect," said Jeff Gore, Mississippi State University entomologist, at the Aug. 13 field day at the Delta Research and Extension Center in Stoneville. "We're learning every day, though. It's been frustrating for us because we're used to providing growers and consultants with answers. With this insect we haven't been able to do that. In fact, our recommendations have sometimes changed from week to week as we learn new things about it."
The Section 18 for Transform gave producers "the only thing that provides effective control the way we need it in Mississippi," said Gore. "One thing we've begun to question is, in a lot of situations, there's a limit of two applications of (Transform). The state has a lot of acreage that's already been sprayed twice and needs a third before harvest.
"So, can we legally manage this insect this season? We're trying to get a Section 18 for a third application and haven't heard anything yet. We are fairly optimistic we'll get that third application."
That optimism was justified as, on Aug. 14, Gore and colleagues announced that a third shot of Transform had been secured for the state.  Since treatments only work for up to 14 days, "it appears that on some of the later planted grain sorghum it would not be possible to finish the season out with only two applications of Transform allowed per season.
"Just today, EPA announced an amendment to allow three applications as long as we do not exceed the seasonal use limit of 3 ounces per acre. Because we have been recommending 1 ounce rates in Mississippi, this will allow a desperately needed third application in many fields."
Harvest worries
In Arkansas, said Seiter, effective products other than Transform are being sought. Growers "need more than one chemical to deal with this pest. Of course, if they keep hitting the aphids over and over with just one product that's a recipe for developing resistance. We want to avoid that.
"Once we get into the harvest we're going to see the extent of the problems generated by the honeydew produced by this insect. There may be some very early milo being harvested already. But the meat of the crop is still not ready and that's where we'll really see if there is any real damage."
Gore stressed the need to keep sorghum plants as clean as possible -- "at least the top third of the plant" -- all the way up to harvest. "This insect can cause 100 percent yield loss. But even when we get close to harvest and they won't reduce yields, the pests can cause harvest problems.
"They produce much more honeydew than other aphid species. What happens is, if they're at the flag leaf or higher at high densities and produce a lot of honeydew, when you harvest the field everything gets drawn up and gets stuck in the combine."
Gore and colleagues will soon determine when it's best to terminate a crop with a harvest aide -- sodium chlorate, Gramoxone or Roundup. "We'll keep the crop as clean as possible to that point and then hit it with the harvest aide.
"I think we can manage this pest. But we'll have to spend a lot more money to produce a grain sorghum crop than we have in the past."
Why has the white sugarcane aphid become such a problem?
"There are a lot of factors that go into that," said Seiter. "It's a pest new to sorghum, but certainly not new to the sugarcane industry. Louisiana has had it as a minor pest for a while.
"It's new to sorghum, though, and because of that we're seeing some of the things normally associated with an invasive species. The natural enemies and pathogens of the aphid haven't quite adapted yet or aren't targeting the aphid as much as they will down the road."
Another factor: the genetics of sorghum in the state are likely uniform, says Seiter. "That can contribute to the problem. Since we haven't seen this pest before, tolerance or resistance in our varieties haven't really been selected for.  
"We'll be looking to pursue several avenues of research on this pest next year. It's coming into fully developed milo canopies and we're having some issues with treatments down into the crop. That needs to be a focus."
There's also a need to study the management of other pests having an impact on this aphid. "Some of the early applications going out for sorghum midge take the midge out of the field and then flare the sugarcane aphid later."
Further, said Gore, the aphid has been in the United States for 20 or 30 years "but it's always been in south Louisiana and Texas cane. About four years ago it made a host switch and began feeding on grain sorghum. Since then, their numbers have just boomed.
"Last year, they were in northeast Louisiana and growers were forced to spray a bunch of acres. We found the first ones in Mississippi in the fall of 2013 around the northern Bolivar County/southern Coahoma County line. This year, they've exploded."
Subscribe to receive top agriculture news
Be informed daily with these free e-newsletters
You May Also Like
---