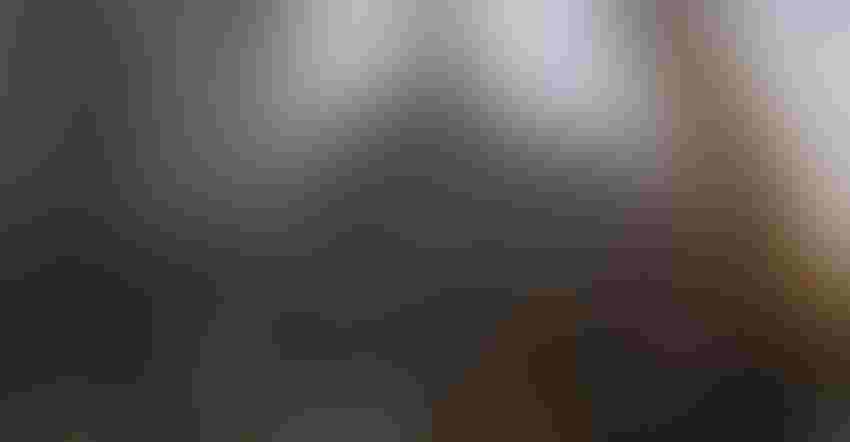 Our grain leg being lifted into place.
Kyle Stackhouse
As I sit here typing, the list of projects to complete continues to run through my head. It seems to be growing longer by the minute.
We have been proactive, but sometimes in the moment, it feels like it works against you. I know in the long run, we should be more efficient and less frustrated during the stressful harvest season that is about to unfold.
Case in point: last month, we had the main grain dryer inspected by the dealer. Besides a few updates the dealer made, we ended up with a list including changing some bearings, chains, and sprockets. We also had to pull the fan motors because after only five years, the bearings were going out. We took them to the local motor shop to have them changed out. We have yet to get that project put back together.
Combines are as done as we can get. We are waiting for the dealer technician to return to laser align the feederhouse drive gearbox and replace the unload auger gearbox and screw. These are two things that should not be wrong with a two-year-old machine. There is a 'fix as fail' warranty that may cover some of the cost, but since we aren't willing to wait for a failure, we have to send it in to find out what will be covered. If we're lucky, a good chunk of the parts will be discounted. I'm told labor is usually not included. The technician told us in no uncertain terms the unloader would not last the 300,000-400,000 bushels we expect to push through the machine this fall.
Dryer set up work continues
We continue to work on completing the second dryer set-up. Two used grain legs and a hopper tank are going in this week. We will also have to run electrical and hang discharge pipes. These projects always take longer than anticipated.
Equipment is ready to hook to tractors. Most machines were serviced when they went past the shop this summer. So, we're in good shape there. This might be the easiest task left. If I don't choose it for my Saturday morning project, I wouldn't be surprised if someone jumps on it in lieu of a less envious task.
Grain bins are nearly empty. I am down to the last two bins to sweep. (It's a good thing I focus on trying to get healthier after Labor Day, I don't mind the exercise as much!)
Lately the premium on non-GMO corn hasn't been enough, so we have been selling the corn as regular yellow dent. I chose to ship the corn to a terminal near backhauls of lime, limestone, and gypsum. We are staging the lime in fields for spreading this fall. We get less grain on the belt trailer, but make up for it by saving freight of just in time deliveries.
Well, I'd better get back to work, I'm sure I missed some items on the list. If we can get some heat, our target start date is sometime the week of Sept. 18.
Be safe.
The opinions of the author are not necessarily those of Farm Futures or Farm Progress.
Subscribe to receive top agriculture news
Be informed daily with these free e-newsletters
You May Also Like
---