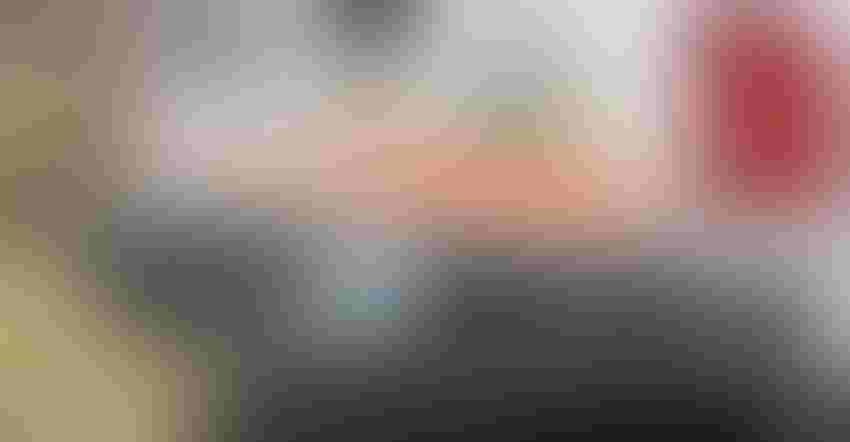 MIXED MESSAGE: The license plate may read "vegans," but the truck serves a different demographic — a meat eater.
Drawn to the massive hoist off the back end, I tried to remember the last time I'd seen a mobile slaughter truck. Sure, I've seen the local farmer with a steer hanging from the front-end loader of a tractor, but this type of rig caught me off guard. So, I went in for a closer look.
The truck parked outside Powell Meats in Clinton, Mo., was equipped with a winch-and-pulley system to lift a dead animal off the ground, providing butchers easy access for dressing and cleaning the animal.
While this truck is rudimentary at best, there are units across the country completely enclosed, with a cutting room and chill room. Typically, they come in the form of a gooseneck trailer or large box truck.
Mobile slaughter units are a big help for farmers and ranchers — especially those with few animals. The USDA's Food Safety and Inspection Service provides inspection for mobile slaughter units.
This federal inspection allows smaller producers to butcher meat directly on the farm and then sell to consumers. It provides a true farm-to-fork experience many foodies seek.

PROCESSING PLANT ON WHEELS: Farmers who want to eat what they produce have an option with a mobile slaughter truck in southwest Missouri. However, the meat processed cannot be sold.
However, some mobile units provide a service for livestock producers who don't want to bring the animal to the butcher shop or sell it. They just want to process what they produce and eat it straight from their freezer. That is the role of this truck. It clearly states on the sides that the product rendered is "not for sale."
But as I moved around the truck toward the tailgate, I couldn't believe my eyes.
"Vegans." It was emblazoned across the license plate. Right above it on the tailgate was an image of a farmer holding a shotgun next to a cow and the words "on the farm slaughtering."
Now, some may find the license plate offensive given the role of the on-site slaughter truck. I'm pretty sure there is nothing about meat processing that the average vegan would find appealing. But for meat eaters, it sure can make one giggle.
And that is the point. Let's bring a little levity to the situation. Too often, we are quick to be offended with those who don't agree with a stance.
In agriculture, we produce for both sides of the issue — plants for the vegan and meat for the carnivore. So, the license plate brought attention to both sides of the debate. Or maybe it was just a statement — the cow was a vegan.
Subscribe to receive top agriculture news
Be informed daily with these free e-newsletters
You May Also Like
---