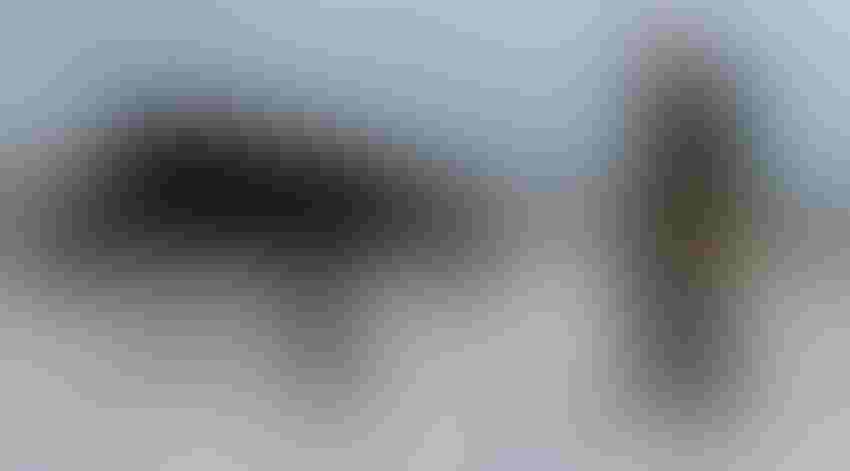 Montana rancher Fred McMurry started breeding Speckle Park after producing registered Hereford seedstock for more than 40 years.
Melissa Hemken
In the US, Speckle Park cattle cause passers-by to slow for a closer look. The cattle's attractively speckled hide and pretty faces catch attention, yet their production qualities add vitality to any herd. The breed was developed in Canada as a cross between British White Park, Shorthorn, and Angus cattle. Recognition of the Speckles' excellent maternity and beef attributes continues to grow.
The Speckle Park breed is popular abroad, such as in Canada and Australia, yet remains low profile in the US. Two ranch families, one in Utah and another in Montana, fortuitously added Speckle Park cattle to their operations. For the Forsythe family of Richfield, Utah it came about through unexpectedly colored calves.
"My dad [Marv Forsythe] bought a British White Park bull," says John Forsythe. "He ended up breeding our Shorthorn heifers. The next year all of these speckled white and black calves were born. We looked into that crossbreed and discovered the Speckle Park breed—a 3-way cross between British White Parks, Shorthorn, and Angus. We had two bloodlines of the three, and we realized that cross has been around for a while."
Up in Montana, several years prior, the McMurry Ranch set up an embryo swap with a Hereford breeder in New Zealand. Fred McMurry has produced registered Hereford seedstock near Huntley, Montana for over 40 years. The health paperwork on the Hereford embryos was mishandled. The New Zealand breeder offered McMurry embryos of Speckle Park cattle to partially rectify the loss of the Hereford embryos.
"I didn't know anything about the breed," recalls Fred McMurry, "so I looked into it. I was intrigued by their cool color pattern. What fascinated me, though, is that they're a very good carcass cattle and extremely hardy."
Speckle Park history
The Speckle Park was officially recognized by the Canadian government as an evolving breed in 1995 and received full distinct breed status in 2006. It was 1937, though, when the first speckled cow was born in Saskatchewan, Canada. Historical counts name Mary Lindsay, who spotted a speckled red roan heifer in her family's herd, as the breed originator. Lindsay purchased the heifer, a cross between Teeswater Shorthorn and White Park bloodlines, from her father and intentionally bred more speckled cattle. 
In 1959, Saskatchewan ranchers Eileen and Bill Lamont noticed Lindsay's speckled cattle's hybrid vigor. The Lamonts purchased speckled heifers to breed to their registered Black Angus bulls. The speckled coloring of the cattle catches the eye, yet ranchers talk about how the cross—now the Speckle Park breed—has low-birth weight easy calving, high fertility and milk production, docility, elevated weight gains, impressive marbling and carcass yield, and hardiness. 
"For the Speckle Park, likely the British Park breed contributed the easy calving, high marbling, and carcass conversion," Forsythe says. "The Angus probably the hardiness. Speckle Park cattle do well from Canada to Australia, which ranges from the cold Northern climate to the hot South. I think Shorthorns are one of the most underappreciated breeds. They have a lot of milk, will mother two or three different calves, and you could still butcher the cow."
The Speckle Park breed has a nascent US breed registry. Research on the breed's performance has been undertaken in Australia through Speckle Park International. In August 2020, Speckle Park International published their trail results of 76 FI Speckle Park/Angus heifers against 61 Angus heifers that were custom-fed together for 100 days and processed the same day in the same plant. The results showed the Speckle Park-cross heifers averaged a carcass price of AUD 149 (Australian Dollar) per head higher than the comparison group.
"The Speckle Park breed needs more data," McMurry says, "but I say that about every breed, even Hereford and Angus. You can't afford to produce a good heifer and then make a bad choice on a sire that will damage her during calving. When building a breeding program, you want a bombproof prediction on whatever matings you do so that they're safe. And, that takes a lot of data. We record everything on our bulls, both Speckle and Hereford, to ensure accuracy."
Qualities of the Speckles
Speckle Park cattle carry many attributes useful to dairy and beef production. When the Speckle Park embryos from New Zealand hit the ground as calves in Montana, McMurry observed their admirable qualities and added the breed to the ranch's seedstock program.
"There are some real bonus points on vitality for Speckle Park," McMurry says. "In a blizzard, the [Speckle Park] cows prefer to drop their calves outside the barn. Those little buggers will be up nursing covered in icicles. Up here in this country, that's important. If you don't have a calf, you've got nothing."
The McMurry Ranch carefully built its Hereford program by selecting desirable traits. All heifer and bull replacements, since 1995, have been ultra-sounded for carcass qualities. The Speckle Park cattle were rolled into the same assessment process.
"When one of our replacement Speckle Park bulls ultra-sounded a 15-inch rib-eye, that caught my attention," McMurry says. "Most of Hereford bulls are in the 13-inch rib-eye range. That [Speckle Park] bull moves like a cat. His is docile, very fertile, and his semen quality exceptional."
The McMurry's first Speckle Park bull, of New Zealand genetics, was notable, too. "We used him to clean up over the summer [after artificial insemination] on the cows," McMurry recalls. "He was a great herd bull because he kept his cows grouped. When his daughters came into production, we began to appreciate his genetics. That bull allowed me to see the value of the [Speckle Park] breed."
McMurry recommends the Speckle Park breed for grass-fed programs. "With the carcass yield of the breed," he says, "they can be finished on grass in about 20-to-24 months. If you're raising grass-fed beef, they must have a growth rate so that you can slaughter them at a reasonable age without feeding them for years. When we want beef for our freezer, we pick a Speckle Park."
Distinctively speckled
There are four color patterns with Speckle Park: leopard, speckled, black pointed, and solid black.  "All Speckles have darkly-pigmented skin," McMurry explains, "which is a nice feature in respect to sunburn. We occasionally get a red Speckle in our Hereford-Speckle Park crossbred recip[ient] cows. For some reason, they're particularly good commercial cows. Beautiful udders, lots of milk, and good moms. I don't know how this relates to the red gene. I just observe it."
With the US cattle market oriented toward solely black-hided animals, Speckle Park's distinctive white speckles can be disadvantageous. Until this changes, McMurry and Forsythe both recommend Speckle Park for direct sales to wholesale accounts and individual consumers. "The color of the hide is unimportant when direct marketing beef because it's based on beef quality and who cares what the hide looks like?" McMurry says. "The Speckle Park produces beef that will grade. We have three purebred Speckled heifers that ultra-sounded at 8 percent marbling off of a development ration. No grains. That's double of other beef production breeds."
Solid black is one of the Speckle Park color patterns, and McMurry and Forsythe each have a black bull. "When bred to black cows," Forsythe says, "our solid black purebred Speckle will produce, nine out of 10 times, solid or mostly black calves. This can be a good thing for commercial herds that sell calves into the general market where hide color is a selection criteria."
McMurry adds that he has seen a lot of interest from dairy producers seeking to add higher milk production in their herds. "I've been amazed at the interest we have received for our Speckle Park semen," McMurry says. "Up north [in Canada], Speckle influenced calves now meet or exceed the value of all black calves in the general market. Speckle Park is a very high-quality breed. People intrigued by livestock love the color. Nothing's got a face like a Speckle Park! Ultimately, it'll be the beef quality that will sell the breed."
Subscribe to receive top agriculture news
Be informed daily with these free e-newsletters
You May Also Like
---