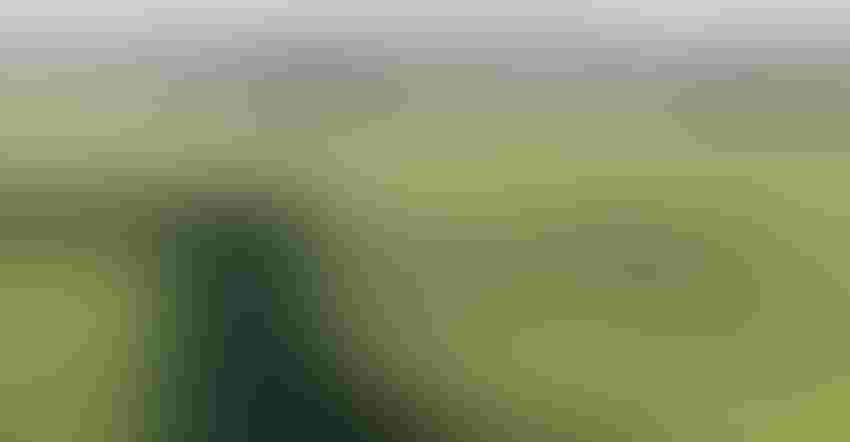 GOOD INVESTMENT: Land pays for itself over the long term through the cash flow generated from rent or crops and asset appreciation over time.
Farm Progress
My wife and I farm 700 acres, including 450 acres owned. We milked 65 cows until 10 years ago, but now we just grain farm. We're 59 and 58 years old. Last week, my neighbor, who is also my first cousin, asked me if I would be interested in buying 60 acres from him. He is 65 and would like to retire, but he owes $300,000 on his mortgage and he wants to pay that off before he retires. We live in south-central Wisconsin. The land is worth $8,500 an acre on paper, but he said he would sell it to me for $7,000 an acre.
We don't have any debt, and I wasn't planning to buy land, but the more I think about it, the more I wonder if it might be a good idea. We don't plan to retire for another seven or eight years. We could put $150,000 down on the land. Our local bank said it would loan the balance. My question is, are we better off to be debt-free, or should we buy this land and work to pay it off by the time we retire? What are the advantages and disadvantages of this purchase?
Tom Kestell: Congratulations on your success so far! This is a clear testament to your ability to manage the many roles in agriculture in your long career. I think any major purchase should be analyzed very carefully to ensure the investment makes sense from both a personal and business analyzation. Again, I go back to the pros-and-cons approach to decision-making. If you are familiar with the musical "Fiddler on the Roof," this approach was used to balance "traditional" decision-making with the use of the term (on the other hand) to develop and explore new and better ways to make decisions.
You ask, is it better to be debt-free or to take on some debt to acquire this additional land? Debt for a wise investment should be viewed as a tool to accomplish worthwhile goals. I have often said there is good debt and bad debt, and I think this remains true now more than ever. I recently had a conversation with a banker friend of mine about the possibility of purchasing land that I am currently renting. He simply stated that "if" I did purchase this land, it would not take 20 years to pay for it because this is not my mode of operation.
I think this is the hidden advantage to this land purchase. It will focus you to make your farming operation more profitable so this debt can be retired as early as possible. Anytime talented people, like your wife and you, are challenged to take on a goal, subtle and not-so-subtle improvements will occur, and positive results will be realized. On the other hand, passing up this opportunity will probably not have negative effects on your retirement or financial stability. I think it's a simple question: Do you want to be motivated and challenged, or are you content with your present status quo? Good luck with your decision, but on the other hand, luck is not what will determine this to be a wise or foolish decision!
Sam Miller: First, congratulations on your excellent financial position! By being debt-free, you have options to consider this purchase. Looking at the opportunity on its merits, you are able to buy this land at a discount, giving you some potential equity after completing the purchase. One way to look at this purchase is by the return if you rented out the land; for example, a 4% return would be $7,000 times 4%, or $280 per acre. Compare this to rent in your neighborhood. If it is below market rents, this is a good deal, and if it is above market, consider other benefits or drawbacks.
Another consideration might be the chance for you to drop some rented land in exchange for this purchase. This would net the debt service against the rent you are currently paying if renting land. The additional 60 acres is not likely to strain your machinery investment, labor or marketing activities, so it should fit into current operations with minimal disruption. The debt service on $270,000 over an eight-year amortization at 4% interest would be about $658 per acre per year, or a more normal $327 per acre if amortized for 20 years. This should have minimal impact on your operation, as you can spread this payment out over all acres operated, not just the incremental parcel. Land pays for itself over the long term through the cash flow generated from rent or crops and asset appreciation over time. Good luck with your decision.
Katie Wantoch: The amount of land you need for your farm business and how/when you acquire land are both important decisions. Buying farmland allows you to have control over decisions such as crop rotation, improvements and farming practices. You will not only benefit from improvements that you make to this land, but you will also build long-term wealth from owning the farmland. However, as you pointed out, buying land is expensive. Utilizing your existing cash to make a sizable down payment on the purchase could lead to cash-flow problems, like not having money available for repairs, inputs or other urgent expenses. If you plan to retire in eight years, your loan payments on this purchase may limit your farm's profitability and restrict your ability to fund a retirement plan.
Purchasing farmland can be an emotional and stressful decision. I suggest that before you make a decision about this land purchase, you do some homework. Talk to a financial adviser, Extension educator or consultant to weigh in on the pros and cons and how this purchase might impact you and your wife's future retirement. Doing this homework will help you make an educated decision about this purchase and your future retirement.
Buying a round baler
My brother and I own a 400-cow dairy farm and 650 acres in central Wisconsin. Our cows average 100 pounds of milk per cow per day. We rely on custom operators to empty our manure pit and harvest our crops. We don't have a lot of equipment, but we own a disc bine, and I cut my alfalfa before the custom operator comes to chop and/or bale it. We are thinking about buying a round baler so we can bale some of our own alfalfa and all of our cornstalks for bedding. I priced a new baler that has been sitting on the dealer's lot for almost two years. The baler lists for $52,000, but I can buy it for $38,000. I think we could pay for this in three years. I'm 44 years old, and I've worked hard to keep our debt to a minimum. I won't reveal our net worth, but our asset-to-debt ratio is 66% owned. What are your thoughts?
Tom Kestell: I Congratulate you on your current success. To average 100 pounds of milk per cow per day, you have to be doing many things right! My first question is, in this current climate of tight machinery availability, why is this baler not selling? I am not an expert on the operation of and reliability of the different balers on the market. However, I am somewhat of an expert on results of different balers on how they process and wrap different crops, such as: grass hay, alfalfa (dry or as baleage), cornstalks (wet and dry), and soybean and wheat straw. We have a custom operator bale over 1,000 bales per year with different makes and models of balers. Over the years, we have clearly seen how the baler affects the final product, such as the bale density, shape and ease of handling. I would begin with making a list of all the features you want and need to accomplish your goals. I would then discuss this list with the dealer, but more importantly with custom operators that use these balers. Will this baler deliver dependable results that you want and need? Price is important, but satisfaction and reliability far outweigh the initial costs of the baler.
Become a student of round balers. What features are available? What features do you need? What balers deliver these features reliably and at the least cost? Once again, custom balers stress their machines much more than you will with your private use. Custom bale operators are a valuable resource to give you keen insights on which balers deliver what they promise. If this baler checks all the boxes, go ahead with the purchase. If not, find one that does.
Sam Miller: Your balance sheet is in very good shape, with two-thirds of your assets in equity and one-third with debt. Given the size of the business, an incremental $38,000 purchase, if 100% debt-financed, would nominally impact the balance sheet. Your analysis indicates you can pay for it in three years, meaning the return on investment is good for the business, as well. This additional purchase also makes logical sense, as you already cut alfalfa and can then move to bale if the custom chopper is delayed as an alternative to scheduling the custom work, plus baling the cornstalks provides additional fodder for the dairy. This seems like a reasonable purchase at a nominal cost for the business. Good luck with your decision.
Katie Wantoch: Retired Extension forage specialist Dan Undersander notes that round balers tend to be more economical than medium to large square balers for both beef and dairy midsized farms. However, there are many differences among round balers and selection of a machine that will best match your needs. When you are considering a round baler, you also need to consider the size and power of your tractor. The tractor horsepower needed for baling will depend on baler size, whether fields are level or sloped, desired baling speed, whether hay or baleage is being made, and if a bale accumulator is part of the package.
You also need to have other considerations when baling cornstalks. Possibly the most important factor is the durability of your baler. Cornstalk baling is hard on equipment. You may still have root base in the ground and plant stalk still attached to that root base. This can make it hard on the internal components of your baler, in addition to being dirty and abrasive. Pickup, reliability, capacity and efficiency should also be considered if you are planning to bale cornstalks.
Remember that baling does require field preparation, so make sure your mower also is tough enough for your cornfields. You may want to consider purchasing a rake to windrow stover for baling. Undersander recommends to have a windrow as wide as the width of the baler pickup head for making uniform-diameter bales. Keep these things in mind as you consider your round baler purchase.
Agrivision panel: Tom Kestell, dairy farmer, Sheboygan County, Wis; Sam Miller, managing director, group head of agricultural banking, BMO Harris Bank; and Katie Wantoch, Extension agricultural agent specializing in economic development, Dunn County, Wis. If you have questions you would like the panel to answer, send them to: Wisconsin Agriculturist, P.O. Box 236, Brandon, WI 53919; or email [email protected].
Subscribe to receive top agriculture news
Be informed daily with these free e-newsletters
You May Also Like
---