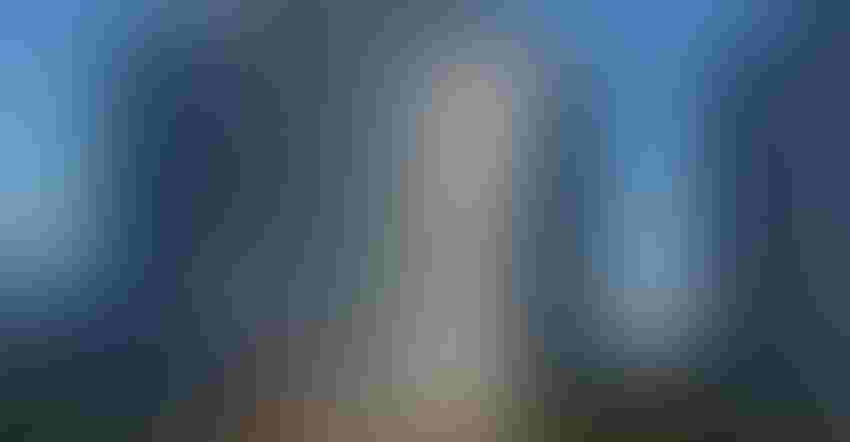 OPTIONS: You need grain storage and your neighbor isn't using his bins. Should you buy them and move them, lease them on-site, or walk away and build a newer, larger bin?
Each month in Wallaces Farmer magazine, the Timely Tips panel answers questions sent by readers. Members of the Timely Tips panel are Alejandro Plastina and Wendong Zhang, Extension economists with Iowa State University; Leslie Miller, Iowa State Savings Bank, Knoxville; and Rob Stout, Master Farmer, Washington, Iowa. Following are the questions they are answering this month.
We need more storage for corn. A neighbor who will retire after this year is willing to sell us his two 20,000-bushel bins. We can either do that and move the bins here to our farmstead or leave them at the neighbor's place and pay him rent. He is not going to use them this fall. How do you sort out renting vs. owning grain bins, and which is the best deal?
Plastina: Storing grain beyond harvest improves the marketing opportunities available to producers. Choice of storage options will depend on the relative cost of each one and how it fits into the overall harvesting, handling and marketing system. How long do you usually store grain? If just a few months, then renting your neighbor's bins on a monthly basis this fall might save you some commercial storage fees. However, make sure your neighbor obtains proper liability coverage against damages to your stored grain. A disadvantage to leasing storage from your neighbor is the bins might not be available next year.
If you tend to store grain for many months at a time, and you expect that your storage needs will not decline in the future, then it might be reasonable to evaluate purchasing the bins from your neighbor. You will have to compare the size of the initial investment against the savings in commercial storage costs over the useful life of the bin. Ag Decision Maker File A2-35 can help you organize the data to conduct the economic analysis. If your economic analysis favors purchasing the bins, then talk to your lender and your accountant to evaluate the potential impacts of the purchase on your cash flow and your tax returns.
Stout: If you are renting the farm the bins are on, it would make sense to rent the grain bins, also. If not, then unless you have a long-term lease on the bins, it may be a better choice to buy them and move them to your farmstead. If you are using the bins for corn storage, another consideration would be that it may work better to move them into your drying and storage system at your farmstead if you have enough drying capacity. If you would be using the bins for soybean storage, then that isn't quite as important. Check out the cost of moving and setting up at your place, including concrete, before making the call.
Miller: The best advice depends on whether you will need the storage long term and whether you can buy the bins and move them for a reasonable price (around $1 per bushel). At the new site you will have the cost of a new floor, new concrete and wiring, but even with those costs included, the used bins will be less expensive than new bins.
The Farm Service Agency has a low-interest loan program for grain facilities. Under this loan program, used bins may qualify, but have a shorter repayment period than new. If you want to pursue this type of financing, it's important to talk to FSA before you do anything (site preparation, down payment, etc.)
If you buy the bins, you know they will be there for your future use. However, if you are uncertain that you will need the grain storage long term, by all means, rent them so you keep your debt level down.  The North Central Farm Management Extension Committee hosts aglease101.org with lease forms and information.
Obtaining right of first refusal
For 15 years, we've rented a farm from a neighboring widow. She has dementia. We think she will soon need to move to a nursing home and will need cash. How do we approach her, or her legal representative, or her heirs about getting a right of first refusal to buy the farm? We think a private sale to us would net her more money than an after-expense auction sale.
Stout: First, you need to find the person who can make the decision and start talking with that person to see if you can make the arrangements now. As a long-term renter, I would think you should have the right of first refusal when the decision is made to sell the land. Instead of setting a price now, you could sign a right of first refusal at a price set by a certified appraiser at the time of their choosing. Everyone might not agree with that idea, so be ready to point out the benefits to both you and her, and hopefully, they will see the wisdom of it.
Miller: The first auctioneer who talks to the "legal representative" or family members will tell them a private sale will net them less than an auction. Thus, I recommend you act sooner rather than later.
The right of first refusal only gives you a chance to "refuse to pay what another person might be offering to pay; it doesn't guarantee that you will be the one buying. I've seen a tract of land sold at auction, and the person with the right of first refusal was merely asked if they wanted to pay the auction price or waive their first refusal rights (they didn't want to pay that much).
If you want to guarantee that you get a chance to buy the farm, you might want to put an "option to buy" into place.
That way, you can agree on a price, but maybe give yourself five years to exercise this purchase option. At the end of five years, the price will either look good compared to surrounding land or be too high — in which case you would surrender your option.
When I've seen this done in the past, the potential buyer usually signs a five-year lease to rent the land in conjunction with the option. Sometimes the renter pays a slightly higher cash rent to pay for the option, but that does not happen all the time. It depends on your negotiation skills. Be sure to have an attorney draw up the paperwork.
Zhang: Obtaining the right of first refusal probably needs to be handled by your and her lawyers given her health condition and the fact that two rights of first refusal could vary a lot in details. For example, how long the contingency can last, what financial resources or proof you need to come up to buy the land when she decides to sell, what the various deadlines would be, etc. It may be a good idea to ask her legal representative to explore the possibility because you have a long-standing relationship with her. But this clause could be viewed by her representative or kids as potentially limiting future buyers because she needs to notify you first upon sale, I suggest you move forward with caution. Be as frank and considerate as you can and instill as much clarity as you can if she agrees to consider such a clause. Even then, having a clause like this also means you should be ready to buy when she decides to sell.
Subscribe to receive top agriculture news
Be informed daily with these free e-newsletters
You May Also Like
---