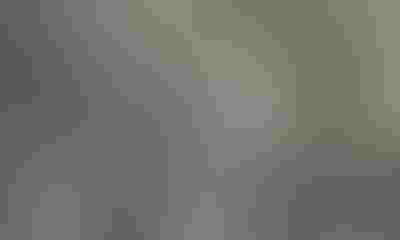 Eastern region Land O Lakes milk producers received an early-warn letter in September that the cooperative was working on a fix for its long-time Eastern region milk oversupply situation. In early November, the bad news arrived – a supply management (quota) system setting a lid on base daily production.
Related: Dairy game-changer: McDonald's to 'butter up'
Beginning Jan. 1, the cooperative will implement a milk supply program that "allows us to better align member milk production with our operating capacity and provide access to the most profitable markets," explained, Bill Neary, Land O Lakes' senior director of member relations.

A cow enters the milking facility of South Mountain Creamery on August 3, 2004, in Middletown, Md. (Photo by Alex Wong/Getty Images)
The specifics
Each member will be assigned a production "base" established based on the 12 months between September 2014 and August 2015.
That base will be computed based on the highest daily production volume average achieved for each of those months.
Members producing more than that base volume will be charged any incremental costs (freight, market discount, etc.) associated with marketing that milk in "non-profitable channels".
One member-producer meeting was held last Friday in Mechanicsburg, Pa. Three more are scheduled: Dec. 9 in State College, Pa.; Dec. 10 in Chambersburg, Pa.; and Dec. 11 in New Holland, Pa.
Farm Progress emailed Neary regarding whether similar quota programs were planned for other regions. As of 11 a.m. today, we received no response from Land O Lakes.
~~~PAGE_BREAK_HERE~~~
Milk market undercurrent
Land O Lakes has struggled for years with oversupply at its Mount Holly Springs butter plant. But Pennsylvania Milk Marketing Board's over-order pricing premiums may have played a larger role in this market change-up.
"Obviously, this is a strong message to members not to expand," says Jim Dunn, ag economist at Penn State University. "I'm not surprised, given what we have been seeing with some farmers losing their markets.
"As I understand, it's because of the big increase in Midwest milk coming into Pennsylvania. And probably for the same reason, we're seeing a great drop in Pennsylvania milk going to the Southeast. That's been a windfall for some of the big guys for a decade or so.
Related: Butter prices skyrocket
"The financial incentives to do that are essentially gone, even for the farms that fill several trucks per day.  I'd guess that if the quota becomes biting, it will squash some expansion plans or lead to some big farms looking for a new market, unlike the small isolated farms earlier this year.
"The challenge with quotas is always when it starts. If you just expanded, it's good for you. If you were just getting ready to expand, you're in a pickle."
The worst "pickle" is to be in the middle of an expansion and having contracts already signed, adds Mike Evanish, manager of Pennsylvania Farm Bureau's Member Services Corporation.
Not a new move
"This something LOL and others have done a number of times in California," points out Andy Novakovic, ag economist at Cornell University. "But I know of no one who is or has done this in the Northeast, although closed memberships aren't unusual."
The bottom line has to be this: Milk markets no longer come to your door. Before you even think of buying cows for a new herd or to expand an existing one, make sure you have a market for that milk and more.
Subscribe to receive top agriculture news
Be informed daily with these free e-newsletters
You May Also Like
---