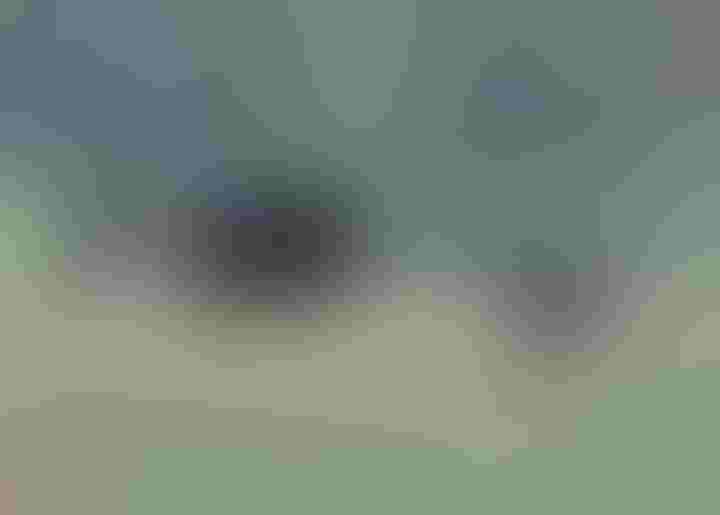 In the 1980s, the conception rate in an average herd of dairy cows was around 50 percent; today that number has dropped to 35 percent. A team of scientists led by Washington State University's Tom Spencer is turning to advanced genomics technology to address what has become a challenging issue facing the dairy industry.
"Besides feed cost, infertility is one of the most costly issues for the dairy industry," said Spencer, who holds the Baxter Endowed Chair in Beef Cattle Research in the Department of Animal Sciences at WSU. "In general, there has been a 1 percent per year decline in fertility."
An infertile animal has to be culled from the herd, he explained, leaving the producer with the expense of supporting the animal until infertility is confirmed, as well as the cost of replacing the animal.
Barrier to competitiveness
"Fertility is a complex polygenic trait, so it is harder to select for than other traits," Spencer said. "If we can identify and isolate the multiple genes responsible for fertility, we may be able to tell earlier what cows are going to be fertile – maybe as early as at birth."
Want access to the very latest in agriculture news each day? Sign up up for the Western Farm Press e-mail newsletter.
The U.S. Department of Agriculture's National Institute for Food and Agriculture has invested $3 million to help address cattle infertility, which is one of the biggest barriers to global competitiveness for American dairy farmers. The five-year grant, announced this week, includes scientists from WSU, University of Idaho and University of Florida and components in research, outreach and teaching.
The goal of the project is to increase the sustainability, profitability and international competitiveness of the U.S. dairy industry, Spencer said.
"Our hypothesis is that dairy cow fertility can be increased through genetic selection for maternal fertility in heifers and cows and the use of sires with high daughter pregnancy rates," he said.
Identifying, isolating multiple genes
The research component will begin by focusing on identifying genetic markers for fertility in dairy heifers and cows. Spencer and WSU animal scientist Holly Neibergs, as well as Joe Dalton from the Department of Animal and Veterinary Science at the University of Idaho, will work with select dairy producers in the Northwest to collect cattle DNA and blood samples and identify which genes are associated with fertility.
University of Florida animal scientist Pete Hansen and John Cole, research geneticist at the USDA Agricultural Research Service in Beltsville, Md., will pursue the second research step: identifying and isolating the factors contributing to daughter pregnancy rates based on the sire's genetics. This will help identify and select sires that transmit high fertility genes to their daughters.
Outreach to dairy farmers
The outreach component has three parts and is led by Dalton. A team led by Albert DeVries, an economist in the University of Florida Department of Animal Sciences, will evaluate the efficiency and profitability of increasing fertility in dairy cattle using genetic selection tools. The results of that cost-benefit analysis will be available online and will include a worksheet to help dairy farmers determine if the new technology makes sense for their specific situations.
Outreach also will include working with focus groups to better understand dairy farmer needs and to test the understanding of and the best way to describe genomics to the target audience. Dale Moore, director of veterinary medicine extension at WSU, will lead that part.
The third part entails transferring the technology of improving fertility using genetic selection tools to dairy farmers, dairy farm personnel and their advisors – in both English and Spanish – using DAIReXNET and extension road shows. DAIReXNET is an online resource for the dairy industry. Dalton and Mirielle Chahine, also of the University of Idaho, will focus extension work on developing bilingual educational opportunities for current and prospective dairy employees.
"Ultimately, the focus of our outreach component is to provide educational opportunities and tools to dairy producers, their employees and allied industry to increase fertility and the sustainability of dairy businesses," Dalton said.
Complementary pursuits
The USDA grant dovetails with a grant Spencer and Neibergs received in August from the National Institutes of Health to study infertility in beef heifers and use that information to help increase the success of human pregnancies.
"It is a really cool opportunity," Spencer said. "At the end of the day, through USDA and NIH, we hopefully will be able to impact a large segment of animal agriculture in the United States and leverage our findings for the benefit of both beef and dairy cattle. It's exactly the way it should be – working together on a common goal and having a positive effect on animal agriculture."
Also from Western Farm Press
Death, liberty, Cheetos, and the American way
Hemp farming nears historic return to American agriculture
Subscribe to receive top agriculture news
Be informed daily with these free e-newsletters
You May Also Like
---