Home-grown fuels pump irrigation
Home-grown fuels pump irrigation
Mid-South farmers team with BioDimensions.100 percent ethanol in modified irrigation engines.Advantage to sweet sorghum.AgBio's 25FarmerNetwork: new crops, value-added processing, biofuels and biobased products.Offers cost advantage to farmers.Needed: local ethanol plant.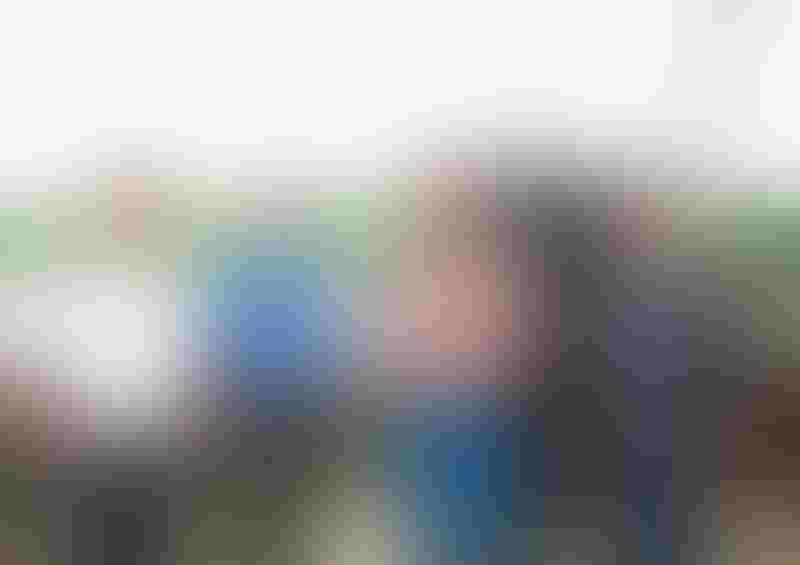 Two Mid-South farmers, along with a Memphis-based, non-profit company, BioDimensions, are working on a project to produce home-grown fuel for irrigation.
The project, which stems from Memphis Bioworks Foundation's AgBio initiative, will use 100 percent ethanol made from sweet sorghum and a modified irrigation engine.
West Tennessee farmer Willie German is participating in the project through his involvement in AgBio's 25FarmerNetwork, a pilot program started in 2008 to bring together west Tennessee farmers to grow new crops, participate in value-added processing and partner with companies producing biofuels and biobased products.
This season, German produced 160 acres of sweet sorghum, along with 20 acres of energy beets, on a farm near Whiteville.
After harvest in September, the sorghum was transported to a nearby roller mill, located in a former gin, where juice was extracted from the sorghum. The juice was fermented in tanks to create an end product called hydrous alcohol.
Meanwhile, in Edmondson, Ark., farmer Stewart Weaver furrow irrigated 90 acres of cotton in 2010 with a General Motors 8.1 liter industrial engine modified by AmeriFuels Renewable Energy to run on 100 percent ethanol.
For now, the engine runs on corn-based ethanol from Tennessee, but the idea is that one day soon, ethanol produced from a Mid-South sweet sorghum crop could run his irrigation engines, as well as others around the Mid-South.
All that's needed to close the loop for home-grown fuel development is a local ethanol plant. That's a big challenge, though.
Currently, Mid-South producers don't capture much value from corn's conversion to ethanol — other than a higher commodity price — because of a lack of interest in constructing new refineries in the South.
BioDimensions is hoping that sweet sorghum could stir some interest, though. According to research, sweet sorghum can produce more ethanol per acre than corn.
But the big advantage is that ethanol produced from sweet sorghum doesn't require the cooking and enzymes that corn requires for conversion to fuel grade alcohol, and is therefore cheaper.
A business plan for Mid-South ethanol production should be completed by January 2011, according to Pete Nelson, with BioDimensions, and after that efforts will intensify to find investors.
"We've already been working with interested groups in Tennessee, Arkansas, Missouri and Kentucky. We're looking at developing a similar footprint as the ginning industry in the Mid-South, with farmers partnering with us."
Despite the dearth of ethanol plants in the Mid-South, Weaver was able to purchase 100 percent ethanol through his local Flash Market, a retail gasoline and convenience store, which acquires their ethanol from a plant in west Tennessee.
Cut irrigation costs
Weaver said home-grown fuel could eventually cut irrigation costs for producers, depending on their level of involvement.
"The farmer usually has to pay for everything four times over in the retail market. If we can make our own fuel to irrigate our own crops, you can't get much better than that. It's nothing but a plus-plus to help us cut our dependence on foreign oil. The model also fits well with this model of going green."
Weaver found out about the project as a board member of the United Sorghum Checkoff Program. In addition to the ethanol-powered irrigation project, the sorghum producer also planted several acres of sweet sorghum this year for research purposes.
Randy Powell, sugar crop program manager for BioDimensions, says the juice extraction experiment on German's farm in Whiteville "is to demonstrate the mechanized models, the high-volume commercial factories.
"There are people working on smaller models, mounting mills on old cotton pickers, but we're trying to work this out on a true commercial scale, where you'd produce fuel to sell to the major oil companies."
According to Brad Holden, marketing director for AmeriFuels, based in Kearney, Neb., the modified ethanol-fueled irrigation engine required special fueling components, such as injectors and fuel pumps, and new programming of the computer that controls the system.
Holden says around 100 AmeriFuels ethanol engines are currently operating in the United States, most of them in the Midwest. The engine design is three years old.
"We're trying to produce a closed loop system, where we're producing the energy we use to grow our crops, and we're not dependent on foreign oil," Holden says.
"It's a message that people know, but it's probably not been applied to the industrial side as it has the automotive area. We use a ton of fuel on the industrial side, and it's been a little overlooked."
According to BioDimensions, Arkansas, Missouri, Mississippi and southeast Missouri consume an estimated 114 million gallons per year of fossil fuels (mostly diesel) to power irrigation engines.
Nelson said sweet sorghum, "represents a substantial opportunity to replace fossil fuels with renewable biofuels produced from sugar crop feed stocks grown and processed in the region."
Currently ethanol is priced lower than diesel, which could provide a cost advantage for producers as well.
This project is coordinated by BioDimensions in partnership with AmeriFuels Renewable Energy, Weaver Farms, German Farms, Mid-South Community College and Memphis Bioworks Foundation. The Sweet Sorghum project is supported by a grant from the United Sorghum Checkoff Program.
Subscribe to receive top agriculture news
Be informed daily with these free e-newsletters
You May Also Like
---