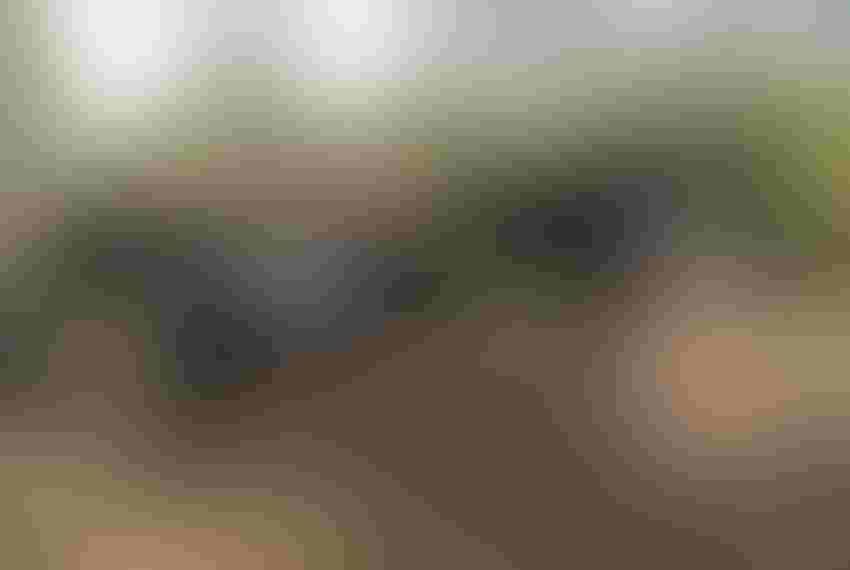 Although they are in winter flesh, these Mashona cows show many of the traits the author specifies for his optimum cow.
Alan Newport
My friend Gabe Brown from Bismarck, North Dakota, phoned me one day in early March. The sun was shining, the mud was not bad and the heater was sure working good in my truck, so I was in a good mood. It seemed that Gabe was feeling well, too.
I met Brown back in June 2008 up in Canada at Neil Dennis's ranch. We were both having fun taking a few shots at Neil, but we also agreed that he had made a positive transformation of his pastures. Neil had just received about 700 heifers to graze until October/November. I remember telling Neil that the heifers were too big and greasy to maximize profits down in Tennessee. I think he argued. In December when we had a telephone visit, Neil was bitching about the lack of gains on the 2008 heifers. I was not surprised.
On the same trip we stopped and spent several hours at a field day on Brown's ranch. I was trying to be on my best behavior but Terry Gompert handed me the mike and ask for my thoughts of Gabe's cattle. Reluctantly I said that they were beautiful but too damn big in my opinion (I might have said "way too damn big.") The owner quickly went on the defensive and a debate ensued. I quickly learned that Brown loves to debate just as much as I do. We both hate losing. I claim that I won the argument since I was not asked to leave the farm/state and later drank a couple of his beers.
This past Monday when Gabe called he said they had just finished doing a gate cut and weighed more than a few of their cows. He said they averaged something like 41/2 years of age and had been mostly dry wintered on standing forage with late May/June born calves at their side. "What do you think they weighed?" he asked.
"Less than they did back in 2008," I answered. "How much?"
His answer, "1,020 pounds," came ringing through.
I remarked that it looked and sounded like he had been paying attention. He claimed to have done very little with purchased genetics and mostly they have applied pressure on the cow herd and made them work harvesting their own feed and nursing a late-spring calf through most of the winter and well into March. He also said that the vast majority of the cows I saw in '08 had culled themselves from the ranch many years ago after they decreased their feeding program and increased their grazing days.
His replacement heifers are developed entirely on grass and calve in late May and June. A bunch of them are calving at 700 pounds. They are running more than 200 head and have dragged off than two in the last several years.
Of course, I bragged about the fact that people who really listen to me tend to succeed. Occasionally I get away with being a little facetious.
I won't repeat his remark, but we both chuckled and booked a working/fun visit to his place for June 2018. I am tickled for all the right reasons. I have made a good friend (I don't have many) and we have watched and observed as Brown ranch has grown into one of the most respected and profitable cattle operations in North America.
In March 2014 and again last year on December 6 and December 11 I attempted to define my considerations as to a near perfect cow. Gabe and I are in totally different ecosystems and his cattle have every reason to be bigger than mine. But the truth is that all of us need the right cows and the right cows have got to be a little on the small and very efficient and reproductive side. This is a topic that we not only need to think about but to dwell on.
Here is what I call "Doc's good-cow description."
Vigorously assaults forage at all levels throughout the year and thrives under high-stock-density grazing.

She has never had a health or calving issue.

She always has clear eyes and slick shiny hair.

She has a thickness of hide and color that fits the area weather extremes.

She is feminine with a long neck, a wide muzzle, is short-coupled, and has friendly manners and temperament but still stands her ground.

Has perfect feet. She moves real easy

Has a 10- to 12-degree downward tilt of the pelvis and slightly angular hind legs.

Her height is 4" to 6" above the belt buckle on a 6-foot man.

Her udder is slightly visible with thumb sized teats and yields a maximum of 6 quarts of high fat milk when emptied four times a day.

She is easy keeping, always full, and can raise a late-spring born calf through March while harvesting standing forage and losing less than 150 pounds.

She calves at 22 to 26 months of age and every year for the next 15.

As a 5-year-old she weighs almost 950 pounds in the early fall.

Viewed laterally, she has twice or more times the air hitting her side as going under.
Subscribe to receive top agriculture news
Be informed daily with these free e-newsletters
You May Also Like
---