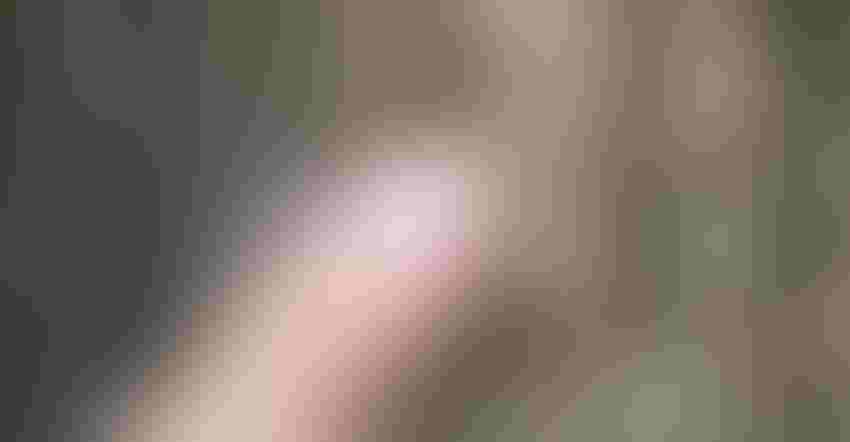 MARK OF DEATH: If you see these dome-shaped openings on the outside of ash trees, you know the tree has been invaded by emerald ash borer. It's only a matter of time before the tree dies, Chris Parker says.
Chris Parker normally instructs his consulting forester to mark only mature trees for harvest. This past year, however, the forester and Parker agreed to harvest a certain species even if trees weren't mature.
"We marked several ash trees this past year during a timber harvest which under ordinary circumstances we would have saved," explains Parker, a timber and cattle producer near Morgantown, Ind. Parker is retired after serving about 30 years as the Morgan County Extension ag educator.
"The problem is that emerald ash borer is rampant and infesting trees over a large area," Parker says. "At one point it was in Michigan, but now it's all the way to Tennessee.
"Mortality rate is about 98% to 99%. If an ash tree gets infested, odds are it will die — it's just a matter of time. If you can harvest trees which aren't dead yet, you can salvage some value, even though you'll get a much smaller log than if the tree was mature."
Unintended consequences
The mature adult borer exits the tree in late spring, leaving a dome-shaped hole, Parker says. Adults lay eggs on the bark, and tiny larvae bore through the bark; then the cycle repeats. "Most borers are secondary pests which follow another stress, but this one is a primary pest," Parker says. "It's a devastating insect."
That's because once infested, the tree is almost guaranteed to die, Parker adds.
Larvae destroy the cambium layer inside the bark, he says. That prevents the tree from moving sugars produced during the year down to the roots. "It's the same effect as girdling an unwanted tree with an ax or saw to kill it over a year or two," he explains.
At one point, there were quarantines on firewood in some areas, intended to help prevent spread of the borer. "We don't have quarantines anymore because the borer is literally everywhere," Parker says.
Some homeowners with ash trees in their yards may try to salvage them, but treatment is expensive. It's impractical to expect to treat it in the woods, he says.
"What we don't know is what comes next, once nearly all ash trees are destroyed," Parker says. "Once the food source is gone for the borers, it's not clear what will happen next."
Chestnut trees and most elm trees were wiped out decades ago, but that was due to disease, not an insect, Parker observes.
Another unintended consequence is damage that falling dead ash limbs and trees can do. Fatalities tied to dead ash trees falling have been documented in Ohio and Michigan. Learn more at a website set up by a Michigan resident trying to bring attention to a potential calamity. One goal of the website is to remind both private landowners and county and state authorities that they're responsible for removing dead ash trees near roadways.
About the Author(s)
Subscribe to receive top agriculture news
Be informed daily with these free e-newsletters
You May Also Like
---