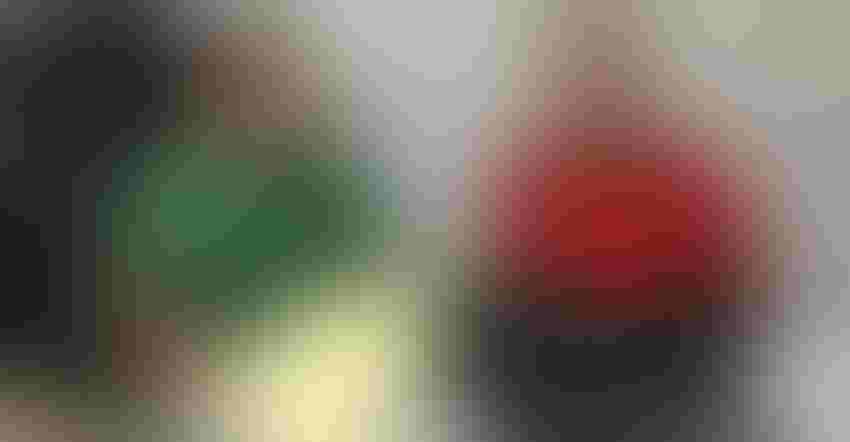 Frank Hopkins, Jr., works with Mike Boggs (right) of FBS Systems, using FBS software to track finances on the Hopkins farm.
By Joli A. Hohenstein
From marketing and agronomy to application and custom combining, there's a place for outsourcing on every farm. But one place that producers may not be looking at — and one that could benefit them most — is their recordbooks.
It may just be the one most intimidating, but it shouldn't be, says Frank Hopkins, Jr., of Hopkins Farms in Gilson, Ill.
"My biggest regret is that from day one when I started farming, I wasn't outsourcing," he says.
He started farming with his father in 1991, buying an off-the-shelf software package and doing their bookkeeping. They soon added acreage and then began printing their own checks in 2008, which led to better data entry. In 2014, they added a fuel tracking system and a time accounting system for labor. They had grown to about 1,000 acres of crops plus hogs and cattle.
Those expansions, combined with the passing of his father, led Hopkins to believe it was time to take the books a step further.
A tough decision
It's a tough decision to outsource, and a need many producers struggle to recognize. "It's hard to realize it's not good use of your time to figure out how to do it and handle all the details and reporting," says Norm Brown, president of FBS Systems, a farm accounting and production software company in Aledo, Ill.
At the time Hopkins made the decision to outsource, the operation was doing what he calls "check" accounting with Farm Business Farm Management, a University of Illinois ag management program.
FBFM would do monthly bank statements and send him reports. He would get a comparative analysis, balance sheet and uniform reports year after year, and FBFM managed his taxes. He hired an outside consultant in 2008 to take the data he had accumulated to develop a long-term plan. Two years later he hired the consultant's marketing expert to help with grain sales.
"I started working with Mike Boggs in 2013 before he started working with FBS," says Hopkins. "He was a friend of mine and had controller experience. He helped part time on the farm with the books and farm work. Then he started working for FBS, and I decided to purchase their software."
Help with farm taxes
It's a challenge for any business. But for producers used to operating on an all-cash basis, taxes can be difficult to say the least. That's where someone like Boggs comes in. Boggs acts as a "virtual controller" for many producers. "The biggest transition is going from cash accounting to managerial accounting," he says. "Maybe they're getting some pressure from a banker or lender to get some better numbers. Cash accounting doesn't indicate the true profit of the business."
That's why the financial industry as a whole is trying to make it easier for producers to make the move. Brown is even part of the Farm Financial Standards Council that will soon release an implementation guide to accrual accounting. The goal is to make it easier for farmers who are not accountants to get started with accrual reporting.
For Hopkins, the move to management accounting ultimately led to not only better data and numbers, but also a better understanding of expenses and his cost of doing business. "We know everything we do, down to how many gallons of fuel things use," he says.
That's not surprising to Boggs. "Accrual accounting is more real-time tracking of payables and receivables," he says. "The next step is spreading their overheads, getting a look at all costs and getting to managerial accounting."
Operational adjustments
At Hopkins Farms, the change drove several adjustments at the operational level. For example, they used to have all of their fertilizer and lime spread, and have all of their manure drag-lined. Hopkins has always done his own spraying, but bought a fertilizer and lime buggy to do their own spreading.
"The big thing that drove the purchase of the buggy was buying fertilizer direct from the river and the cost savings over retail," he says.
As time goes on and he gets further into management accounting, Hopkins says he's getting more detailed. "I'm on a bank board, and I see all versions of data," he says. "A lot of farmers have good data, but there are some where it's garbage in, garbage out."
Today he farms 3,300 acres of field crops and has restructured and diversified the livestock side of his business to emphasize contract hog finishing. At peak season, his operation employs as many as eight people.
Although he might rather be in a tractor cab, he knows management is where his head needs to be. "My consultant told me that 80% of the farmers he works with want to drive a tractor," says Hopkins. "If you're going to be in business and do it as a business, you will need to spend more time on people management and numbers management."
All agree on what producers' bottom line for outsourcing should be: What can I have somebody else do cheaper than I can do it myself? Says Boggs, "One of the outcomes of managerial accounting is that you realize not only the things you don't like to do, but also that you're not that efficient at doing."
Hohenstein, a frequent Farm Futures contributor, writes from Decatur, Ill.
Subscribe to receive top agriculture news
Be informed daily with these free e-newsletters
You May Also Like
---