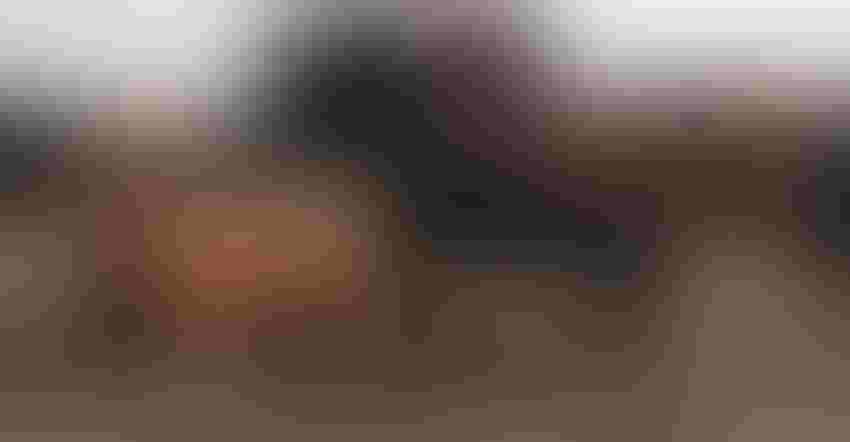 GOOD DISCUSSION: Iowa Cattlemen's Association leaders met with elected and appointed government officials last week, sharing concerns on behalf of Iowa producers.
"The Iowa State Fair provides an excellent opportunity for all Iowans to come together each summer to learn about and celebrate the rich agricultural heritage our state is known for," notes Katie Olthoff, director of communications for the Iowa Cattlemen's Association. "With Iowa's congressional delegation back in Iowa for the August recess, it's also perfect timing to invite elected officials to sit down to discuss cattle industry issues. They also take a walk through the cattle barn to catch up with constituents and congratulate young exhibitors on their accomplishments and have a bite of beef at Cattlemen's Beef Quarters."
At the recent 2018 Iowa State Fair at the fairgrounds in Des Moines, ICA hosted both state and federal officials to do exactly that.
ICA officers, members and staff on hand
ICA member-leaders and staff were on hand to visit with Gov. Kim Reynolds and Iowa Secretary of Agriculture Mike Naig. Congressional representatives included Sen. Joni Ernst; Reps. David Young, Steve King and Dave Loebsack; and even a couple of regulatory appointees. EPA acting Administrator Andrew Wheeler and Brian Quintenz, commissioner of the Commodity Futures Trading Commission, met with ICA at the Iowa State Fair.
ICA leaders took these opportunities to continue building key relationships with these leaders and discuss important policy issues developed through ICA's grassroots process, says Olthoff. These issues included trade, the 2018 Farm Bill, regulation of fake meat products, labor needs, electronic logging device rules and hours of service regulation, and oversight of cattle futures trading.
Key issues that concern cattle producers
Here's an update on some of the federal issues ICA is currently working on:
1. Trade and market access. Cattle producers support open markets and science-based trade. Beef exports account for around $300 per head for U.S. producers.
NAFTA renegotiation is a top priority. There is optimism that a bilateral deal with Mexico may be complete by early September that would bring Canada back to the table to work out a trade agreement as well.
ICA members are also concerned about the impacts of the ongoing tariff and trade dispute with China. Though the Chinese market for beef remains relatively underdeveloped, the devastating effect on the pork industry will negatively impact beef, too, by bringing more pork to the U.S. market and forcing beef to compete at a lower price. Though China's acts of intellectual property theft cannot be ignored, unrestricted access to the Chinese market is crucial for American agriculture.
2. The 2018 Farm Bill. The U.S. House and Senate have passed different versions of the farm bill, and the next step is for the legislation to go conference committee. Conferees have been announced and include Ernst, an Iowa Republican.
ICA's priorities for the farm bill include full funding for the Foot-and-Mouth Disease Vaccine Bank. Iowa is one of the most livestock-dense states in the nation; this puts Iowa livestock producers at increased risk of having a disease outbreak and means Iowa producers have the most to lose. An FMD outbreak would be catastrophic, not only for the livestock industry, but also for the state and nation's economy. The $150 million per year for five years it would cost to fully fund an FMD vaccine bank is an inexpensive way to protect from losses estimated to be over $128 billion over 10 years for the beef and pork industries alone, says Olthoff.
In the conservation title of the new farm bill, ICA is encouraging the Iowa congressional delegation to protect Environmental Quality Incentives Program funding, and to improve the Conservation Reserve Program by increasing the opportunity to integrate cattle production through haying and grazing. Cattle producers would also like to see the farm bill improve the accuracy of the U.S. Drought Monitor for disaster relief and protect trade promotion programs (Market Access and Foreign Market Development). They also want the farm bill to maintain research funding.
3. Electronic logging device and hours of service regulation. Combined with "hours of service" requirements, this federal mandate being proposed would eliminate the needed flexibility for livestock haulers to get livestock to their destination without compromising animal health or welfare. Livestock haulers are currently under an extension for compliance; they do not currently have to comply with the electronic logging device mandate. The Senate recently passed a one-year extension for delay. A House committee has passed the same language, but the legislation still needs to pass the full House.
Bills have been introduced in the House and Senate, sponsored by Iowans, that would provide long-term solutions to hours of service rules. Also, the U.S. Department of Transportation is still considering a petition, supported by ICA, that requests a five-year ELD waiver for livestock haulers. The transportation department has not indicated when it will respond to the petition.
4. Fake meat — what should be done about it. The growing popularity of plant-based and lab-cultured alternative proteins has led to the need for a decision on how these products will be regulated. ICA seeks to protect consumers from misleading labels and to protect the beef industry from disparaging labels such as "clean meat."
ICA supports the House Ag Appropriations Committee's language that calls for regulation of fake meat products by USDA (not the Food and Drug Administration). FDA did not enforce labeling rules for plant-based products claiming to be "milk," and USDA's Food Safety Inspection Service is the premier public health agency for regulating meat and poultry products. FSIS is perfectly capable of regulating production that does not involve slaughter, say ICA leaders. In fact, 67% of the facilities that FSIS inspects are "processing only," meaning they do not slaughter live animals.
5. Labor shortage — how to solve it. A shortage of labor continues to be a limiting factor for Iowa livestock producers who want to expand their operations. The industry needs a legal path for immigrants to be in the U.S. to fill jobs in all sectors, especially meat processing. Proposed legislation known as the HR 6417 Ag and Legal Workforce Act has been introduced in the House that focuses on trying to resolve the ag labor issue.
Source: Iowa Cattlemen's Association
Subscribe to receive top agriculture news
Be informed daily with these free e-newsletters
You May Also Like
---