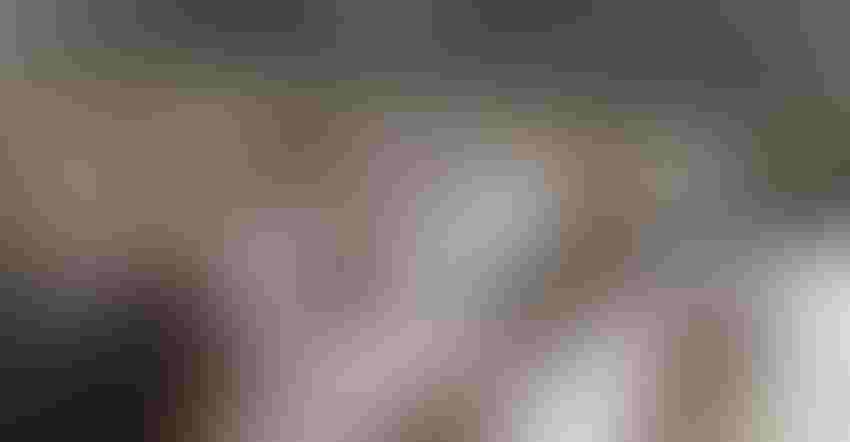 GREAT LOSSES: Economists say an FMD outbreak in the U.S. could cost the beef and pork industries $128 billion over 10 years if livestock producers weren't able to combat the disease through vaccination.
Citing economic and food and national security concerns, Michigan Pork Producers Association and the National Pork Producers Council joined an ad hoc coalition of more than 100 agricultural organizations and allied industries groups urging Congress to include in the next farm bill language establishing and funding a foot-and-mouth disease vaccine bank.
FMD is an infectious viral disease that affects cloven-hoofed animals, including cattle, pigs and sheep; it is not a food safety or human health threat. Although the disease was last detected in the United States in 1929, it is endemic in many parts of the world.
In a letter to the chairmen and ranking members of the Senate and House agriculture committees, the coalition pointed out that "an outbreak of FMD will have a devastating effect on all of agriculture — not just livestock producers — and will have long-lasting ramifications for the viability of U.S. agriculture, the maintenance of food security and affordability … and overall national security."
According to Iowa State University economists, an FMD outbreak in the United States, which would prompt countries to close their markets to U.S. meat exports — thus creating a surplus of meat on the domestic market — would cost the beef and pork industries a combined $128 billion over 10 years if livestock producers weren't able to combat the disease through vaccination. The corn and soybean industries would lose over a decade $44 billion and $25 billion, respectively; and economy-wide job losses would top 1.5 million.
"These costs can only be mitigated if the U.S. can mount a swift and thorough response once FMD is detected within our borders," the coalition wrote. "Such a response is entirely reliant on having an adequate vaccine bank; there is no other option to prevent these catastrophic losses."
"An outbreak of FMD in this country would be devastating for the U.S. pork industry," says NPPC President-elect Jim Heimerl, a pork producer from Johnstown, Ohio, and chairman of NPPC's Farm Bill Policy Task Force. "The next farm bill must establish and fully fund a vaccine bank that gives us the ability to quickly control then eradicate this animal disease."
The United States does not have access to enough FMD vaccine to handle more than a very small, localized disease event. Currently, USDA's Animal and Plant Health Inspection Service manages a vaccine bank at Plum Island, N.Y., where vaccine antigen concentrate for a limited number of FMD strains is stored. If an outbreak occurred, the antigen would need to be shipped to manufacturers in England or France to be turned into finished vaccine and shipped back to the United States.
While the cost of establishing a robust FMD vaccine bank — $150 million annually — is "significant," the coalition claims it pales in comparison to the projected economic consequences to the agriculture industry and to the nation's food and national security, the coalition pointed out.
Michigan Potato has new marketing manager
The Michigan Potato Industry Commission has hired a digital marketing veteran. Nate Chesher has joined MPIC in a newly created position as marketing manager. Nate will be responsible for overseeing implementation of the commission's marketing strategy, including campaigns, events, digital marketing and public relations.
"The Marketing Manager position is brand new at MPIC and will provide the capacity for us to continue growing our educational and marketing efforts on the nutritional value of potatoes, particularly those grown in Michigan," says Mike Wenkel, the organization's executive director. "We are excited to be adding to our team someone with Nate's background and experience in all aspects of digital media."
The Michigan Potato Industry Commission continues to expand its efforts to educate and promote Michigan potatoes to consumers, food service professionals and other end users. Wenkel says MPIC plans to use Chesher's digital marketing expertise to develop new and exciting promotions to reach consumers nationwide and to promote Michigan potatoes.
A native of Grand Ledge, Nate brings an extensive background in digital advertising, social media marketing and multimedia. He comes to Michigan potatoes most recently from Doctor's Approach Dermatology, where he served as marketing coordinator. In this role, he was responsible for developing and executing all practice marketing efforts, including overall brand awareness and event marketing. He also has over 10 years of experience in digital media with WILX Media, where he was an award-winning producer, winning multiple Michigan Association of Broadcasters and Associated Press awards. 
Subscribe to receive top agriculture news
Be informed daily with these free e-newsletters
You May Also Like
---