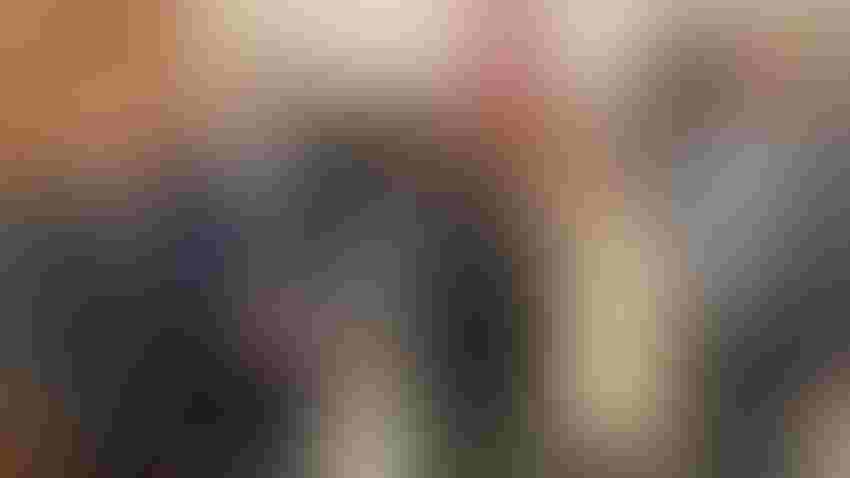 TURNER'S OFFICE: Brad Carothers, Denise Percival, Susan Shultz and Roger A. High, OSIA representatives to the ASI spring legislative trip, meet with Dave Straka at Rep. Michael Turner's office regarding Ohio and national sheep industry issues. Pictured are (from left) High, Straka, Percival, Shultz, and Carothers.
Photos courtesy of OSIA
Sheep industry leaders from across the country, including Ohio, converged on the nation's capital as part of the 2023 American Sheep Industry spring legislative trip.
Ohio Sheep Improvement Association members Denise Percival and Brad Carothers, ASI Immediate President Susan Shultz, and OSIA Executive Director Roger High worked to promote their interests by educating government leaders about sheep industry issues.
After a USDA briefing, meetings were held with the offices of Sen. Sherrod Brown and Sen. J.C. Vance, and with representatives from other congressional offices.
Each OSIA representative spoke about the importance of support for USDA services and thanked each of the congressional offices for work they will be doing on an acceptable farm bill beneficial to agriculture and the sheep industry.
Growing demand
During the legislative meetings, the three Ohio sheep producers stressed how now is a great time to be in the sheep industry because of the growing demand for lamb and goat meat from ethnic populations in the U.S. They also supported solar farms and their ability to help producers be more sustainable.
While there are many job opportunities within sheep or goat production, the representatives noted the need to recruit more people into small ruminant production with several key items needed, including:
Predator control. Shepherds must be allowed to use available — and approved — means for predator control, so coyotes and black vultures do not decimate lamb crops. Federal regulations must be addressed to find a method of controlling the black vulture, which is protected under the 1918 Migratory Bird Act but no longer migrates away from the livestock-rich southern portions of Ohio. The Black Vulture Act of 2023 was promoted as a viable way to manage black vultures legally.
Federal land production. Sheep production in the western U.S. should be allowed to continue on federal lands, as the use of these Western lands affects the entire country. The sheep industry is such that if production diminishes there, the infrastructure for the entire industry will be affected.
High says, "OSIA was able to take progressive members to represent the Ohio sheep industry on this lobbying trip to show our legislators that there is a bright future to the sheep industry, and that they want to be involved."
Source: Roger A. High, OSIA executive director
Subscribe to receive top agriculture news
Be informed daily with these free e-newsletters
You May Also Like
---