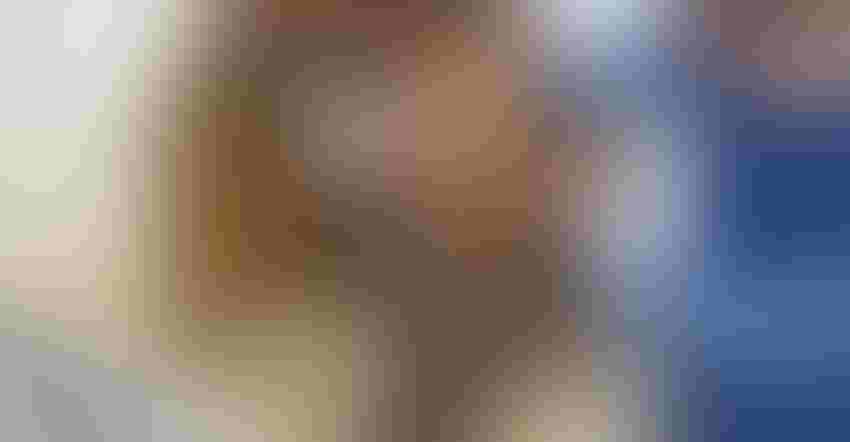 TRIAL AND ERROR? The Bovine Breeder allows students to get a more realistic sense of what it takes to successfully inseminate a cow. The system is available in both beef (brown) and dairy (black and white) color patterns.
Realityworks
Teaching is a tricky business, especially when it comes to some critical livestock subjects. For example, how do you train someone to properly inseminate a cow if they've never been "in there"? And how much should first-timers know before they attempt the practice for real?
Answering those questions is getting easier, thanks to advanced training tools. A Wisconsin company has innovated artificial insemination training with what it calls the Bovine Breeder. Realityworks Inc. is not new to simulation tools for education. The company has created products for teaching baby care, providing human body models and other tools, but this product steps it up in agriculture.
"We're very much into hands-on learning," says Jamey McIntosh, product marketing manager, Realityworks. "We want to help the student get a real understanding and knowledge about a practice before they try it on the real thing."
And the Bovine Breeder offers that very chance. The tool reconstructs a cow's reproductive system, including the anal and vaginal canals. The aim is to create, as realistically as possible, a simulation that allows a student to get that semen pipette into the right place when it's time to do it for real.
McIntosh explains that the company started developing this tool two years ago by visiting with educators to find out what they needed to help them in the classroom. "[AI] was something they had to teach, and they were having a harder time getting that done," he says. "Field trips are becoming expensive, and the timing of being on a farm when cows were in heat was also an issue."
While educators turned to videos, they wanted a "hands-on" tool. "We asked them, 'If we could create a hands-on learning tool, would that be a benefit to you?' and they went kind of nuts," McIntosh recalls.
Going real to get a simulator
McIntosh goes into the details of how you build a simulator, explaining that the company went to butchers to get actual reproductive tracts. "They looked at us kind of funny," he says. "From that, we took measurements and did research to determine the feel, and how to perform the task."
The key was to get "close enough" to the real thing. Then came a lot of field research with educators in postsecondary programs and tech schools. They even shared information during the FFA Convention in 2017, offering a look at a prototype for teachers and students to test out.
That input was valuable in getting the fine details right, McIntosh explains. They even went so far as to put fake feces into the anal tract to show what happens during an AI session. "We wanted to simulate removing feces, so we have poop bags in the product that the user has to take out. We wanted to make the simulation as realistic as we could."
AI techs were "blown away" by the simulator, he says. Tech school reaction has been high. The product is being released in May, but Realityworks already has a back-order situation. And the price? The product is $2,499.
"There's another simulator on the market for around $18,000, but as an education company we know how important money is to these programs," McIntosh says. "That means our simulator has many features, but there are a few we didn't add that would have raised the price."
In fact, at that price point, some schools are talking about buying more than one, so more students can be at work honing their skills in class at one time. And there is federal funding that schools can tap for these kinds of tools.
As for color? The product is available in "beef brown" and "dairy black and white," and McIntosh notes this is important. For beef-oriented programs, the students want that brown product — even though the insides are the same. He even knows of one school that's more Angus than Hereford that will paint its simulator black.
Want to learn more? Visit realityworks.com for more information. You can also view a video of the simulator below.
Subscribe to receive top agriculture news
Be informed daily with these free e-newsletters
You May Also Like
---