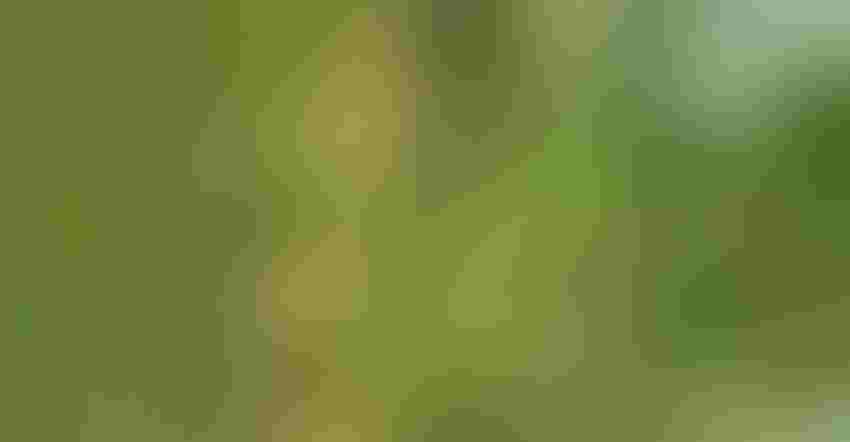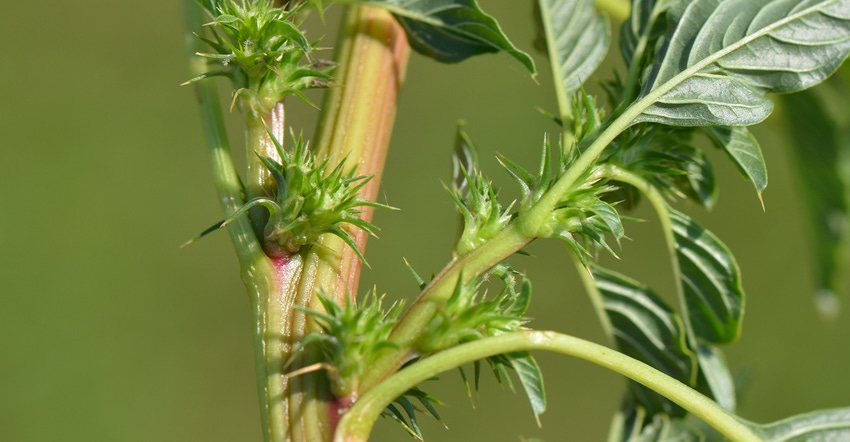 CHECK ITS SPREAD: The Minnesota Department of Agriculture is asking livestock farmers to complete a survey about grain and seed screenings in feed, roughages and bedding in an attempt to halt the spread of Palmer amaranth. The invasive weed was found in a soybean field last fall that had been fertilized with manure from cattle that consumed feed with contaminated sunflower seed screenings.
Bruce Potter
The Minnesota Department of Agriculture asks livestock farmers who feed grain and seed screenings to their animals to complete an online survey about screenings use, types and origin.
MDA wants to learn more about how the invasive weed Palmer amaranth is spreading in the state.
Last April, MDA said it had identified the source of the Palmer amaranth that had been found in a Redwood County soybean field in October 2018: contaminated sunflower seed screenings that were in cattle feed. The weed had found its way into the field via cattle manure.
Since last fall, MDA has tested 25 grain and seed screenings samples and found three samples positive for Palmer amaranth: two sunflower and one wheat screenings sample, according to Allen Sommerfeld, MDA senior communications officer. The sunflower screenings came from Redwood County and the wheat screenings were from Roseau County.
Screenings are the byproducts of seed processing and collected during the grain cleaning process. Screenings are commonly sold and used as animal feed, roughage and bedding, and can consist of many kinds of grain byproducts.
The online survey is short, asking only eight questions about use and if the screenings or grain products were produced in or out of state. Farmers also are asked if they would send in a screenings sample for testing.
"We are conducting this survey and encouraging farmers to participate in the sampling process so that we can get more information about screening use across the state," Sommerfeld said. "We would like to test 200 to 300 samples to get a better ideal about potential risk for Palmer amaranth through this pathway."
Livestock farmers can fill out the online survey, available through mid-October.
Ahead of any spread
Thus far, MDA does not have a protocol for farmers to follow when they learn they have Palmer-positive screenings.
"We have not required destruction of contaminated screenings at this time," Sommerfeld said. "However, the MDA is taking several steps to ensure Palmer amaranth does not spread. We are monitoring all feedlots where Palmer amaranth was found in screenings. We are also monitoring all the land where manure was applied from these feedlots. Lastly, we are conducting this survey and sampling to try to get a better understanding of the scale of this potential problem."
Some farmers who previously fed screenings have shifted to other types of feed to reduce their risk, he added.
"We are encouraging companies selling the screenings to eliminate Palmer amaranth contamination in the screenings," Sommerfeld said. "If companies are routinely selling such contaminated products in Minnesota, we may take regulatory action to address this issue."
Sommerfeld said that MDA continues to work closely with partners from University of Minnesota Extension to fight Palmer amaranth.
"Since first discovering the weed in the state in 2016, we have been able to successfully eliminate all plants that have been discovered," he said. "We will continue to monitor previously infested sites."
He asked that farmers, crop consultants and agronomists report any suspicious plants to the MDA's "Arrest the Pest" line at [email protected] or 1-888-545-6684.
Subscribe to receive top agriculture news
Be informed daily with these free e-newsletters
You May Also Like
---