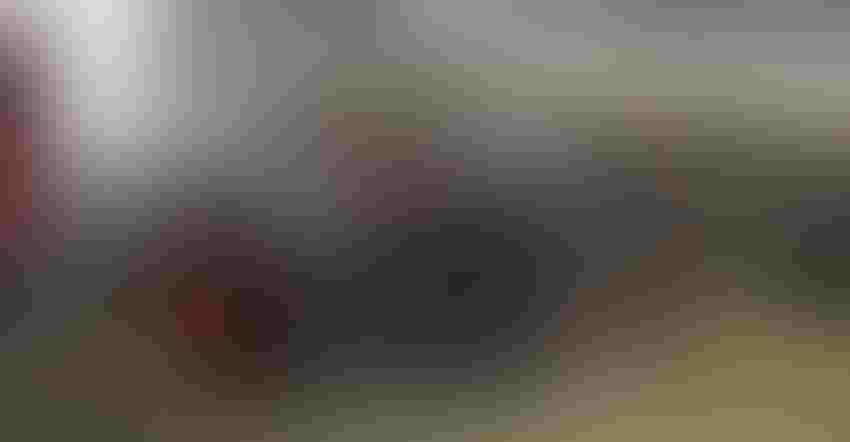 GROWING: Kent Nutrition Group officials earlier this fall broke ground on new plant at Sheldon, a feed mill expansion to serve northwest Iowa customers.
Kent Nutrition Group in September broke ground on an expansion project for the company's Deluxe Feeds location at Sheldon in northwest Iowa. The new Iowa plant will increase the volume and flexibility of the feed mill operation, while providing more products and service to area swine, dairy and beef customers.
The expansion demonstrates KNG's commitment to service for livestock producers in the four-state area, with the addition of five new pellets mills, high-efficiency packaging equipment, grain cleaning and packaging innovations, two separate processing lines, and a 50,000-square-foot warehouse.
"We recognize the importance of animal agriculture to the economy in this area," says Dan Paca, general manager of Deluxe Feeds. "With our new facility we are sharing our vision for growth and providing customers with quality products and service they need to be successful."
Facility to be completed in early 2019
Projected completion for the feed mill expansion is early-winter 2019. Since 1972, Deluxe Feeds has produced quality feed for swine, dairy and beef operations in northwest Iowa, southeast South Dakota and southwest Minnesota. In 2016, Deluxe Feeds was acquired by Kent Nutrition Group.
"We've made continuous improvements in our facilities to deliver quality products and services that customers expect from our Kent brand," says Mike Gauss, KNG vice president. "This new state-of-the-art feed mill with extended capabilities will increase capacity and versatility, and continue producing quality animal nutrition products."
Kent family-owned, founded in 1927
"As we move forward with this project, we greatly appreciate the local community's support," Paca says. "KNG delivers animal nutrition based on a long-standing tradition of innovation and dedication to livestock, equine and pet owners."
KNG is a division of Kent Corp., a family-owned company founded in 1927. "KNG was formed to bring out the best in two highly successful regional feed brands: Kent in the Midwest and Blue Seal in the East. The Kent and Blue Seal brands are dedicated to providing quality animal nutrition," says Paca.
Kent opens new swine research facility
The Kent Nutrition Group's Product Development Center, an 800-acre farm near Muscatine in eastern Iowa, serves as the center for the company's swine, beef, dairy and poultry nutrition studies for Kent and Blue Seal brand feed products.
In mid-2017, Kent Nutrition Group (KNG) opened a new barn for swine nutrition research. The new swine unit has a unique state-of-the-art feeding system, treatment-specific drinking water plumbing assembly, zone-targeted environmental controls, waste management containment, and animal-friendly loadout handling capabilities, setting the stage for the next generation of swine nutrition research. 
The new swine barn is Bruce Read's brainchild. Read, KNG vice president of nutrition and product development, began planning the facility a few years ago to find the latest technology to help bring new products to hog producers. "It's been nearly a quarter of a century since Kent has constructed a new swine research facility," he says. "But the new swine building is definitely worth the wait and is one of the most up-to-date research facilities in the country."
Intelligent feed delivery system
The new barn features a feeding system from Feed Logics and looks like something from the future. It's an intelligent feed delivery system that can offload precise amounts of a specific diet automatically to any feeder in any quantity. The system includes control software to help manage feed trials with Windows-based dashboards and reports that help users monitor pigs' feeding behavior and gain insights in real time during the feed trial.
The facility has two rooms with a total 1,000-head capacity of wean-to-finish pigs and access to 16 different bin mixes for feed. The automated, computerized delivery feeder uses radio frequency identification readers to access the appropriate diet and then deliver the mix to the feeders in the appropriate pens.
"This RFID feeding system allows me to access the barn at any time from any place to see what's being fed," says Read. "Along with research opportunities possible with these test feeding protocols, the computerized system also helps streamline our trial times and reduce labor needs. We are able to analyze and adjust trials more quickly, giving us added efficiency and flexibility."
'Smart technology'
The unique four-line watering system gives Kent researchers the opportunity to test new hydration products as well. "This watering system allows us to test the products side by side with a flip of the controls," adds Read. "This research is not only valuable for our swine product development, but also for our other Kent family companies."
The new facility features multiple management systems to help worker efficiency, reduce potential errors and make information sharing easier. "State-of-the-art nutrition research technology in the new swine barn is ready to lead our company into the next generation of nutrition breakthroughs," says Read. "The new facility helps us bring our nutrition findings quickly to market. And we can provide customers with quality nutrition products they trust from Kent."
Source: Kent Nutrition Group
Subscribe to receive top agriculture news
Be informed daily with these free e-newsletters
You May Also Like
---