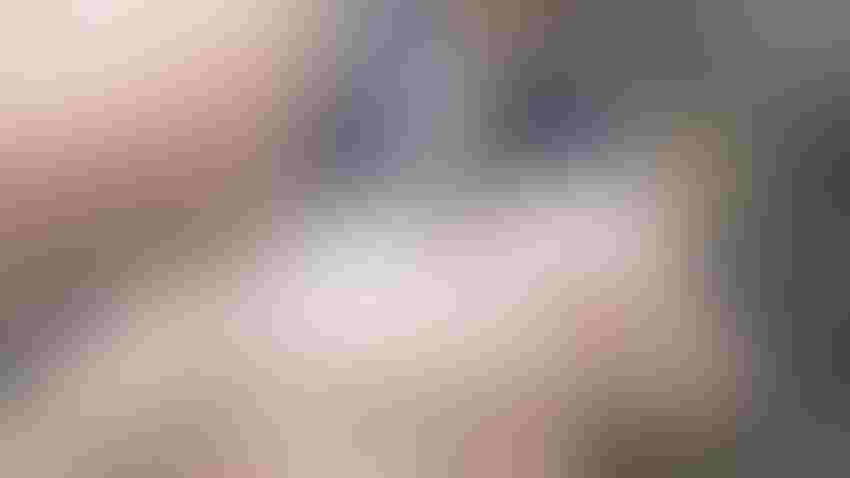 HERD EXPERIENCE: Brian Hoefs has been with the Minnesota Board of Animal Health since 2019. Prior to being given the interim state vet title in April, he oversaw swine, equine and livestock concentration points.
Courtesy of National Pork Board
Removing "interim" from his title doesn't change much in the operation of Minnesota's Board of Animal Health. Brian Hoefs merely sees removing that one word as "just an opportunity to have more momentum" in programs of interest of the agency.
Hoefs was named state veterinarian-executive director of the BAH in early August after holding the interim label for the combined position since April.
First order of business is to get back to business as usual, "getting back into our groove, getting people back into their lanes," he says. "We're getting to the point where we're getting our staff back up to the levels we need to be at to maintain our agency and get our programs back on track."
Hoefs has been with the BAH since 2019. Originally from Grantsburg, Wis., he was exposed to a variety of livestock between his family's farm and a neighbor's farm: beef and dairy cattle, pigs, sheep and even an emu. "4-H was very important to me," he says. "That was my outlet. My brothers were in sports, and I was big into animals." Over his time in 4-H he showed cattle, horses, sheep, pigs, rabbits, ducks and goats, but not the emu. "Honestly, I'm afraid of emus," he admits.
An undergraduate degree from the University of Wisconsin-River Falls took him to the University of Wisconsin-Madison, where he received his veterinary degree.
Seasonal radar
With Minnesota's large poultry industry, highly pathogenic avian influenza is always on the radar, even though "we got lucky this spring, not having a huge high-path outbreak like we had the previous year," he says. A mild spring for HPAI doesn't allow BAH and poultry producers to relax "as we're going into the fall, when migratory birds are going to start winging their way through and potentially carrying that virus back. … We're in the preparatory phase for response to high path avian influenza if it decides to show up again this fall."
A bright spot is that Hoefs says nationally and internationally, HPAI appears to have "avoided us, and the question remains 'Why'? … I don't think there's a clear understanding if it had something to do with migration patterns that took them a little different direction than they normally would have gone, and thus avoided some of the commercial poultry operations."
Another concern of BAH is show season at county fairs, expositions and culminating with the Minnesota State Fair. "There's a lot of participants that are traveling to Minnesota and outside of Minnesota, so we're always aware of those diseases and where they're floating around," he says, mainly addressing the show pig arena but all show animals. "It's always a concern at the state fair. We've had some uptick in our fliers and information disbursement at fairs."
BAH works closely with the Minnesota Pork Board to spread the message of biosecurity, cleaning and disinfecting, "and knowing where your pigs are, where they're going, where they've been and maintaining biosecurity when you're at these events."
He adds that maybe it's more important for producers to take precautions so as not to risk the health of the herd at home upon returning with show pigs.
Not on my watch
Speaking of pigs, always on the radar is the threat of African swine fever, "that we do not have in the United States, and we do not want it in the United States, but we're also reasonable enough to recognize that it's always a possibility — and we need to be planning to keep it away."
Those planning measures go beyond Hoefs and his staff, also involving producers and producer groups. With ASF, there are no state boundaries when it comes to live hog movements — which are estimated at 1 million hogs on any given day. Because of that, Hoefs has strong working relationships with state veterinarians from neighboring states, as well as the major hog-producing states.
"ASF is one that will keep me up at night," he says. "No one wants to be the first state where it's found. We all want to do our part to prevent it from showing up."
Not just livestock
BAH is also dealing with changes brought on by the latest Minnesota state legislative session to remove farm-raised whitetail from BAH oversight, transferring them to the state Department of Natural Resources, and "giving us a chance to focus more on our other farmed Cervidae programs such as elk and reindeer, and other Cervidae species," he says.
BAH's companion animal programs also continue to grow, and Hoefs says that canine influenza "has reared its ugly head," and he credits staff senior veterinarian Veronica Bartsch "being instrumental in getting that under wraps and making sure we're doing what we can to get the word out."
Canine brucellosis has also spiked in the state in recent years. Though treatable, Hoefs says canine heartworm has become more of a concern with the influx of rescue dogs coming in from Southern states. "Our veterinarians have done a great job of screening for it and treating it, but we do notice an uptick in heartworm disease in dogs imported from the South," he says. There's a possibility to require heartworm testing prior to import into the state "just as a way to screen for it. It's fortunate, because we can treat that disease if it's caught soon enough."
Though his title says he is the leader of BAH, Hoefs admits "This is not a one-man show at the Board of Animal Health. I have the title of state veterinarian, but it takes a village. This agency works when all cylinders are firing, and we've got a great team that keep the agency remarkably successful."
Subscribe to receive top agriculture news
Be informed daily with these free e-newsletters
You May Also Like
---