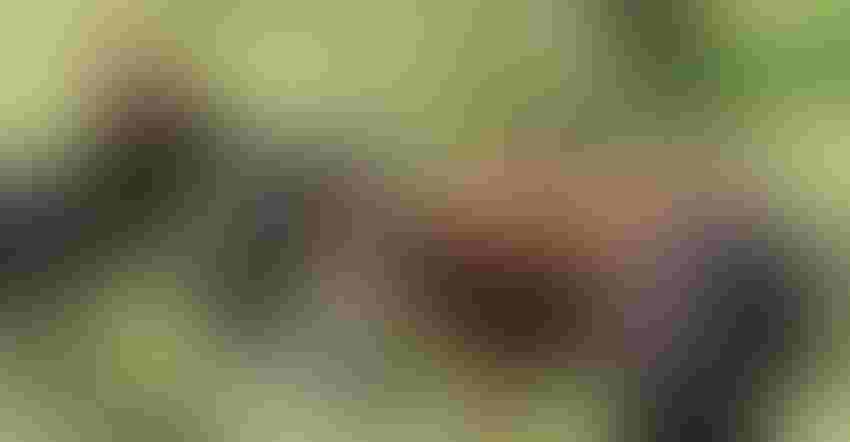 GOOD FORAGERS: In a study on cattle, researcher Fred Provenza said cattle will choose what they eat based on the nutrients they need to survive.
By Carol Ann Gregg
How food tastes is important to people and animals. But animals also have an innate ability to seek out the foods that will meet their nutritional needs first.
Fred Provenza, professor emeritus at Utah State University and speaker at the 22nd annual Northwestern Pennsylvania Grazing Conference, talked about two research trials, one with sheep and the other with cattle, that showed how animals instinctively choose what they eat based on their nutritional needs.
He cited a sheep study that showed the animals ate clover in the morning but preferred grass in the afternoon. This was because when they were turned out on pasture in the morning the sheep required more nutrients. Clover provided those nutrients, and by noon they changed over to grass.
In a separate study done by one of Provenza's research assistants, cattle were observed to see if what they ate in the barn affected what they ate in the pasture. The research found that the cattle consumed plants based on the nutrients they needed but were not provided in the barn.
Not only do animals seek out major nutrients, they also seek out secondary compounds needed to thrive, he said. Pastures and ranchland provide the food needed for grazers, and these animals are familiar with the landscape or territory they graze.
"Lone animals that are introduced to unfamiliar landscapes have difficulties," Provenza said. "Animals that are added to a herd familiar with the landscape learn from the animals around them what plants to eat."
A diverse pasture can help the herd cope with plants that contain toxins, such as tannins and alkaloids, he said.
Circle of health
Ultimately, he said, good animal health starts with good plant health, something farmers should remember when managing both.
"Plants are the glue that binds ecosystems together. Without plants there would be no life below or above ground," Provenza said. "Soil and plants, in turn, affect the nutrition and health of herbivores.
"Ultimately, the health and wellbeing of people is linked with the health of soil through plants and herbivores."
Provenza said that several studies have shown a positive effect on wildlife habitat in areas where rangelands are grazed by cattle and/ or sheep.
NUTRITION FIRST: Fred Provenza, wildlife and range specialist, said animals will choose foods based on their nutritional needs above anything else.
Provenza was instrumental in the formation of BEHAVE (Behavioral Education for Human, Animal, Vegetation and Ecosystem Management.
). This international network of scientists and land managers from five continents started working together in 2001.
Still, cows like variety, too. In another research trial where the cattle lost interest in the monotonous dry hay they were getting, the researchers added maple and other flavorings to see if it would entice them. The new flavors encouraged the cattle to eat the forage that was offered.
"It is like us," he said. "If we are in the habit of eating oatmeal for breakfast, we are more likely to enjoy it if it has a different flavor; maple, apple, etc."
Gregg is a freelance writer in western Pennsylvania.
Subscribe to receive top agriculture news
Be informed daily with these free e-newsletters
You May Also Like
---