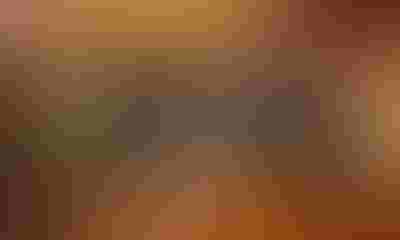 For the past few years, Iowa cattle producers have shown interest in increasing the funding for beef promotion and production research specific to Iowa. One potential source of additional funding is to bring back the Iowa beef checkoff. Iowa participates in the national beef checkoff program, but at least 50 cents of the current $1-per-head national checkoff collected in Iowa must be sent to the National Cattlemen's Beef Board, according to federal rules. The proposed new state checkoff funds collected in Iowa, at 50 cents per head, would stay in the state.

STATE BEEF CHECKOFF: Iowa Cattlemen's Association members were on hand last week as Gov. Terry Branstad signed legislation updating the law allowing the state beef checkoff to be reinstated. Restarting the state checkoff depends on a referendum vote to be held later in 2016.
Gov. Terry Branstad signed into law several changes to the Iowa beef checkoff on March 31. Getting these changes made to the code of the state of Iowa has been a priority for the Iowa Cattlemen's Association in the 2016 session of the Iowa Legislature. "The Iowa Cattlemen's Association thanks our state representatives and senators for their support of House File 2269," says ICA president Phil Reemtsma.
ICA is seeking to reinstate the state beef checkoff
Prior to the start of the national beef checkoff in 1988, Iowa had its own checkoff through the Iowa Code Chapter 181. "For the past few years, Iowa's cattle industry has shown interest in increasing funding for vital needs, such as promotion of our beef industry and production research specific to Iowa, by reinstating the Iowa beef checkoff," says Reemtsma. "When reviewing Chapter 181 of Iowa Code, portions of the law were outdated, confusing and irrelevant to Iowa's current beef cattle industry. So, during the 2016 Iowa legislative session, ICA lobbied for amendments to Chapter 181 to better align with cattle producers' vision for the Iowa beef checkoff."
Here's what these amendments will do:
* Provide that the refund request for the state checkoff can be made online. If an Iowa cattle producer wants his or her checkoff money refunded, they will be able to go online to make that request.
* Re-define uses for the state checkoff dollars. While a majority of uses of the funding will remain the same, more dollars could be used for producer education and production research geared to the needs of Iowa cattle producers.
* Strike cattle feeding contests and demonstrations from the section of the law that specifies uses for the checkoff dollar. But funds will be used for traditional promotion and marketing.
* Add research on beef production and evaluation of Iowa beef production needs to the list of uses for checkoff dollars.
* Add beef education materials and opportunities for consumers, producers and youth.
* Streamlines engagement of the decision makers for helping carry out the state checkoff.
* Provide two additional seats on the executive council (the entity that determines how checkoff dollars will be spent).
These amendments are based on the results of a cattle producer survey administered by the Iowa Cattlemen's Association. In late 2015, all ICA producer members received a survey to gauge interest in having a state beef checkoff initiative. Over 900 survey results were tabulated and showed that 80% of those surveyed support reinstating the 50-cent state checkoff. Survey respondents represented all sectors of the industry and every county in Iowa.
Survey participants rank spending priorities for checkoff dollars
Not only did the survey gauge interest of ICA members to reinstate the Iowa beef checkoff, but more importantly it asked members to prioritize investment resources collected through the state assessment. Survey results revealed that the national beef checkoff, due to federal code constraints, is not fully meeting the needs of the Iowa cattle industry. Participants in the survey ranked the importance of the following priorities for potential state dollars/additional investments:
* Marketing and promoting Iowa beef and beef products.
* Enhancing Iowa's beef industry image by marketing our Iowa producer image and communicating transparency.
* Production research focused on the state's weather, feedstuffs and management practices.
* Expanding international trade relationships.
* Providing educational opportunities to Iowa cattlemen and Iowa youth.  
ICA anticipates holding a statewide a referendum vote later in 2016. ICA will provide information for cattle producers on when, where and how the vote will take place. ICA represents more than 10,000 beef-producing families and associated companies dedicated to the future of Iowa's beef industry. ICA's mission is "Grow Iowa's beef business through advocacy, leadership and education." More background information about the Iowa checkoff initiative can be found at iacattlemen.org.
Subscribe to receive top agriculture news
Be informed daily with these free e-newsletters
You May Also Like
---