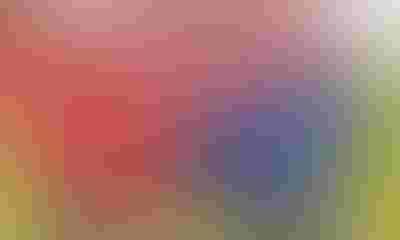 Two very different dairy operations, both in the same family, send their milk to their own Sassy Cow Creamery near Columbus. Brothers James and Robert Baerwolf; their wives, each named Jennifer, and children farm together but run the dairies separately. That's because one produces milk in the traditional way and the other is totally organic.
Organic and conventional milk
So they're able to sell both organic and conventional milk at the creamery store they built and at market outlets in the Madison, Milwaukee and Chicago regions. They also bottle and sell chocolate milk, half and half and heavy cream and make and sell 50 flavors of ice cream.

ONE BIG FAMILY: The Baerwolf brothers and their wives operate Sassy Cow Creamery and dairies. In red shirts are Robert and his wife Jennifer and their children, from left, Garret, Delaney, Eldon and Morgan. In blue shirts are James and his wife Jennifer and their children, from left, Taylor, Faith and Anika.
"They're a pretty good combination," says James, the spokesman for the two families. "As we bottle we have excess cream to turn into something else. And the ice cream is also good for marketing and branding."
The brothers, both University of Wisconsin-Madison College of Agricultural and Life Sciences graduates, one in dairy science, the other in ag education, had been farming together on the family farm since the early 1990s. In 2008, they built the creamery on their property. Robert, Jennifer and their four children live on the traditional portion of the farm, tending about 500 grade, mostly Holstein cows in milk. James, Jennifer and their three children live near the organic milking operation with about 300 likewise grade and mostly Holstein cows in milk.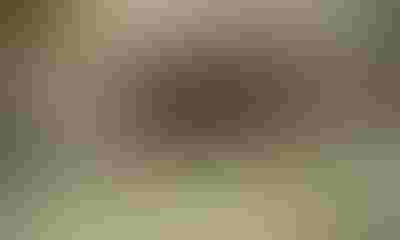 YUMMY TREATS: Sassy Cow employees McKaylla O'Rourke, left, a junior at Sun Prairie High School and Jordyn Toutant, a junior at Columbus High School, serve ice cream to visitors at Sassy Cow Creamery.
The cow numbers were gradually increased over the years. They utilize AI breeding, twice-a-day milking and freestall housing, shooting for production of 86 pounds of milk per day from traditional milkers and 70 pounds per day from the organic herd, according to James. Almost all of the production goes to the creamery, James says, 100% of the organic and 90% of the traditional milk. It adds up to about 6,000 gallons of milk per day. Last year, the creamery turned out 40,000 gallons of ice cream.
James points out that the herds are kept separate from calfhood on.
"They're really two separate dairies." The cattle are fed a homegrown and home-mixed ration of corn, wheat and alfalfa. Haylage and corn silage are put up in bunkers and bags and there's pasture for the organic herd to graze.
The Baerwolfs farm 1,800 acres north of the hamlet of North Bristol in Dane County. Robert is 100% engaged with the farm operation. James figures he spends 50% of his time at the creamery with its popular store across the front and large windows overlooking the processing facility. Their wives divide their time on the farm and in the creamery.
Developing markets
When they began the creamery, James explains, he and Robert took to the road to develop markets. Now they have a full-time sales and marketing manager and two plant managers at the creamery, 15 employees in all. The farms employ eight more.
"Most of what we sell goes out to stores," James says. "The store here is so our customer base has an opportunity to come and see us." Indeed, even on cold snoy days there's a steady stream of customers coming in the door. Warmer weather offers an opportunity for ice cream socials and other outdoor events. Farm tours are offered.
In addition to Sassy Cow products, the store, open seven days a week, sells cheese, candy, preserves, popcorn, honey, muffin mix and Sassy Cow souvenirs and clothing.
And if you look up on entering the store, you'll see shelves to the high ceiling lined with old-time glass milk and cream bottles, a 740-bottle collection that the brothers bought to display. There also are trophies won in World Dairy Expo ice cream competition.
They're pretty much self-taught in the manufacturing business, learning as they toured other farmstead dairies and seeking out help from UW specialists.
"Runnng the creamery," James says, "is a lot like dairying. There's a fair amount of similarities - we bottle every day, the truck comes every day." The workday runs from 5 a.m. to about 10 p.m. before all the cleanup is done.
The creamery and farm information is on the web at www.sassycowcreamery.com.
Subscribe to receive top agriculture news
Be informed daily with these free e-newsletters
You May Also Like
---