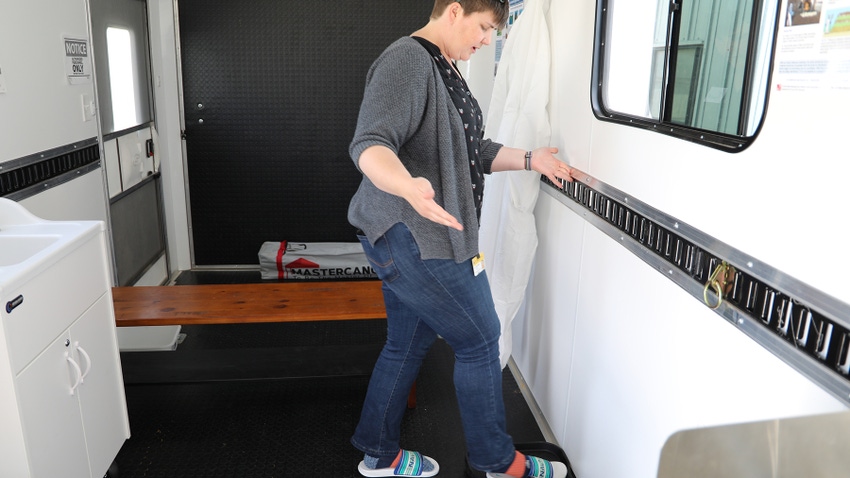 GET IN AND OUT: Cory Bromfield, MU Extension swine specialist, demonstrates the biosecurity trailer between the "dirty" and "clean" sides at the MU Beef Farm in Columbia.
Julie Harker, University of Missouri
Biosecurity on farms is important, but Cory Bromfield says sometimes the price tag looks too big for producers.
African swine fever, avian influenza and other pathogens continue to lurk around animal agriculture. For many farmers, putting biosecurity in place simply costs too much.
While Bromfield, a University of Missouri assistant Extension professor of swine production and medicine, contends that "no cost is too high for the industry," she understands that individual producers won't be able to shoulder that financial burden.
So, MU Extension created a trailer to show livestock and poultry producers how to implement a Danish entry system on their farms.
"The biosecurity trailer helps to highlight how producers can reap benefits of biosecurity within their budgets," Bromfield adds.
Danish system explained
Teng Lim, MU Extension professor of agriculture systems technology, obtained several USDA grants to develop a biosecurity training trailer that focuses on the Danish entry system.
In this biosecurity system, the trailer has designated "clean" and "dirty" areas, split by a "line of separation."
Before entering the animal area, people first enter the "dirty" side of the entry system, where they remove their outer clothing and footwear and disinfect their hands. They then move to the "clean" side and put on clean protective boots and coveralls before going to the animal production area.
"The idea is that you can use a small footprint," Lim says. "A stand-alone or simple add-on structure can be made to intercept normal traffic with a clear line of separation between dirty and clean zones as people enter the farms."
Operations can modify an existing facility or, for example, add a shed as small as 5 by 9 feet for the system.
"We're trying to find the right setup for different farms," Lim adds. "A lot of the time, resources and space are limited, and that's why we want farmers to have the flexibility."
Education on wheels
Lim put the system on a trailer, so it could move around the state to demonstrate the biosecurity concept.
The trailer will be used across the state at events such as the Missouri Swine Institute, Missouri State Fair and FFA events to demonstrate the Danish entry technique and encourage farmers to adopt the practice.
The biosecurity trailer was also on display at MU Extension Animal Disease Outbreak Prevention workshops this spring where smaller producers, environmental managers, agency personnel and veterinarians learn the latest prevention methods.
Beyond educational Extension efforts, the university is working to secure funding to study alternative methods to showering in and out and their effectiveness, Lim says.
Grants from the USDA Extension Risk Management Education and National Animal Disease Preparedness and Response Program supported development of the biosecurity trailer.
Source: University of Missouri Extension
Subscribe to receive top agriculture news
Be informed daily with these free e-newsletters
You May Also Like
---