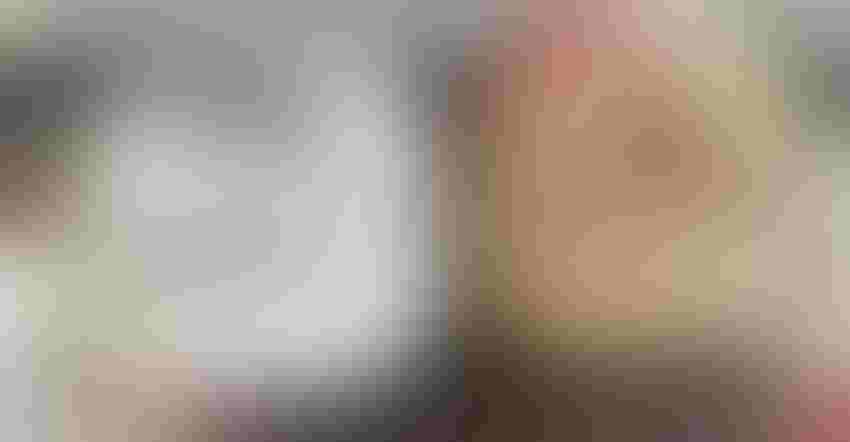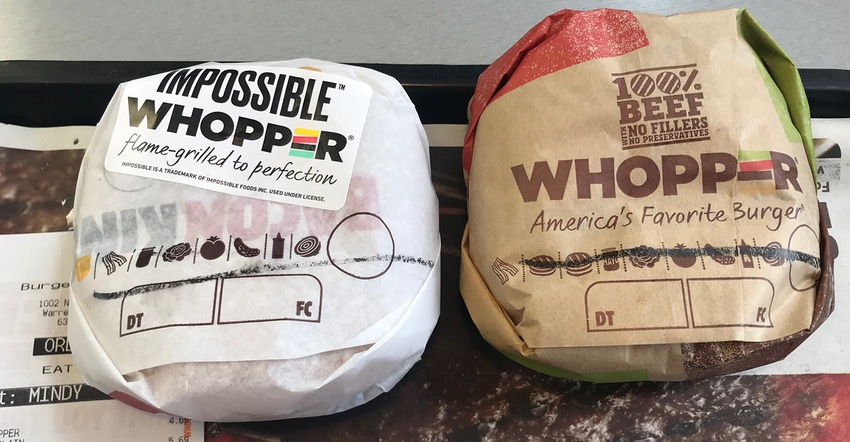 HEAD-TO-HEAD: I tested the original Burger King Whopper (right) against the recently introduced plant-based Impossible Whopper. The taste surprised me.
On April 1, Burger King introduced the Impossible Whopper in my home state of Missouri, and it was no joke. So, my husband and I put it to a taste test.
If you've been busy farming, you may not have heard that Silicon Valley-based Impossible Foods is the developer of a plant-based meat substitute behind the Impossible burger. The company partnered with Burger King and launched the Impossible Whopper in 59 stores around St. Louis.
Honestly, I thought we would have to travel about an hour to find one of these internet-crazed, so-called burgers. Nope. The Impossible Whopper was only 15 miles from my farm — either south to Washington, Mo., or north to Warrenton, Mo.
I was shocked. I never thought the product would reach areas that many St. Louis suburbanites consider "farm country," but here it was on my table at the Warrenton Burger King.
For our taste test, I bought one regular Whopper and one Impossible Whopper, both plain — just the burger and the bun. My husband ordered the original Whopper how he normally eats it — no pickles, no onions — and the same on the Impossible Whopper.

NAKED TRUTH: While many consumers were raving about the Impossible Whopper on Facebook and Twitter, most of those were loaded with all the fixings. For my test, we stripped all the add-ons away and looked at only the patty.
My results
So, let's get down to the brass tacks, go head-to-head, burger patty to, uh, burger patty?
I consumed only the burger. No bun. I wanted to see if it passed all my sensory tests.
Touch. When I picked up the burger in its wrapper, it felt the same weight as the original Whopper. Passed. I tore off a portion. It was solid, not as much grease as the original. While some consumers like less fat, I do not. I want my meat with a little juice coming out. Fail.
Sight. On all accounts, it looked like a beef patty, complete with charbroiled lines. Passed. It was a little more symmetrical, making a neat circle. So, it looked more like a processed product. Hamburger patties, for me, should be irregular. It shows freshness. Fail.
Smell. Ah, the sniff test. If you are a picky eater, you know that sometimes what can't get past your nose doesn't end up in your mouth. The Impossible Whopper had a different odor, more grass-fed beef. It was not off-putting. Passed.
Taste. It tasted like … beef. I couldn't believe it, so I quickly picked up the original Whopper and took a bite to compare. Honestly, if you are just eating the plain burger, the Impossible Whopper had more beef taste than the original Whopper. Passed.
Sound. Nothing there. Not even retching. Passed.

INSIDE LOOK: This is a look at the Impossible Whopper, minus pickles and onions. It was the way my husband tested it against his favorite — the original Whopper. At first glance, it looks like an all-beef patty.
My husband's results
My husband is only worried about one thing — taste. He is a Burger King Whopper connoisseur. I had to take extra precautions to get true results, so I blindfolded him.
My objective? Given the two burgers, could he identify which one was the original and which was the imposter, I mean, Impossible? Which one tastes better, and which would he buy?
He took the first bite. It was the Impossible Whopper. He didn't flinch or gag. Then he bit into the original Whopper.
I asked which one he liked. He held up two fingers — the original. I asked which he thought was the Impossible Whopper. He nailed it — No. 1.
After decades of eating the original Whopper, his palate recognized the difference. "Something was just off with the first one," he said.
America's results
If you look on Facebook or Twitter from last week, there are thousands of posts about the Impossible Whopper. Many like the taste. Many deem it better for the environment. Many say it is healthier. I could argue the latter two, but on the taste, I'd agree. This is a problem for the beef industry.
Science is making great strides and is affecting how and what we eat and drink. The plant-based food industry is here. If this launch goes well, Burger King says it will take the product nationwide to 7,000 stores.
To carve out beef's space in this plant-based movement, the beef industry must work at delivering a consistent product, full of flavor, direct to consumers, retail chains and restaurants. It is a tall order, but one that needs a closer look.
The one thing beef producers have in their favor, at the moment, is price. The Impossible Whopper is $1 more than the original. It was $5.69 for the burger. Perhaps consumers won't like the price either.
One thing is certain, plant-based foods are not a fad. The beef industry needs to find a way to make Americans ask once again, "Where's the beef?"
Or the industry can sit back and hope every consumer reacts like my husband who gave the Impossible Whopper to the farm dog.
What's in the Impossible burger?
Here are the ingredients for the Impossible burger:
Water; soy protein concentrate; coconut oil; sunflower oil; natural flavors, 2% or less of potato protein, methylcellulose, yeast extract, cultured dextrose, food starch modified, soy leghemoglobin, salt, soy protein isolate, mixed tocopherols (Vitamin E), zinc gluconate, thiamine hydrochloride (Vitamin B1), sodium ascorbate (Vitamin C), niacin, pyridoxine hydrochloride (Vitamin B6), riboflavin (Vitamin B2), Vitamin B12. Contains soy.
Subscribe to receive top agriculture news
Be informed daily with these free e-newsletters
You May Also Like
---