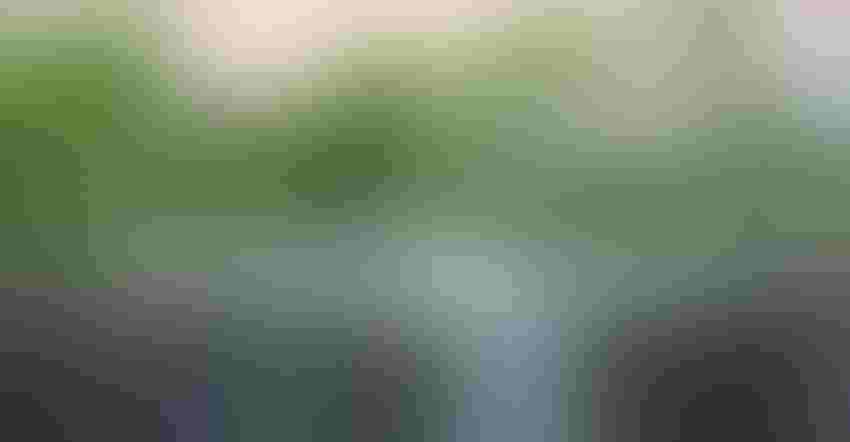 TAKE ON SDS: There is now another seed treatment choice for tackling sudden death syndrome. The EPA approved Saltro from Syngenta. Soybean plants in the center grew from seed treated with Saltro.
The buzz in the Syngenta display at farm shows this fall centered around Saltro, a new seed treatment fungicide for soybeans. In fact, Dale Ireland, technical product lead for Syngenta Seedcare, notes that approval from the EPA came in early September, right in the middle of the fall farm show season.
Ireland says Saltro contains Adepidyn, a new active ingredient. It's a fungicide with an SDHI mode of action that is effective against sudden death syndrome, with robust activity against soybean cyst nematodes, too.
At various shows, displays illustrated what young soybean plants growing from seed treated with Saltro looked like compared to plants grown from the industry standard product. If you saw these displays before Sept. 5 — at the Farm Progress Show, for example — plants treated with the new Syngenta product were labeled as Adepidyn plants. The company couldn't use the product name in a commercial way until it received EPA approval.
Another choice
Until now, Ilevo from BASF was the main option for growers who wanted a seed treatment offering protection against SDS. The disease is such a threat in some areas that some growers who normally don't plant treated seed would order soybeans for their farm, or at least for wetter fields or those with a history of SDS, treated with Ilevo. Sometimes these soybeans wouldn't be treated with other fungicide seed treatments.
The active ingredient in Ilevo is fluopyram. According to information provided by BASF, it also has activity against soybean cyst nematodes.
Ireland says the active ingredient in Saltro allows soybean seedlings to get off to a good, healthy start. It doesn't produce any visible symptoms on any parts of the plants. Seed treatments are effective against the fungus that causes SDS because infection typically occurs relatively early in the season, even though symptoms of SDS usually don't show up until later in the year. Usually, they appear in August, although there were reports of SDS symptoms showing up even later this year, likely because many fields were planted later and maturing later in the season.
Several agronomists have noted that the current standard for SDS control, Ilevo, often produces a "halo effect," which includes yellowing or browning on the edges of cotyledons early in the season. Most note that plants usually grow past this stage quickly. Some have used presence of the halo to determine if soybeans were treated with Ilevo, although some say they have observed a similar effect on soybeans not treated with Ilevo in some cases.
Ireland says the active ingredient in Saltro doesn't produce a halo effect on soybean seedlings. He also notes that Syngenta's three-year data shows a yield advantage for Saltro compared to the current standard for SDS control.
Subscribe to receive top agriculture news
Be informed daily with these free e-newsletters
You May Also Like
---