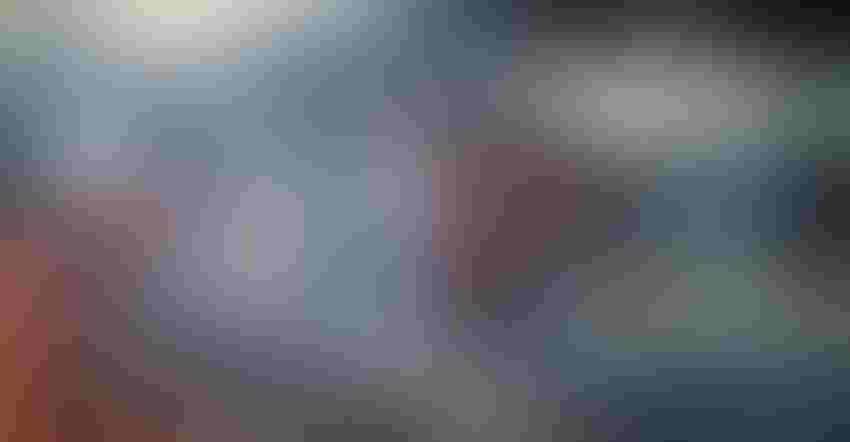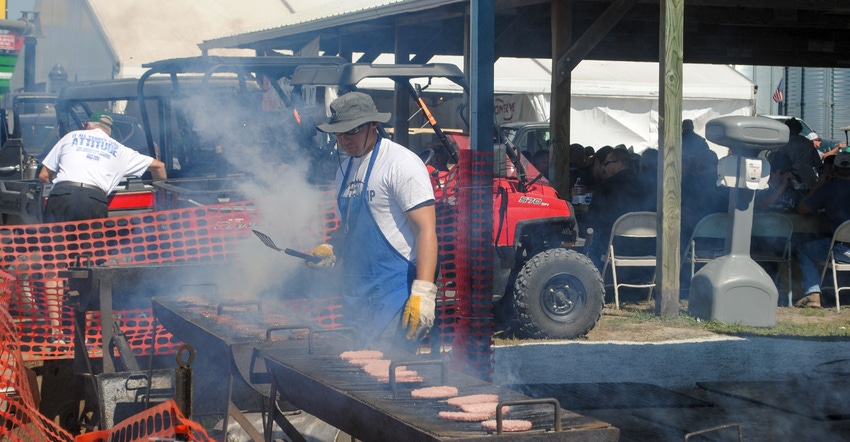 FEEDING HUNGRY SHOWGOERS: The nonprofit food vendors at Husker Harvest Days raise funds from meal sales that help with school operations, extracurricular activities and other educational endeavors.
Curt Arens
You can't walk the streets at Husker Harvest Days without getting hungry. Aromatic smoke rolls off the grills, luring customers to food vendors scattered across every section of the show site. You can grab breakfast, a light snack or a big meal at the various nonprofit vendors.
And the variety is wide-ranging. Want a big pork loin or a steak sandwich? You've come to the right place. How about great burgers? No problem. Everyone's food tastes can be satisfied. Here is a look at food vendors on the show grounds in 2021.
Pork Place
Stop by the Pork Place in the southeast quadrant of the exhibit field on Lot 915 to enjoy the hospitality of the volunteers from Sutton Christian School. They have become known for their bacon burgers and smoked pork loin sandwiches.
If you still need more protein, try their Husker Burger, which combines both the sliced smoked pork loin and the bacon burger into one giant sandwich. And don't miss out on the root beer floats.
Sara Johnson has been helping coordinate the Pork Place and the school's volunteers. "The funds we raise at HHD are very important," she says. "Sutton Christian is a very small school. We're not a booster club, and the funds we raise don't go toward athletics or extracurriculars. It goes toward paying teachers' salaries and toward the general fund of the school."
Johnson says about 100 volunteers, including teachers, parents, students and other residents from the community volunteer to get the shifts covered.
She notes that in addition to their regular menu items, exhibitors can preorder and have food catered to their location.
Eagle's Nest
You can't miss the Eagle's Nest, operated by Wood River Rural Schools, in the southeast quadrant on Lot 734 near the intersection of Central Avenue and Main Street.
Its homemade breakfast sandwiches are popular, along with its cinnamon rolls, and cherry and apple turnovers. For lunch, stop by for personal-pan pizzas from Pizza Hut, or hamburgers and cheeseburgers. The stand is staffed by about 30 students daily, with at least that many adult volunteers, including alumni, parents and teachers.
"Every year, we try to invite a local celebrity to come out and help, and we try to make sure they have their presence well-known when they are at Husker Harvest Days," says Jodi Rauert, with the Wood River Rural Schools Booster Club. These celebrities have included Wood River's mayor and a former Husker football player.
HHD plays a huge role in funding extracurricular activities at Wood River, which comprises about 300 students from junior high through high school.
"This is our only fundraiser for the year," Rauert says. "This covers funding for everything from sporting events to plays to band to leadership seminars to any other extracurricular activity."
The Hula Hut
The Hula Hut on Lot 938, operated by Grand Island Senior High School's Islander Athletic Booster Club, will offer its famous beef brisket sandwiches, hamburgers, cheeseburgers and breakfast burritos. And its Old Country Kettle Corn will be made on-site this year.
New bacon-inspired items this year will be a bacon cheeseburger and Pig on a Stick, a bacon-wrapped pork chop. John Wemhoff and his wife, Cindy, coordinate the Hula Hut. He says it's not the intention to "change just to change, but I know that nobody has this," referring to Pig on a Stick.
The "Hula Hut" name is a play on the high school's team name, the Islanders, and diners should be on the lookout for mascot Hula Helen. She might be standing out front of Hula Hut welcoming diners.
It takes a crew of 60 student and parent volunteers to run an efficient shop. Every time a student-athlete volunteer works a shift, they are entered for scholarships to be given in their senior year. Funds raised from the Hula Hut also go to supplies or equipment for athletic activities.
Grand Island Central Catholic
The Grand Island Central Catholic Schools site on Third Street and Central Avenue offers steak sandwiches, hamburgers, brats, ice cream and homemade pies.
Over 150 students and 225 parents, teachers, Knights of Columbus members and Central Catholic alumni work the stand. Funds raised through their efforts go to projects and organizations in the school system, such as the fine arts department, school foundation and student council.
The group takes vendor orders and makes deliveries. They also have a breakfast menu for those out at the show early, including sausage, egg and cheese muffins.
Grand Island NW Athletic Boosters
The new kid on the block for food vendors this year is the Grand Island Northwest High School Athletic Boosters, who will be serving up steak Philly sandwiches, along with chicken Philly sandwiches from their stand on Lot 534, along Central Avenue between Fourth and Fifth streets.
Carlotta Hartman, one of the food stand coordinators, says the school has a strong connection with agriculture through its FFA program, so becoming a food vendor at HHD was an easy decision.
Northwest will also offer walking tacos and hot dogs. For breakfast, you won't want to miss its cinnamon rolls and breakfast sandwiches. Also, the group will be taking preorders.
Hartman says about 75 adults and students will be volunteering. Proceeds will help fund the athletic booster club, annual scholarships and athletic equipment.
Subscribe to receive top agriculture news
Be informed daily with these free e-newsletters
You May Also Like
---