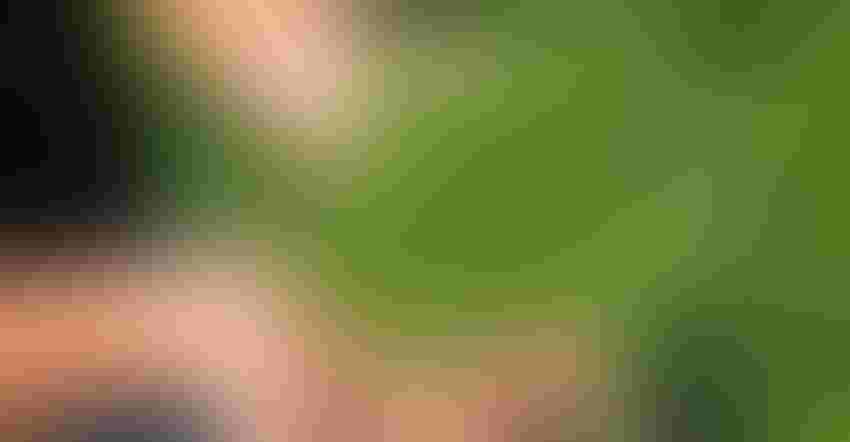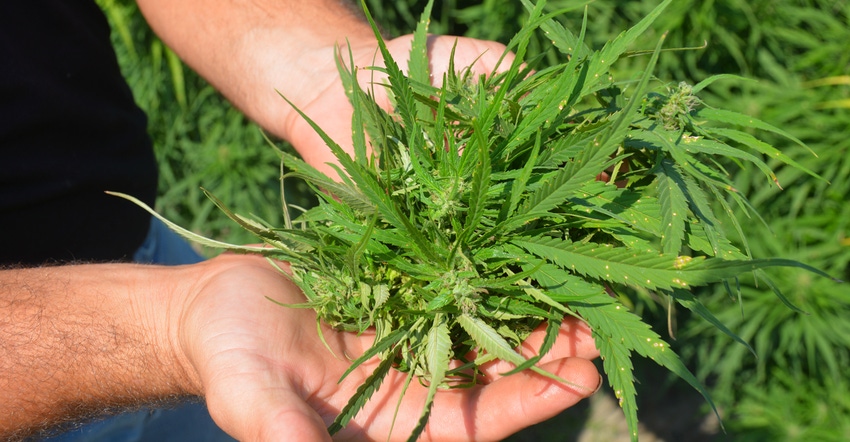 MATURING QUICKLY: Bryan Harnish holds a stem from one of his hemp plants. He will be harvesting in just a couple of weeks.
Chris Torres
Bryan Harnish is getting a little bit nervous about his first hemp harvest.
This season is an experiment. He's trying hemp for the first time on his 600-acre grain and specialty crop farm in Pequea, Pa.
He's growing hemp for cannabidiol (CBD) production, and is trying three varieties: Youngsim 10, Stormy Daniels and Cherry Blossom.
All season he's been nurturing his 3-acre crop, feeding it nutrients and water through drip irrigation and hand-cultivating weeds throughout the summer. Now, it's testing time.
'Hot' results
In mid-August he sent out his first plant samples to PHR Labs in Allentown, Pa., to test for tetrahydrocannabinol (THC). He got test results back on Aug. 28 and Sept. 4. The tests included max levels of THC, CBD and cannabinoids. He sent out 10 to 15 plant samples of each hemp variety.
These tests are crucial. THC levels in hemp — THC is the psychoactive compound found in marijuana — must be below 0.03% for a crop to be legally marketed. Otherwise, plants must be discarded.
Harnish's test results were concerning to say the least. The Aug. 28 test results showed max THC levels over 0.03%. The max CBD levels ranged from 1.45% to 2.43%, which were disappointing considering that he's shooting for at least 10% CBD.
The THC levels dropped in the Sept. 4 test, with at least one of the samples averaging 0.02% and another averaging 0.04%. But the CBD levels dropped too, with one sample averaging only 0.94% and another averaging 1.19%.
CHECKING RESULTS: Harnish has been looking through his first test results for THC and CBD levels and is planning on testing each week before harvest.
"I mean it's a little bit of a concern seeing it at 1, but this is a time when it should really increase," Harnish says of the CBD.
Why is THC so high? Harnish blames it on Mother Nature.
"Right now, we're just making sure we got plenty of water to it. It's been a little dry in the area, and that means the plants are getting hot," he says. "I've been told that any stress is going to increase THC levels, so we're keeping them healthy.
"I would say the dryer, the better with this stuff because I can give it water. We're going to get more foliar disease the more rain we get."
An inspector from the Pennsylvania Department of Agriculture came last week to take samples for testing. Based on the results he gets back from the state, he might have to either discard some plants or find an extractor who can at least try to extract the CBD oils without having to use the THC.
Preparing for harvest
While he waits for the test results, he's already made plans for harvest.
About half of his acreage is being grown for Farms 2 Pharma, a Chester County-based company that is partnering with 20 or so growers in the region for the CBD oil market. Later this month the company is bringing its new stripping machine to Harnish's farm to strip the plants of buds and other materials to get it ready for market.
Dave Anderson, founder of Farms 2 Pharma, says he developed the stripping machine with the help of an Amish farmer. The machine takes plants brought in from a field and mechanically breaks off the stems, stripping buds and other materials in the process. The marketable buds fall into a sack where they are then shipped to an extractor.
TOWERING GROWTH: Some of the plants were knocked down during a recent storm, but most of the hemp is growing nicely with some plants up to 8 feet tall.
Anderson says the machine is modified from existing machinery, and that it took only three weeks to manufacture the first machine from design to build.
Harnish says he's not sure what he'll do with the rest of his acreage. He's thought about harvesting some plants and hand-stripping them and then selling the buds to a buyer, but that will be very labor-intensive.
Another option is harvesting the plants whole and drying them on the farm. His original plan was to dry plants in one of his GSI grain bins, but the hemp is coming off later than expected and he needs the room for his corn.
The alternative is cutting the plants and hanging them upside down in a heated room with a dehumidifier. Harnish says he could sell the plants for the whole bud market.
Besides his contract with Farms 2 Pharma, nothing is set in stone.  
"It would have been nice at some point to have something more concrete, but I've been around long enough that I knew we probably wouldn't," he says. "Here we are two weeks from harvest and they're still building machines."
Banking on a return
So, months into his experiment, how does he rate it thus far? That depends on the harvest.
Right now, CBD crude oil is fetching $2,000 per kilogram, but he expects that number to drop dramatically as more CBD oil comes to market.
He estimates that he'll put between $4,000 and $5,000 an acre, including harvest labor, to grow this year's crop. He feels confident that he'll get enough to cover his expenses and possibly make a profit, "but are we going to get $50,000 an acre as some people predict? No, we're not," he says. "I just don't know yet."
NICE AND GREEN: Of the three varieties he's growing this season, Harnish says he's been most impressed with the Stormy Daniels variety and its consistent stay-green through the season.
It's a busy time. Harnish is harvesting 20 acres of tobacco, 50 acres of pumpkins, and will soon harvest hundreds of acres of corn and soybeans, along with harvesting the hemp.
"It's a lot, it's going to be crazy," he says.
Now that the plants are out of the vegetative stage, he's backed off applying nitrogen and is focusing on potash to help with the plants' cell wall structure.
The large hemp canopy has kept most weeds at bay, he says. He hasn't noticed a lot of insect issues, either.
Subscribe to receive top agriculture news
Be informed daily with these free e-newsletters
You May Also Like
---