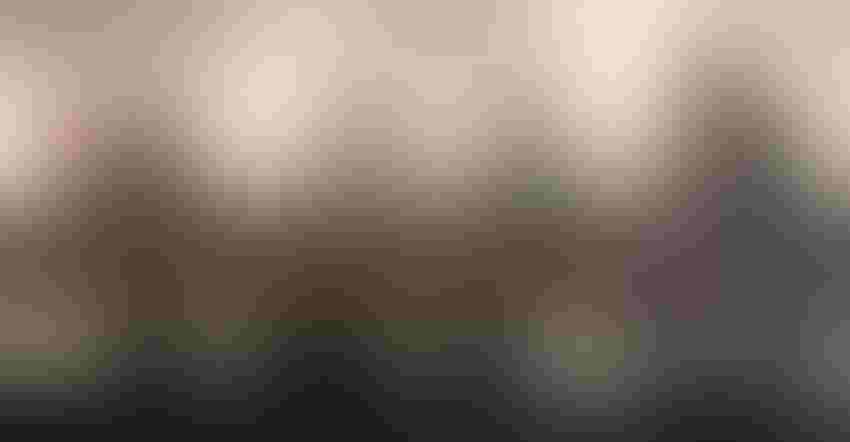 INDUSTRY OVEVIEW: Hemp was the focus of one of the information breakout sessions at the 78th annual Minnesota Farmers Union meeting. Participating were John Strohfus (left), Minnesota Hemp Farms; Shannon Schlecht, Agricultural Utilization and Research Institute; and Whitney Place, Minnesota Department of Agriculture. Joe Radinovich, Minnesota Hemp Association, served as moderator.
Paula Mohr
Two events focusing on industrial hemp drew increasing numbers of the curious and the converted.
Prior to its 78th annual meeting in Minneapolis, the Minnesota Farmers Union featured a panel discussion Nov. 22 on hemp that provided an overview from the perspective of growers, researchers and regulators. And at the first-ever Minnesota Hemp Conference and Expo held Dec. 3 in St. Cloud, walk-in registrants bumped attendance to more than 400 people. The hemp conference was sponsored by the Minnesota Hemp Association and the Minnesota Department of Agriculture. Future stories will highlight presentations at the conference. This article will share discussion from the MFU meeting.
First, though, some background. In the 2014 Farm Bill, a provision allowed state departments of agriculture to offer pilot programs to study the growth, cultivation and marketing of hemp. Minnesota was one of several states to offer a pilot hemp program. Six pilot participants grew about 40 acres of hemp in 2016 in the state — the first time since the 1950s that hemp was grown.
Since then, the number of growers and acreage has increased. In 2017, there were 38 registered pilot participants who grew 1,205 acres. In 2018, there were 51 pilot participants who grew 710 acres. By 2019, there were 540 license holders who grew hemp on 8,000 acres and in 400,000 indoor square feet of growing space.
The 2018 Farm Bill and Minnesota state statute gave further definition to Cannabis sativa L. Rules specify that it can be grown for fiber, grain or medicinal purposes, and it must not contain more than 0.3% of delta-9 tetrahydrocannabinol, a chemical compound known as THC. High THC levels can cause a psychoactive response.
Participating on the MFU hemp panel were John Strohfus, a grower near Hastings and owner and founder of Minnesota Hemp Farms; Shannon Schlecht, executive director of the Agricultural Utilization and Research Institute; and Whitney Place, assistant commissioner for the Minnesota Department of Agriculture, who oversees the department's program.
Minnesota's industrial hemp plan
Place explained how Minnesota was working on a state industrial hemp plan when USDA announced Oct. 31 the U.S. Domestic Hemp Production Program through an interim final rule. The interim rule governs the production of hemp only under the 2018 Farm Bill and does not affect industrial hemp that was or is being cultivated under 2014 Farm Bill programs.
The hemp production program includes requirements for maintaining information on land where hemp is produced, testing for THC, how to dispose of plants with high THC levels and licensing requirements. Written comments may be submitted about the rule until Dec. 30. The interim rule is in effect through Nov. 1, 2021.
Place said MDA has held several listening sessions across the state, drawing 160 attendees who offered comments on the stricter provisions under the interim rule. Several concerns came up, including the pre-harvest testing period and testing done only by DEA-approved labs. Up until this year, growers had a 30-day window prior to harvest to have their crop tested. USDA whittled that down to 15 days prior to harvest. And the two labs currently testing hemp samples are not DEA-approved.
Find your market first
Schlecht shared information that was published in AURI's recent report, "Building an Industrial Hemp Industry in Minnesota." Institute researchers identified five categories that offer economic development prospects for growers and processors: Feed, food, fuel, fiber and CBD oil. In each sector there are hurdles to overcome and questions to be answered in areas such as supply chain, processing and federal regulation.
"We're amazed at the interest in the crop," Schlecht said.
He cautioned those who are thinking about raising hemp to make sure they have a market for their crop.
"The first advice we give is that the market is pretty thin," he said. "Make sure you have contracts so you know what [market] you are growing for."
Currently, CBD oil is "the darling that is driving interest," he added, with about a half dozen companies in the state doing CBD extraction. Still, this product has a lot of risk associated with it and it is not approved as a food ingredient.
"You can't make a lot of claims with CBD," he said. "There's a lot of gray area yet."
AURI is taking the next step in helping develop the potential hemp fiber market. Staff purchased a research-size decorticator to strip fiber from plants and will work with it at AURI's Waseca location.
"We want to give companies a chance to explore industrial hemp," Schlecht said.
Minnesota's first hemp grower speaks
Strohfus shared how he got into growing hemp with Minnesota's pilot program. He was the first grower in the state to go through the licensing process and started raising hemp grain for food. He wanted to grow the business and quickly pivoted to building a supply chain. Today, his company sells bulk wholesale hemp goods — hulled hempseed, roasted hempseed, hempseed oil and hemp protein powders. He also processes products in bulk and provides private label packaging for other brands, sells certified hemp planting seed, and offers grower production contracts.
Strohfus expressed frustration with USDA's interim rule, saying that the agency did not listen to states with pilot programs that shared what was working for them.
"I think USDA punted," he said. "There was a good working playbook, but USDA had to appease the Drug Enforcement Agency. If you read the interim rule, it's DEA everywhere."
For example, now DEA has to be present when a hemp crop is destroyed, according to the interim rule.
He added: "The oversight and licensing is okay, but going to 15-day testing before harvest is impossible."
Go online to learn more about hemp production rules in the U.S.
Interested parties may submit comments on the interim rule via the federal eRulemaking portal.
Subscribe to receive top agriculture news
Be informed daily with these free e-newsletters
You May Also Like
---