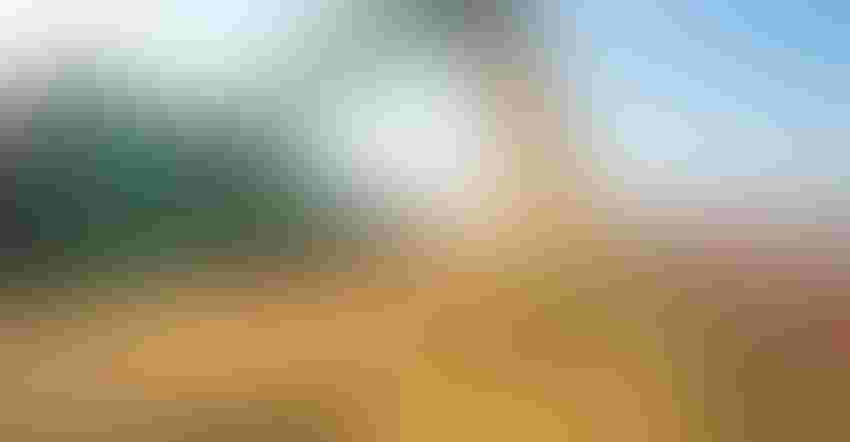 PRESERVE QUALITY: Your job this fall will be preserving the quality of whatever comes out of the combine auger as best you can. It could mean removing fines and drying to lower percentages.
fotokostic/Getty Images
This year will be one to remember for how much grain drying will be done. While drying this year's crop, Gary Woodruff, a district manager for GSI, suggests being diligent not to further damage already compromised grain. Then store it correctly.
If you do those things, the payoff will be far fewer storage issues and less lost grain, Woodruff says.
"It's important every year to follow the rules for storing grain," Woodruff says. "This year in many areas, due to the delayed planting and mudding-in of crops, grain quality may not be as good as normal. 
"This is particularly true if corn suffers frost damage, which is a bigger threat in certain areas." If that happens, the rules are the same with a few additions, he notes.
"It will be a good year for producers with quality issues to dry grain a point drier than usual — possibly even 2 points drier, if heavy damage occurred with a lot of broken kernels and fines," he adds.
Corn has a known expected storage life in a bin with only two factors affecting that life, Woodruff explains. Those two factors are grain moisture level and grain temperature. "Higher airflow in the bin will not help the storage life or bring out-of-condition grain back to good quality," he says. 
Here is a quick rundown of six important rules with this year's harvest in mind:
1. Correct storage moisture. Normally it's important that corn moisture content not exceed 15% for storage through the following spring, 14% through the following fall and 13% for a full year. This year, if you're in an area affected with late-planting and higher-moisture grain coming from the fields, Woodruff recommends reducing moisture to 14% for all grain except that which will be used within 30 to 60 days after harvest.
His recommendation is 13% for grain that has serious issues with fines and breakage.
If the grain is frost-damaged, you can dry it to 15% if it will be used immediately. Dry to 13% if it will be stored for more than a couple of weeks. Get this grain sold or used as soon as possible to minimize the chance of catastrophic losses, he advises.
Soybeans should be dried to 13% every year, but if they have maturity or condition issues, dry them to 12%, Woodruff says.
2. Clean grain. In the past 10 years, few producers have cleaned grain. Old rotary-style and other cleaners are mostly sitting in fencerows or old barns. They probably can't handle today's higher grain volumes anyway, but if you have high fines and can clean grain through a commercial cleaner such as what GSI InterSystems offers before it's dried or goes into storage, it will certainly help, Woodruff says.
3. Proper aeration. As grain enters the bin, run aeration fans to equalize kernel moisture and get grain temperature down below 50 degrees F as soon as possible, Woodruff says. This reduces mold and insect activity. If you get grain down to 35 degrees or even lower, you will kill most insects.
This will be easier to do this year with later harvest dates and cooler, seasonal weather, but it's even more important due to poor grain quality. An aeration controller similar to GSI's Bullseye model or a similar controller is an asset to get this done as quickly as possible with minimal management requirements.
4. No peaked grain. Immediately after harvest, pull peaked grain down in bins by emptying out a few loads so the center is below the corn at the wall, Woodruff says. The grain pile will look somewhat like the letter M from the side, promoting air movement in the center.
Leveling at this point is also a good practice. This year, with high fines that always concentrate in the middle, this will be a critical issue.
5. Cold grain for short term. Leave grain cold only if it will be delivered before June. If so, make sure you seal the fan entrance(s) and discharge opening to keep high-humidity air out. If you aren't leaving grain cold or are storing into June or later, maintain grain temperatures within 10 to 15 degrees of the outside air to avoid grain deterioration caused by condensation developing on grain bin interior surfaces. 
With somewhat damaged grain at 14%, this will still work well. With heavily damaged or frost-damaged grain at 13%, it likely will not work. Again, get this grain sold or used as soon as possible, Woodruff says.
6. Weekly checkups. Climb to the top of the bin, without entering, and observe whether there is a crust or any noticeable smell, Woodruff says. An increase in surface moisture usually is the first sign of problems. Most recommend checking grain every two weeks. This year, it's more important to check for quality issues often, so do it weekly, he concludes.
Subscribe to receive top agriculture news
Be informed daily with these free e-newsletters
You May Also Like
---