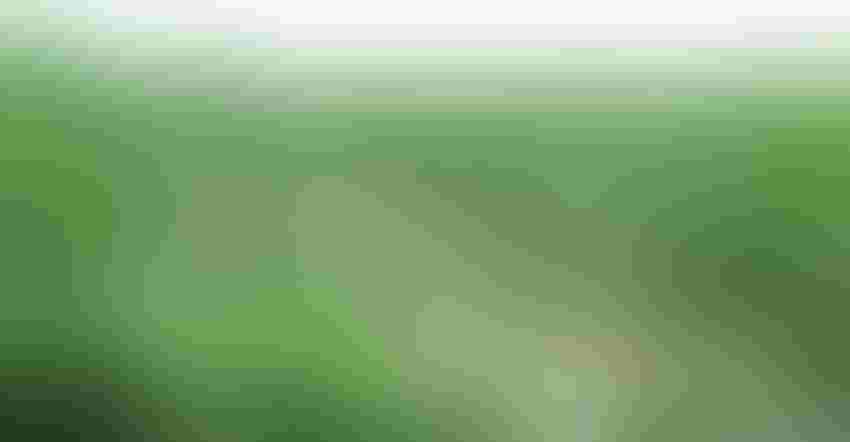 PACKING A PUNCH: Farms suffered extensive crop damage on Aug. 10, as a severe windstorm tore across a large part of Iowa.
Rod Swoboda
The 2020 crop year is one of extremes and dependence on the federal government. For COVID-19 and the ensuing collapse in grain prices, the government provided Coronavirus Food Assistance Program payments, as well as the Payroll Protection Program and Economic Injury Disaster Loans.
Weather during the growing season has resulted in drought, wind and hail for parts of Iowa. However, these losses are insurable under multiple-peril crop insurance, with premiums subsidized by the federal government. Crop insurance claims are expected to be large this fall, with losses from declines in both corn and soybean yields, in addition to a drop in the harvest prices used to calculate indemnity payments. 
Until you harvest those crops, you won't know what your crop insurance claim will be. "But now is the time to start checking your fields, especially cornfields," says Steve Johnson, Iowa State University Extension farm management specialist. "It will be critical to keep good harvest records and stay in touch with your crop insurance agent." 
Get out into your fields now to estimate potential yield loss. Do some ear counts, measure ear length and count the number of kernels per ear. In drought areas, you are probably going to see ears that don't have all the kernels developed. Especially on the lighter soils, crop prospects are declining significantly. For wind- and hail-damaged crops, a crop insurance adjuster will likely be required to provide a closer examination of yield losses. 
Johnson provides some frequently asked questions and answers regarding crop insurance. 
How many of Iowa's corn and soybean acres are covered by crop insurance? Iowa farmers planted 23.4 million acres of corn and soybeans in 2020. Approximately 90% of those acres have been insured using Revenue Protection multiple-peril crop insurance. These insurance policies can guarantee various levels of a percentage of the farm's average yield times the higher of the projected prices (average December corn and November soybean futures prices in month of February) or the harvest price (average futures prices during the month of October).
The projected prices (futures average prices in February 2020) were $3.88 per bushel for corn and $9.17 per bushel for soybeans, respectively. Most farm operators then have a guarantee of their actual production history from 65% to 85% level of coverage. 
What should an insured farmer do once a crop loss is recognized? Notify your insurance agent within 72 hours of the discovery of damage, but not later than 15 days after the end of the insurance period. A notice of loss can be made by phone, in writing or in person. Although drought loss is not immediate, farmers should contact their agent as soon as they feel a loss is present. 
Continue to care for the crop using good farming practices and protect it from further damage, if possible. 
Get permission from the insurance company, also referred to as your approved insurance provider, before destroying or putting any crop to an alternative use. 
Who will appraise crops and assess the loss? The crop insurance company will assign an adjuster to appraise the crop and assess the loss. The insured farmer must maintain the crop until the appraisal is complete. If the company can't make an accurate appraisal, or the farmer disagrees with the appraisal, the company can have the farmer leave representative crop sample areas also referred to as "check strips." 
These check strips are to be maintained — including normal spraying if economically justified — until the company conducts a final inspection. Failure to maintain these check strips could result in a determination that the cause of loss isn't covered. Therefore, no claims payment to the producer. 
Once appraised the crop can be released by the company to be: 
destroyed through tillage, shredding or chemical means 
Once released, may I harvest my corn as silage for feed? Check with your crop insurance company. In a county where corn can be insured as grain only, the corn will be released, or harvested as silage or sold as feed. Any grain will be counted as production for your claim. In a county where corn can be insured as silage, the harvested silage will be counted as production. 
What is the difference among insurance units? Many farmers have chosen to insure their crops using enterprise units so that they might pay less expensive insurance premiums. Under enterprise units, losses are calculated by crop by county. Therefore, all the corn planted by a farmer in a given county would be added together to determine a loss. If a farmer has chosen optional units, then losses are calculated by crop by field unit. Premiums are typically higher if choosing optional units, but a good yield on one field doesn't cancel out the loss on another field. 
When will farmers be receiving indemnity payments for their crop insurance losses? Adjusters will be busy with the increase in crop insurance loss claims in western Iowa this fall. As soon as you are finished harvesting, notify your insurance agent and an adjuster will be assigned to you. Insurance companies can't defer payments to the next tax year, but claims adjusted late in the year may not be paid out until the following year. 
What is the maximum price that the harvesttime indemnity price (average October futures price) can reach? The maximum harvest indemnity price values for 2020 are twice of the projected price — or $7.76 per bushels for corn and $18.34 per bushels for soybeans, respectively. 
Can indemnity payments for drought be deferred for income tax purposes until 2020? Taxpayers using the cash method of accounting claim the income in the year they receive the payment. The insurance company will send the insured a 1099 showing the amount and tax year to report the income. 
Farmers using the cash method of accounting for reporting taxes can elect to defer crop insurance payments if the loss is due to yield loss and they normally sell more than 50% of their crop the year following harvest. They can't defer any loss that is due to price loss. Farmers using the accrual method of accounting for reporting taxes cannot defer crop insurance payments. 
Will I be asked to provide proof of my bushels this year for crop insurance verification? All multiple peril crop insurance users are subject to production verification on a random basis. If a claim that exceeds $200,000 is filed for an individual crop and policy, verification of production is automatically required by regulation. This also requires a three-year audit. 
More time to pay for 2020 crop insurance 
USDA announced in early August that it will authorize crop insurance companies to extend deadlines for premium and administrative fee payments. The companies must be recognized by USDA as approved insurance providers.
"Farmers have been severely affected by the COVID-19 pandemic this year, and to help ease the burden, we are continuing to extend the flexibility," says U.S. Secretary of Agriculture Sonny Perdue. "Crop insurance flexibilities will help ensure the federal crop insurance program continues to serve as a vital risk management tool." 
USDA's Risk Management Agency is authorizing approved insurance providers to offer policyholders extra time to pay premium and administrative fees, and to waive accrual of interest to the earlier of 60 days after their scheduled payment due date, or the termination date on policies with premium billing dates between Aug. 1 and Sept. 30, 2020.
Also, USDA is authorizing AIPs to provide up to an additional 60 days for policyholders to make payment and waive additional interest for written payment agreements due between Aug. 1 and Sept. 30, 2020.
Subscribe to receive top agriculture news
Be informed daily with these free e-newsletters
You May Also Like
---